A NEW COLD WAR & THE "WEAPONIZATION" OF GOLD
THE INGREDIENTS OF A NEW "COLD WAR"
There are numerous underlying Global Conflicts that are occurring which the CoronaVirus media coverage is presently drowning out! This includes escalating actions in Syria, South China Sea, North Korea & the weaponizing of Space. We are increasingly seeing evidence of a new form of a COLD WAR emerging which supports our 2020 Thesis' Investment Themes. Gold is increasingly become an economic weapon and we suspect will increasingly be so in the dawning Post-Covid-19 Multi-Polar world.
We fully expect a "Blame Game" will soon ensue about who is responsible for the CoronaVirus. Why were early results hidden and were there nefarious motivations? It will become political as the Global economic & financial damage of the pandemic mount! 
Military Strategists are working overtime to achieve sovereign competitive advantages while deploying defenses. The key to currently watch is the US Military becoming increasingly the spokesperson in an escalation of blaming China for the devastation caused by the pandemic originating in China and initially opaquely concealed by the WHO. We explore that below along with one of the investment conclusions from the Thesis 2020: Global Conflict.
                       THESIS 2020:  Global Conflict       
                                       FULL VERSION LOCATED AT BOTTOM OF NEWSLETTER: 
.pdf Download
THE MILITARY-INDUSTRIAL COMPLEX'S 'NARRATIVE'  NOW CIRCULATING IN WASHINGTON
Here in bullet format is the talking point narrative now being touted by the hundreds of former senior government officials (645 in 2018 alone) that have gone through the "revolving door' to work for the defense industry as lobbyists, executives, consultants, or board members. This gives them an inside track on forming public policy. If you think this is an insignificant fact then remember that the last three secretaries of defense have been a former board member of General Dynamics, a former Boeing executive, and the former chief lobbyist for Raytheon, respectively.
At some point the Chinese Communist Party learned of the epidemic and MINIMALLY made a decision to hide its existence, hoping it went away.

Exposés in Hong Kong's South China Morning Post and the Chinese mainland's Caixin show that the information that did flow out of China early in the crisis did so only because of the courage of individual Chinese people in the face of government repression. 

People in the Wuhan epicenter, however, began to get wise — and scared (here and here) — by the end of December 2019, forcing their government to say something. The authorities gave the impression of a nontransmissible disease already under containment. We know now this was entirely false, likely designed more to ease civil unrest than protect the people. The mayor of Wuhan even suggested that the central government prevented him from revealing details about the epidemic until January 20.

Considering the first public announcements came out of Wuhan on January 1, we can assume that President Xi had a sense of the danger prior to that.

Clearly, downplaying the disease wasn't working and it was time for the Party to get serious. But how serious?

Would it provide full cooperation to the international community?

Would being seen as the source of this virus hurt its international image?

However, there was a darker dimension: the more Beijing cooperated, the less the disease stood to affect other countries.

This includes countries China sees as a threat to its existence, like the United States.

Why should China suffer the effects of a pandemic while others stayed safe — and increased their strength relative to China — based on China's own costly experience?

Such a question is of course inimical to human decency. And yet it must be remembered that Xi Jinping has produced the greatest program of ethnic cleansing in the world today.
The Military-Industrial Complex stresses we should not assume it was beyond his imagining to withhold a degree of support from the international community to ensure that China would not suffer alone.

Strong evidence supports this idea. Hearing the World Health Organization (WHO) repeat and praise the Party line while giving short shrift to health advice until quite recently has alarmed many. 

Seeing Beijing sell defective wares and claim it as humanitarian aid has angered many more.

 Spreading disinformation during the crisis and hinting at using life-saving goods for leverage (original here) — while denying even the faintest hint of wrongdoing.

This may constitute biological warfare. But even if it doesn't Xi should be brought to account for his other crimes against humanity.
DEVELOPMENTS TO WATCH – the "BLAME GAME"
The US Defense Department is increasingly taking the lead in Investigating the source of the CoronaVirus and not the State Department nor the CIA which would be expected to assume such a role.
 The Administrations current escalation of the urgency of a reassessment of foreign Supply Chains. The dependence and restrictions during the desperate search for Respirators, Masks, PP, drugs were continuously highlighted.

30 of the major needs during the CoronaVirus were foreign controlled with 90 countries placing export restrictions on.
Tensions over foreign export restrictions to the US and hoarding of essential CoronaVirus fighting medical needs.

Defense Secretary Mark Esper, who has expressed wariness toward China virtually since his confirmation, shared some harsh words for Beijing Wednesday, then reiterated them on Thursday during an appearance on "The Today Show" – one of the Defense Secretary's most high-profile media appearances since he was picked to lead the Pentagon last summer – Esper accused Beijing of being "misleading and opaque" during the early days of the outbreak.

"They've been misleading us, they've been opaque if you will from the early days of this virus. So I don't have much faith that they're even being truthful with us now,"
Esper added that   ".. he finds it hard to trust any information coming out of China…"
CHINA & RUSSIA'S MASSIVE CENTRAL BANK GOLD ACCUMULATION – THEY HAVE BEEN PREPARING FOR SOMETHING?
. 
The US Military Industrial Complex will use the Pandemic to support its argument that China is a military threat. China on the other hand has for years now clearly seen the US Economy as in serious troubles and fatally exposed to its out of control debt levels. China & Russia have build gold reserves for the inevitable problem that would stem from the US  building a country on increasingly debt fueled Unsound Money, an out-dated Reserve Currency Status, and an over-extended global military. Something was going to "prick the bubble"!  If it wasn't the Pandemic it would be something else. 
China and Russia knew Gold would be the likely central global response – and has been preparing accordingly. Like stockpiling 'bullets' and weapons for a potential conflict, they have been stockpiling Gold for an Economic Conflict!!
PROOF
We created and labeled this chart during our Thesis 2020 research efforts in late December / Early January. The Elliott Wave labeling has turned out to be quite accurate so far. Our analysis indicates we are headed higher, though there are consolidations required to keep price and time closer to its intermediate term parabolic rise (see the weekly elliptical boundary condition below)
Your LIVE LONGWave Video Chart Link:   
We have shown the chart below previously. In our 
Feb 13th Newsletter
  we called our expectations of a touch of the Red Ellipse which subsequently occurred. We then discussed it again in the Macro Analytics Video 
"CoronaCarnage" at the Ellipse
 now calling for a lift through the spring which has also occurred. Our weekly chart (above) and Daily Chart (below) indicates we are now headed higher though we will need consolidations to keep price and time closer to the Elliptical (parabolic) lift which we presently expect to occur. Keep this live chart on your desktop!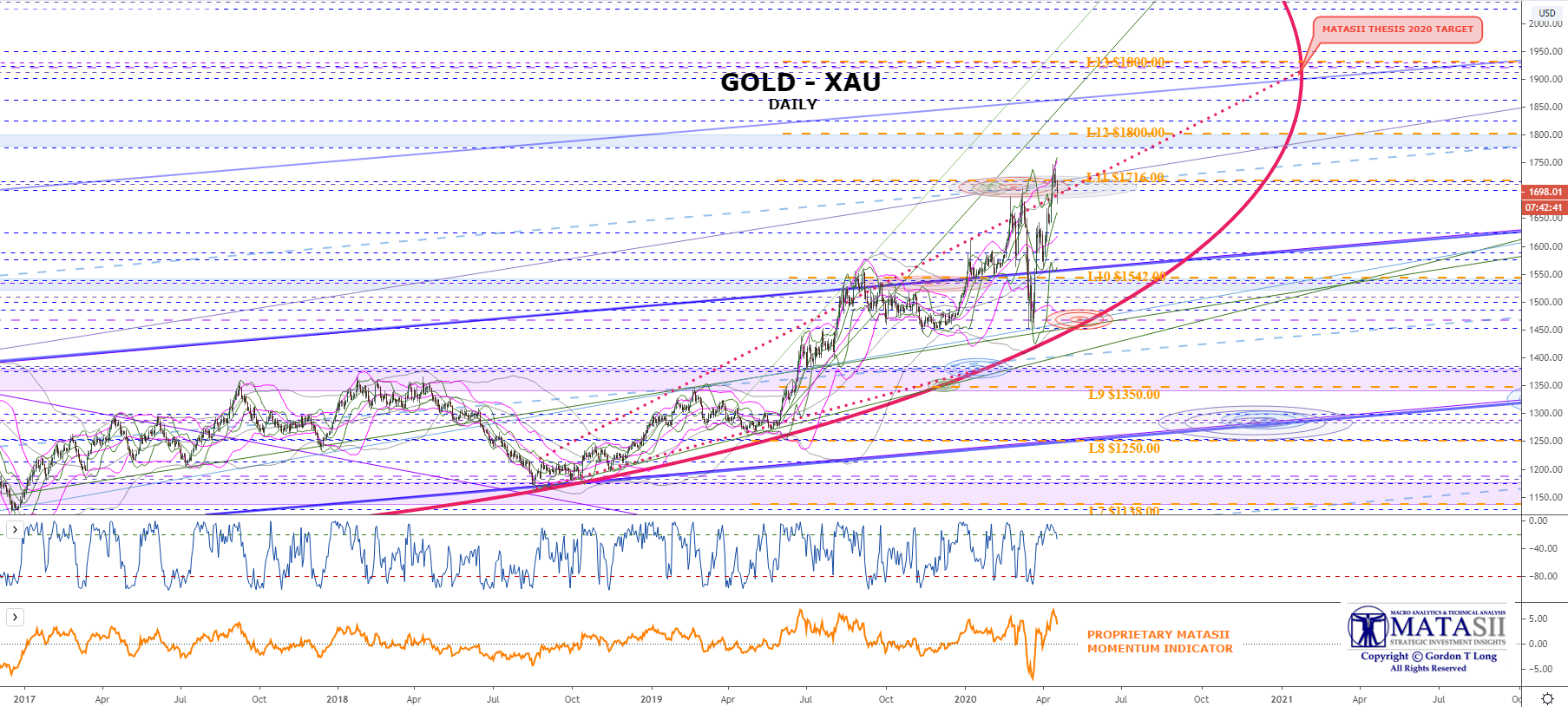 Your LIVE LONGWave Video Chart Link:  
FAIR USE NOTICE  This site contains copyrighted material the use of which has not always been specifically authorized by the copyright owner. We are making such material available in our efforts to advance understanding of environmental, political, human rights, economic, democracy, scientific, and social justice issues, etc. We believe this constitutes a 'fair use' of any such copyrighted material as provided for in section 107 of the US Copyright Law. In accordance with Title 17 U.S.C. Section 107, the material on this site is distributed without profit to those who have expressed a prior interest in receiving the included information for research and educational purposes.  If you wish to use copyrighted material from this site for purposes of your own that go beyond 'fair use', you must obtain permission from the copyright owner.
---
---
NOTICE  Information on these pages contains forward-looking statements that involve risks and uncertainties. Markets and instruments profiled on this page are for informational purposes only and should not in any way come across as a recommendation to buy or sell in these assets. You should do your own thorough research before making any investment decisions. MATASII.com does not in any way guarantee that this information is free from mistakes, errors, or material misstatements. It also does not guarantee that this information is of a timely nature. Investing in Open Markets involves a great deal of risk, including the loss of all or a portion of your investment, as well as emotional distress. All risks, losses and costs associated with investing, including total loss of principal, are your responsibility.