SHORT TERM
(Next 2 Quarters)
INTERMEDIATE TERM
(Next Year)
Limited Time Public View!
This page is a duplicate of the Bonds & Credit SII page for subscribers. It is currently one of our many SII's and is provided as an example of what you can expect to see as a subscriber.   At the bottom of the page you will find a 'Watch List' of instruments we are currently monitoring, one of them is clickable and leads to that specific securities SII page where you will find more information and a link to a live chart.  
SITUATIONAL BIAS:
  ENDING DEBT SUPER CYCLE: NEGATIVE
  "MINSKY" MELT-UP: POSITIVE
"Corporate debt and their equity will face the biggest pain when the next downturn comes — Corporates are more levered than they were pre-crisis"
Infamous Greg Lippmann of "The Big Short" 
THE CORPORATE DEBT LEVELS OF "ZOMBIE" CORPORATIONS AS WELL AS SELECT SOVEREIGN & EMERGING MARKET DEBT MAKE THEIR BONDS POTENTIAL MAJOR 2018-2019 'SHORT' OPPORTUNITIES.
The next big financial downturn is likely to start in corporate debt. Easy-money monetary policies have allowed firms to load up on borrowings, with around 37 percent of companies being classed as highly leveraged in 2017 compared with 32 percent in 2007 prior to the last financial crisis.
PRESENT MATASII FOCUS IS TWO FOLD
1- HY CORPORATE JUNK BONDS – Is Setting Up for a Major Decline As Credit Markets Tighten (See "Road Map to Repricing of Risk" & Guide To Selecting Junk Bonds)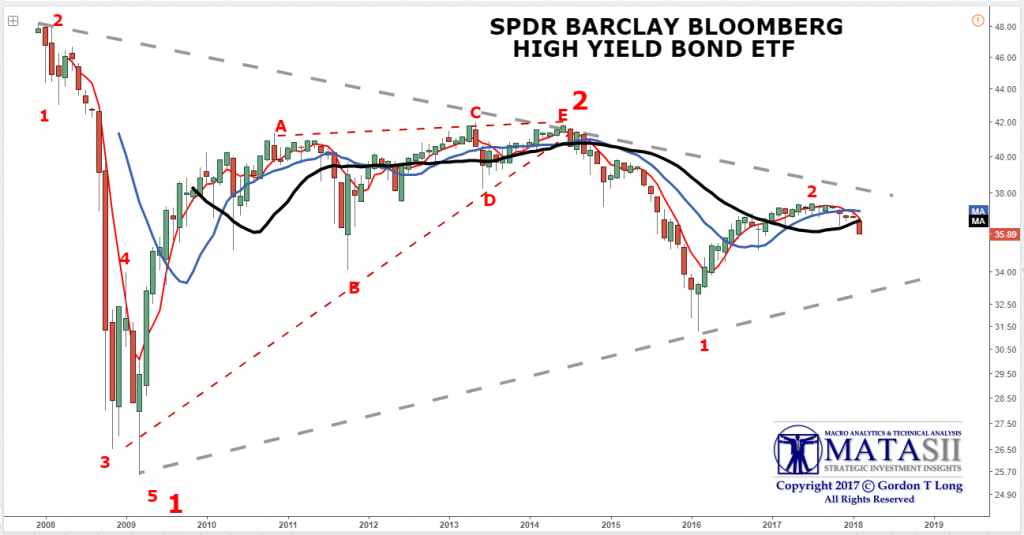 2- 10Y UST NOTE – A Yield Rise From 1.34% tp 3.15% is a Major Capital Appreciation Gain For Bonds
MARKET MESSAGES (Click to Enlarge)
MAJOR PROBLEMS LOOMING GLOBALLY IN PRIVATE CORPORATE DEBT (Click To Enlarge)
POSSIBLE SUCCESSOR TO JPM'S DIMON WARNS: "ECB BOND BUYING CREATES ZOMBIE CORPORATIONS" — SOURCE: 07-18-18 Bloomberg – "ECB Bond-Buying Creates Zombie Companies, Possible Successor to Dimon Warns" — Mary Callahan Erdoes  Photographer: Simon Dawson/Bloomberg The European Central Bank's bond-buying program has created a "dangerous" environment for investors by masking risks in the market for corporate […]

THE FIVE PILLARS OF DEBT DEFAULT STARTS WITH GLOBAL CORPORATIONS' FOREIGN DENOMINATED DEBT –SOURCE: 07-16-18 Gold, Goats & Guns, Tom Luongo – "The Five Pillars Of The Looming Debt Default" — Regular readers of Gold Goats 'n Guns know that I've been handicapping a major sovereign debt default to begin here in 2018 or early 2019.  But, what […]
Limited Time Public View! (cont.)
Here is the Watch List of securities for the Bonds & Credit SII.  While we are currently only watching 4 at the moment for Bonds & Credit, other SII Watch Lists contain 25+.   The symbol for TNX links to its SII page where you can find more information and a live chart link.  Remaining symbols are similarly linked for subscribers.
MORE on Watch Lists
Note potential technical trigger levels for Long and Short are given: these are taken directly from the chart and can be found in our IDEAS. When the market reaches either of the levels, the Current Price will light up, alerting that possible action is near.