BORROWERS TREADING CAREFULLY IN EUROPE'S FRAIL JUNK BOND MARKET
-- SOURCE: 07-27-18 Bloomberg -  "Borrowers Tread Carefully in Europe's Frail Junk Bond Market" --
Lesser known companies with tight pricing won't fly: BNPP AM
Deals that paid well have been successful: Janus Henderson
Three high-yield borrowers in the European market are trying to avert meeting the same fate as many others who were forced to retreat earlier this year.
Deals announced this week include
A 660 million-euros ($769 million) buyout financing for WFS Global Holding SAS,
A 300 million-euros refinancing for Ceva Logistics AG, and
A 515 million-euros of payment-in-kind notes for WiZink Bank SA, supporting the sale of a minority stake to its majority shareholder.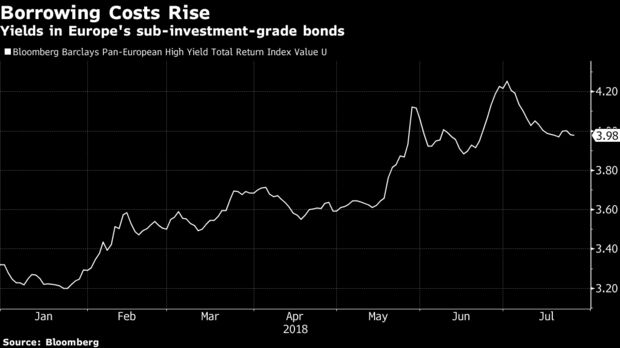 Companies selling bonds are increasingly paying close attention to their coupons and terms after at least ten deals were either delayed or withdrawn due to resistance from investors as talk of a turn in the credit cycle gathers pace.
Sales of high yield bonds totaled 43.3 billion euros-equivalent this year, 19.6 percent lower than the same period last year, according to data compiled by Bloomberg.
"Investors have to be careful at this point in the cycle of the 'show me' stories from companies who want you to believe in their recovery plans," said Olivier Monnoyeur, a London-based high-yield portfolio manager at BNP Paribas Asset Management. "These types of deals will just not fly unless they have tight docs and wide pricing to peers."
Both WFS and WiZink have been laying the ground work by talking to potential buyers and assessing the depth of interest before the transactions were unveiled, according to people familiar with the matter.
Europe's credit markets have weakened this year, as the European Central Bank plans to end support, while speculative-grade bond funds domiciled in Europe have seen withdrawals totaling 40 billion euros since November, according to a Bank of America Merrill Lynch research note dated July 25, citing EPFR data.
WFS's price talk is 6.75 to 7 percent for its fixed and 625 to 650 basis points for its floating-rate deal. Swissport's B2/B- rated bond due in December 2021 is bid at 5.95 percent in the secondary market, according to CBBT prices.
WiZink debt is being sounded out in the 6 percent range, people familiar with the offering said. Ceva's documentation is rated 9/26 in Debt Explained's scorecard system, much more favorable than those of TDC A/S and Cirsa Gaming Corp. SA that faced a bumpy ride in June.
The representatives for the three companies didn't immediately respond to requests for comment.
Tom Hanson, a fund manager at Janus Henderson Global Investors, said that successful deals in recent times have tended to be those that paid well. "I would expect this latest cohort to be no different."
Some points to consider:
Swiss-based logistics company Ceva is undergoing a wider debt refinancing exercise that aims at reducing its average cost of debt to 4.5% from 6.5% with a new bond issue, the company told investors in May
WFS' EU660m 5Y bond will finance the buyout by Cerberus Capital from Platinum Equity; key negatives include extensive adjustments to Ebitda and high leverage following the LBO, CreditSights analysts said in a July 27 note; among the positives are a leading global market position and strong organic growth in revenues, the analysts said
Iberian online bank and credit card operator WiZink announced plans to raise 515 million euros to back the purchase of 49 percent of its stake by Varde Partners LP