CHINA: YOU CAN'T HAVE ONE THEN THE OTHER WITHOUT PROBLEMS!
YOU CAN'T HAVE THIS....
China Debt Growth since the 2007 Financial Crisis has been nothing short of spectacular. What is particularly telling is the amount of the debt growth that has been Private Debt. Whether for new factories or consumers to by homes private debt growth is now equivalent to the euphoria in America prior to the US Stock Market Crash.
Why is this important? Private Investment is the sole of a country where the true beliefs and reality of a nation are expressed by their willingness to take personal risk. Sometimes however they may just be  too late to the party as the momentum subsides.
.. AND THEN THIS
However the investment euphoria is changing in China and the breakneck speed of advancement and growth is sputtering. Since you can't rely on government statistics and a clearly fraudulent financial system, then you must rely on something more pragmatic to see this.
A reading published by San Francisco-based SpaceKnow Inc. which uses commercial satellite imagery to monitor activity across thousands of industrial sites signaled deterioration in the country's manufacturing sector for the first time since August. The gauge, known as the China Satellite Manufacturing Index, fell to 49.6, below the 50 break-even level. The index incorporates satellite data from thousands of industrial sites across China.

Satellite imagery has often proved eerily presceint in the recent past: In the US,satellite data analyzing activity in retailers' parking lots pointed to significant activity weakness at core US retail locations, even as sentiment indicators were suggesting an uptick in sales following the election.

Meanwhile, small- and medium-sized enterprises showed the lowest level of confidence in 16 months, and conditions in the steel business remained lackluster, according to Bloomberg.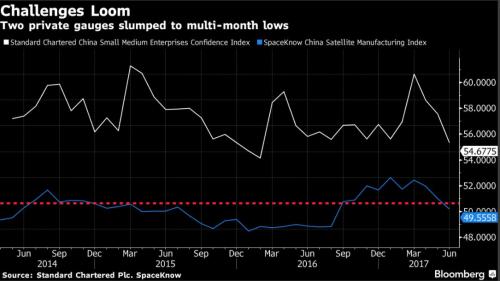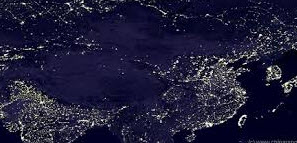 WITH THIS
Even the official Chinese statistical data has become increasingly worrisome.
...AND NOW THIS
The business environment is slowing at an accelerating rate as reflected by UBS' Global Credit Impulse, primarily driven by China.
... AND THEN NOT HAVE SOMETHING LIKE THIS OCCUR!
1929 LIKE CRASH