THE HEADLINE:  Energy ETFs Slide as Crude Falls Further Into a Bear Market
MATASII SII ANALYSIS:  COP Technical Set-Up May 15th 2016:  COP has fallen off and bounced at long term trend supports, just shy of previous lows. It appears to be breaking out of the blue negative trend channel it has been in since the start of its decline. 38.2 Fib retracement is just above; breaking over this ($52.40) could see the market head higher, on tot he next Fib retracement leveles and s/r zones.  Falling past recent lows ($30.50) could see the market fall to lower long term s/r zones.
THE BREAKING NEWS STORY:
ENERGY ETFs SLIDE AS CRUDE FALLS FURTHER INTO A BEAR MARKET    Bloomberg 11- 09-18
Oil falls briefly to $60 a barrel, down 20 percent from October high,
The longest slump ever for oil is finally taking a toll on energy exchange-traded funds,
Largest energy funds including XOP, XLE, IXC all trading lower,
WTI crude heading for a 10th consecutive daily decline,
Energy funds have been slow to react to oil's slide, with XLE gaining in six of the last 10 sessions and XOP climbing in five. Crude prices have fallen around 11 percent over that same period,
Oil has been on a wild ride over the last six weeks, rocketing past $75 and then falling more than 20 percent from its October high.
The collapse in prices comes on the back of record U.S. crude production and output from the Organization of the Petroleum Exporting Countries reaching its highest level in years.
The retreat is putting pressure on OPEC and its allies, who are scheduled to meet in Abu Dhabi this weekend, to cut supply again.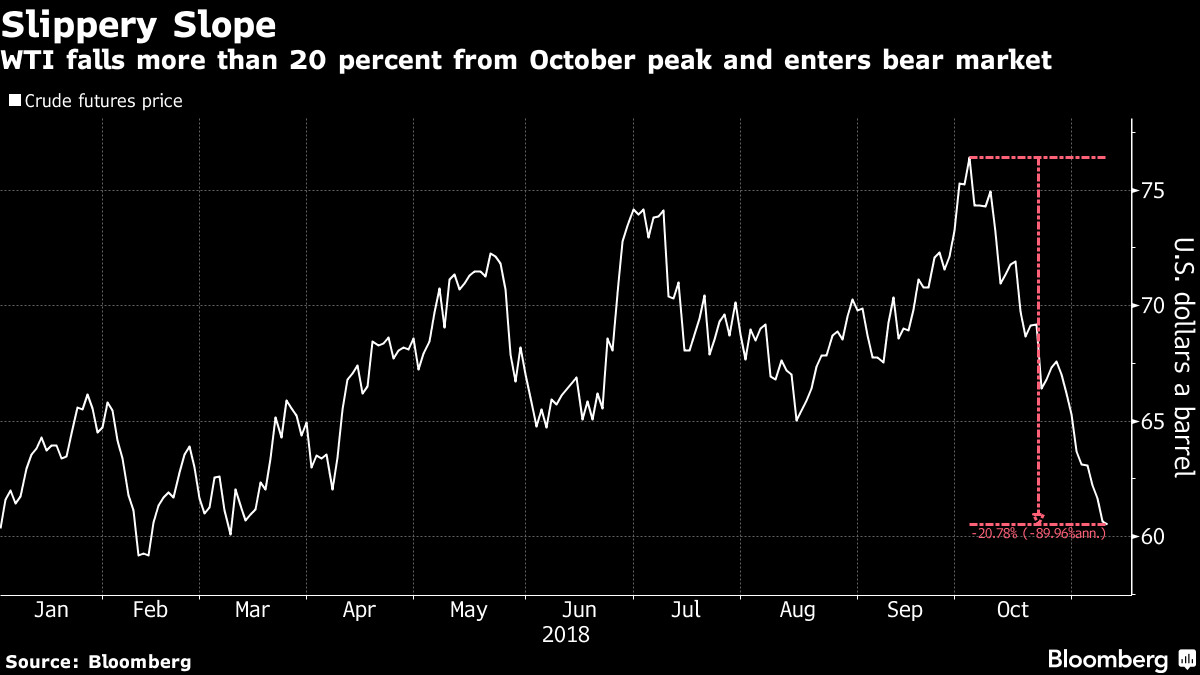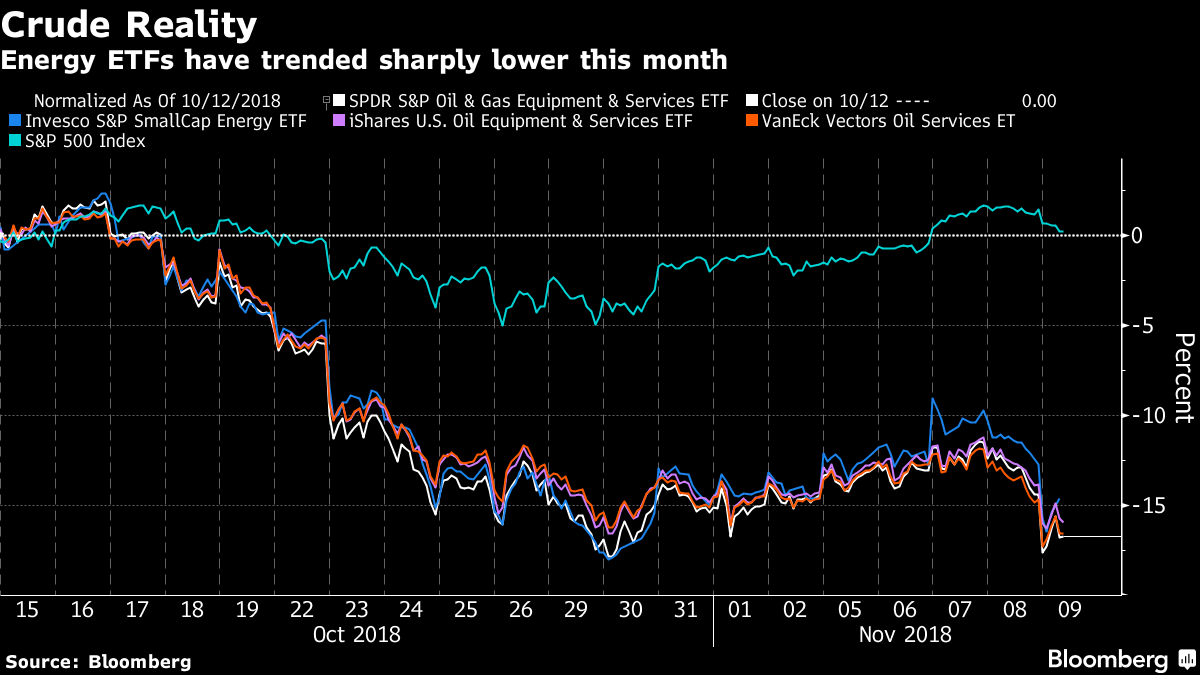 ---
THE BREAKING NEWS STORY:
OIL JUST DID SOMETHING IT HASN'T DONE IN MORE THAN 30 YEARS (HINT: IT ISN'T GOOD!)  11-09-18 MarketWatch
West Texas Intermediate crude for December delivery on the New York Mercantile Exchange settled lower on Friday, marking its 10th consecutive decline and matching the longest skid for the contract since a similar stretch from July 18-July 31 1984, according to Dow Jones Market Data,
The losing stretch as the longest skid since at least 1983 (see chart below) -- "there has never been a streak of more than 9 straight days where crude oil traded down on the day",
Rising production and a softening in U.S. oil sanctions on Iran, that included waivers for big crude importers like China, which helped to contribute to a whipsaw lower for oil prices.
Just five weeks ago, oil futures had put in their highest prices in years,
Lingering concerns about the global economy and expectations for sluggish corporate earnings in the future also have added to the downbeat mood in the oil industry,
January Brent crude  also was in decline and flirting with its own tumble into a bear market. Brent oil was down more than 19% from its recent October peak.