GLOBAL "LATE CYCLE" SIGNAL: MORGAN STANLEY'S GLOBAL CORRELATION INDEX
HSBC Holdings Plc, Citigroup Inc. and Morgan Stanley see mounting evidence that global markets are in the last stage of their rallies before a downturn in the business cycle.
Analysts at the Wall Street behemoths cite signals including the breakdown of long-standing relationships between stocks, bonds and commodities as well as investors ignoring valuation fundamentals and data. It all means stock and credit markets are at risk of a painful drop.
"Equities have become less correlated with FX, FX has become less correlated with rates, and everything has become less sensitive to oil," Andrew Sheets, Morgan Stanley's chief cross-asset strategist, wrote in a note published Tuesday.
His bank's model shows assets across the world are the least correlated in almost a decade, even after U.S. stocks joined high-yield credit in a selloff triggered this month by President Donald Trump's political standoff with North Korea and racial violence in Virginia.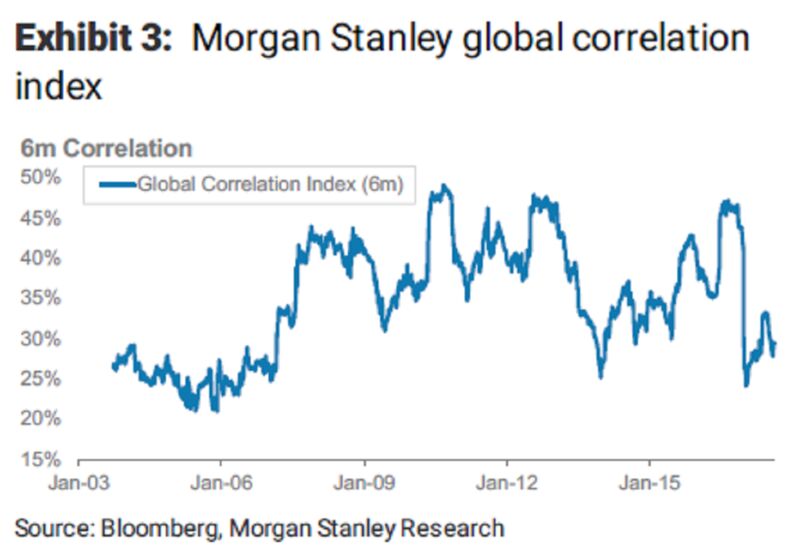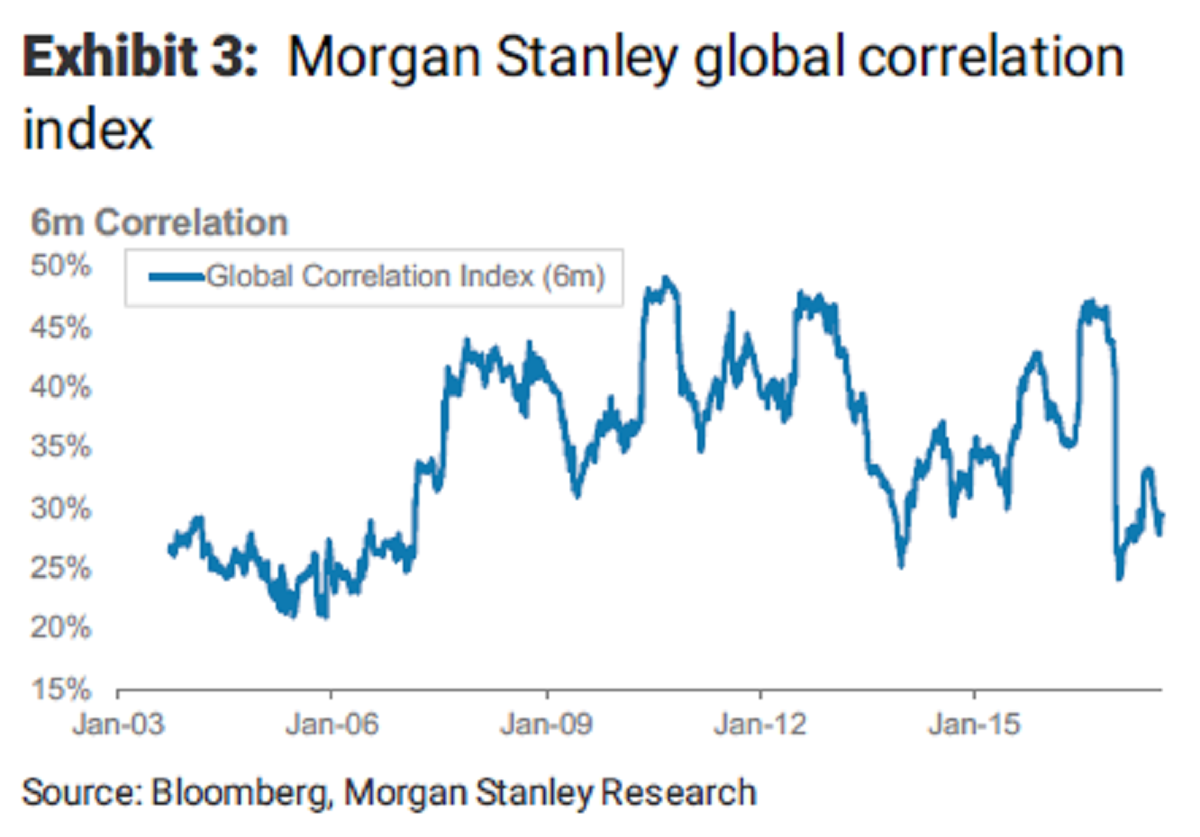 Just like they did in the run-up to the 2007 crisis, investors are pricing assets based on the risks specific to an individual security and industry, and shrugging off broader drivers, such as the latest release of manufacturing data, the model shows. As traders look for excuses to stay bullish, traditional relationships within and between asset classes tend to break down.
"These low macro and micro correlations confirm the idea that we're in a late-cycle environment, and it's no accident that the last time we saw readings this low was 2005-07," Sheets wrote. He recommends boosting allocations to U.S. stocks while reducing holdings of corporate debt, where consumer consumption and energy is more heavily represented.
That dynamic is also helping to keep volatility in stocks, bonds and currencies at bay, feeding risk appetite globally, according to Morgan Stanley. Despite the turbulent past two weeks, the CBOE Volatility Index remains on track to post a third year of declines.