"GLOBAL WARMING" IS MOST FUNDAMENTALLY ABOUT "GLOBAL MONEY PRINTING"!
We recently outlined how a plan is well underway to spend $150 trillion over 30 years globally. This will average $5 trillion in annual investments – amounting to twice current global GDP! This plan, under the direction of the United Nations and full support of the Davos Elite (World Economic Forum), is part of the Great Reset.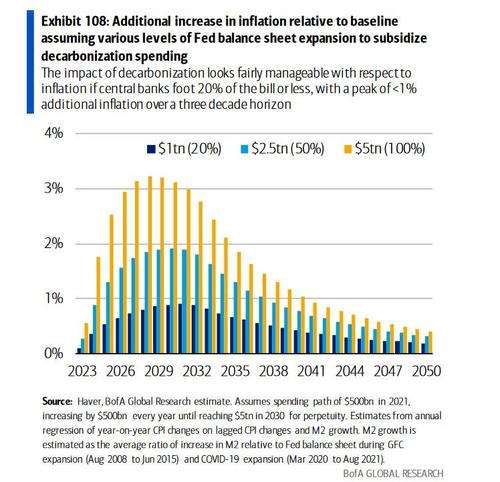 As we outlined previously the Global Economy and Central Banks are trapped in a Credit & Liquidity Crisis that requires the growth of Debt to be significantly larger than global economic growth of credit is capable of generating. A Global campaign for Climate Change through an accelerated movement towards Green Energy provides the optimum vehicle for the creation of a stream of taxpayer and debt-funded "investments", which in turn will need a constant degree of debt monetization by central banks.
THIS PLAN MEANS GLOBAL INFLATION TO SOLVE THE GLOBAL DEBT CRISIS!
Here is the arithmetic you need to understand.
To reduce government debt in a fiat based currency system you require Negative Real Rates. This is the cornerstone of the Macro-prudential monetary policy referred to as "Financial Repression". To achieve this you need high inflation while maintaining low positive nominal rates so the credit industry can still function without being fully impaired.
It is estimated by the Bank of America that if "central banks inject $5 trillion in liquidity every year via QE for 30 years, that would result in incremental 3% of inflation for a good decade. This is inflation over and above whatever is already coming down the pipeline."
Assuming inflation, as the Federal Reserve and other global central bankers tell us, is only "Transitory", then we will return to the area of 2% which have stymied bankers for the last decade. Therefore planners are likely looking for the 5% level shown in our example (above). This, coupled with "Yield Curve Control" delivering ~1.2% bond yields, would deliver the Financial Repression holy grail for central bankers of -3.8% real rates (see example above).
A GLOBAL THREE PRONGED APPROACH

The global plan currently being rolled out focuses on initially on three structural drivers:

GOVERNMENTS:

Fiscal Spending Policies
Regulatory Restrictions & Laws against,
and
Regulatory Advantages & Incentives,

CENTRAL BANKS:

Monetary policies that monetize debt and
QE to soon buy new 'Green Bonds'

CORPORATIONS:

.

MOVING TOWARDS US

OPEN BORDER STRATEGY

Almost immediately on being sworn in as President of the US on February 9, 2021, President Biden signed Executive Order (E.O.) 14013, "Rebuilding and Enhancing Programs to Resettle Refugees and Planning for the Impact of Climate Change on Migration,". The Executive Order directed the National Security Advisor to prepare a report on climate change and its impact on migration. This remarkable Order report marks the first time the U.S. Government is officially reporting on the link between climate change and migration.

According to a just released "Report On The Impact of Climate Change On Migration",

"The climate crisis is reshaping our world, as the Earth's climate is now changing faster than at any point in the history of modern civilization. 1 Defined by changes in average weather conditions that persist over multiple decades or longer, climate change includes changes in temperature, precipitation patterns, the frequency and severity of certain weather events, and other features of the climate system.
When combined with physical, social, economic, and/or environmental vulnerabilities, climate change can undermine food, water, and economic security. Secondary effects of climate change can include displacement, loss of livelihoods, weakened governments, and in some cases political instability and conflict".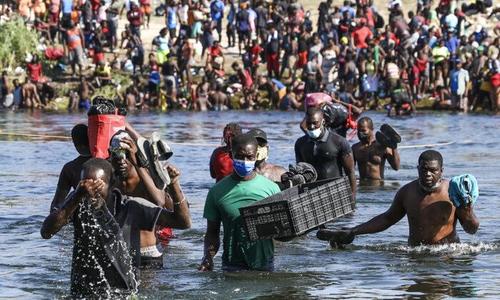 CLIMATE MIGRANTS & REFUGEE STATUS
The 37 page White House Report believes "that an average of 21.5 million people were forcibly displaced each year by sudden onset weather-related hazards between 2008 and 2016, and thousands more from slow-onset hazards linked to climate change impacts. Tens of millions of people, however, are likely to be displaced over the next two to three decades due in large measure to climate change impacts. Migration in response to climate impacts may range from mobility as a proactive adaptation strategy to forced displacement in the face of life-threatening risks. This mobility may occur within or across international borders. Specifically, one model forecasts that climate change may lead to nearly three percent of the population (totaling more than 143 million people) in three regions – Sub-Saharan Africa, South Asia, and Latin America – to move within their country of origin by 2050. The accelerating trend of global displacement related to climate impacts is increasing cross-border movements, too, particularly where climate change interacts with conflict and violence".
The National Security Council has created a new inter-agency working group focused on the connection between climate change and migration.
"Given that climate-induced weather extremes will grow in severity in unexpected ways, this working group will provide a venue for developing long-term strategies consistent with the evolving scientific understanding of climate impacts, such as those communicated through the Intergovernmental Panel on Climate Change and the U.S. National Climate Assessment," writes the White House in its Fact Sheet on the new reports.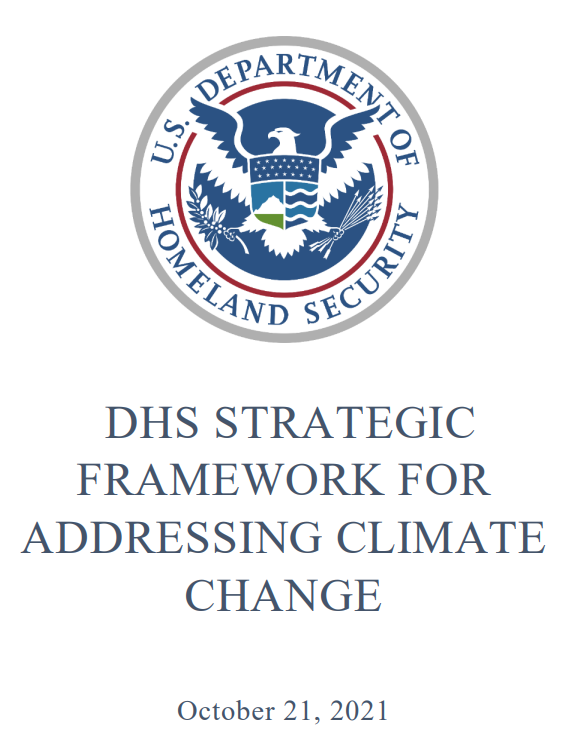 GETTING READY: THREE ADDITIONAL BIDEN ADMINISTRATION ORDERED REPORTS
"An influx of climate-related migration through the U.S.-Mexico border and climate-induced existential threats to Arctic communities and Alaska Native culture will accelerate and require our proactive actions to manage future border crises and potential relocation of internally-displaced populations."
The Secretary of DHS, Alejandro N. Mayorkas writes:
"The most recent report issued by the Intergovernmental Panel on Climate Change makes clear that the impacts of the climate emergency on both our national and global security are vast. Whether it is extreme heat in the northwest or extreme storms in the southeast, our Nation, and particularly those most vulnerable, are already experiencing the effects of human-induced climate change. With the greatest impacts still on the horizon, our Department must strategically leverage its expertise, resources, and authorities to tackle climate change and increase resilience across our country."
Representing the consensus position of the DNI and seventeen other intelligence agencies, the report claims that climate change will result in many outcomes that threaten U.S. national security interests, including heightening water-related conflict, driving cross-border migration, and spurring competition for critical minerals with China.
The DoD Climate Risk Analysis (DCRA) responds to requirements specified in Executive Order (EO) 14008, "Tackling the Climate Crisis at Home and Abroad."
Lloyd J. Austin III, Secretary of Defense writes in the Introduction:
"To keep the nation secure, we must tackle the existential threat of climate change. The unprecedented scale of wildfires, floods, droughts, typhoons, and other extreme weather events of recent months and years have damaged our installations and bases, constrained force readiness and operations, and contributed to instability around the world.
Climate change touches most of what this Department does, and this threat will continue to have worsening implications for U.S. national security. To meet this complex challenge, the Department of Defense (DoD) is integrating climate change considerations at all levels, including in our risk analyses, strategy development, planning, modeling, simulation, and war gaming.
The DoD Climate Risk Analysis (DCRA) is a critical step for incorporating climate change security implications at a strategic level. As the global and cross-cutting consequences of climate change increase the demands on the Department, the DCRA provides a starting point for a shared understanding of the mission risks of climate change— and lays out a path forward. For example, climate considerations will be included in key DoD documents, such as the forthcoming National Defense Strategy, which guides the ways that DoD meets national security challenges. Coupled with the Climate Adaptation Plan, which will help the Department operate under changing climate conditions, the DCRA reflects the Department's focus on confronting climate change.
Climate change presents serious risks, but DoD, along with the entire U.S. government, as well as our allies and partners, is determined to address this common threat. The Department will work to prevent, mitigate, and respond to the defense and security risks associated with climate change. By doing so, we will ensure that we continue to fulfill our mission of defending the United States."
CONCLUSION

DEMOCRATIC PARTY'S RE-ENGINEERING OF THE US GOVERNMENT & SOCIAL ORDER

What are all these exhaustive reports aimed at? It is the foundation to integrate the US government with the New Green Deal currently in Congress as a 2,465-page, $3.5 Trillion Continuing Resolution (CR) Bill that aims to combat climate change and expand the nation's social safety net.

WHAT DOES IT MEAN

Open Borders,
Massive Growth in US Immigration,
A New Social Contract involving a broad expansion in entitlement programs and redistribution of wealth,
A Falling Overall US Standard of Living & Wealth over the next decade,
Expanding Government Involvement in the Economy,
Increasing Authoritarianism & Social Control.

THE GREAT STAGFLATION IS AHEAD

Exploding Inflation,
Slow Economic Growth and
Intractable Stagflation

The initial bill before congress included the following provisions within a proposed $3.5T CR to fund Climate Change Provisions and the New Green New Deal:

$2.0T  — Largest Tax Increase in American History,
$7B     — Green New Deal Climate Police
$10B   — Green New Deal Slush Fund for Colleges
 $2B    — Green New Deal Job Training
$27B   — Green Bank
$75M  — Green Activists
$50B   — Death Taxes
$80B   — Small Business Taxes
Taxes  — Energy, Employers, Cigarettes
IRS      — Double Size (# of Agents)
$6B — Charges on U.S. oil and gas operators on federal lands, which could effectively put mom and pop small business, and minority and Native-owned operations out of business, in addition to killing tens of thousands of jobs.
Include new methane fees, inspection fees, severance fees, and bonding requirements, as well as additional requirements for operating on federal lands.
Increases onshore oil and gas royalty rates on federal leases from 12.5% to 20%. The increase could be unsustainable because of the time it takes to go through a bureaucratic application and review process in light of the costs associated with capital investment and regulatory compliance costs. It takes years to complete required assessments and studies associated with lease approvals, and to invest capital and infrastructure to facilitate drilling, production and delivery.
An additional $15 per acre fee for expressions of interest in public lands will not guarantee that the companies applying for it would be included in eventual lease sales. The proposal might be likened to applicants paying several months' rent up front with a rental application not knowing if they'd get approved, and not having the deposit refunded if the application is rejected. The rental market would collapse, as no one would apply for a house or apartment lease under such terms. Another proposal shortens the length of the lease from 10 to 5 years, making the lease nearly moot, since it often takes five years for a lease to be approved.
NOTE: For those that still listen only to the mainstream media
Why DID THE BIDEN-HARRIS REGIME IMMEDIATELY REVERSE ALL TRUMP POLICIES THAT HAD EFFECTIVELY STOPPED ILLEGAL MIGRANTS ON THE SOUTHERN US BORDER & CREATE A HISTORIC SURGE ,YET WITHOUT ANY REPLACEMENT POLICY?
HERE IS THE CURRENT ILLEGAL ENTRY SITUATION
US Border Patrol agents have already apprehended a total of 1,666,167 illegal immigrants along the southwest border in fiscal 2021 – breaking all records since 1925 after the agency was formed (when 22,199 illegal aliens were arrested).
An additional 294,352 were stopped after trying to enter at a port of entry without legal papers, bringing the total to almost 2 million (1,956,519) for fiscal 2021, according to new Customs and Border Protection (CBP) statistics.

The CBP doesn't officially release the number of "getaways"—illegal aliens who are detected by Border Patrol, but evade capture. However, former CBP Commissioner Mark Morgan told a congressional Republican round-table on Oct. 20 that the getaway number hit at least 400,000 illegal aliens this year.

In January, Biden paused deportations, stopped border wall construction, halted the Remain in Mexico program, repurposed Immigration and Customs Enforcement priorities, and reversed the ban on travel from terror-prone countries.

NOTE: In December 2020, Trump's last full month in office, Border Patrol agents arrested almost 74,000 illegal immigrants on the southern border. By July, that had almost tripled to 213,500.
"Just as Covid was one giant smokescreen to "allow" central banks and Treasuries to merge and lead us to Helicopter Money and MMT, creating some $30 trillion in liquidity in the process, the "Net Zero" myth is what will perpetuate this endless printing for the next 30 years, a period during which the only benefits will be bestowed upon those who benefit from QE and money printing. That would be the richest. As for everyone else, well you great grandchildren or their grandchildren may (or may not) live in a cleaner world. We really don't know, but if we don't start printing money now it will be too late.
If that sounds scarier and more manipulative than any religion in human history, it's because it is."
FAIR USE NOTICE  This site contains copyrighted material the use of which has not always been specifically authorized by the copyright owner. We are making such material available in our efforts to advance understanding of environmental, political, human rights, economic, democracy, scientific, and social justice issues, etc. We believe this constitutes a 'fair use' of any such copyrighted material as provided for in section 107 of the US Copyright Law. In accordance with Title 17 U.S.C. Section 107, the material on this site is distributed without profit to those who have expressed a prior interest in receiving the included information for research and educational purposes.  If you wish to use copyrighted material from this site for purposes of your own that go beyond 'fair use', you must obtain permission from the copyright owner.
---
---
NOTICE  Information on these pages contains forward-looking statements that involve risks and uncertainties. Markets and instruments profiled on this page are for informational purposes only and should not in any way come across as a recommendation to buy or sell in these assets. You should do your own thorough research before making any investment decisions. MATASII.com does not in any way guarantee that this information is free from mistakes, errors, or material misstatements. It also does not guarantee that this information is of a timely nature. Investing in Open Markets involves a great deal of risk, including the loss of all or a portion of your investment, as well as emotional distress. All risks, losses and costs associated with investing, including total loss of principal, are your responsibility.