STRATEGIC INVESTMENT INSIGHTS
HARD ASSETS – PRECIOUS METALS
HAS THE ROLL OF GOLD ACTUALLY CHANGED?
Is gold in reality trading today as the ultimate hedge for central banks losing control of the "system"? If not, how is it traded and valued? If it is, what should we be looking for if Gold is to rise or fall?
WHAT SHOULD WE EXPECT FROM GOLD
Do we fully understand what Gold is today? It has historically been considered as the ultimate hedge against inflation and fear of the debasement of the currency.
Lately it hasn't been much of a Fear Hedge with markets in turmoil, threats of conflict in the Ukraine and rising social tensions.
It isn't even an inflation hedge as it doesn't trade with Inflation Breakevens nor has it broken out in the midst of the worst Inflation surge in 40 years!
We had a major rise in the US dollar and yet gold didn't move significantly with it nor as the dollar has fallen recently. It seems impervious to what traditionally moved gold prices.
Most professionals and institutions don't see it as an investment vehicle and in fact most historically dislike it.
So what is it we are missing about Gold and what should we expect in 2022?
GOLD TRACKS REAL RATES
We have outlined many times in our videos and newsletters that Gold prices in US dollars tracks very closely to inverse moves in US Real Rates. As real rates fall, gold rises (chart to right).
Recently however we have had a dramatic rise in the US real rates. Real Rates track to nearly the "tick" in the pricing of the US 10Y Treasury Note (Fishers Equation) using the US Treasury Index Protected Security or "TIPS".
As shown below, the US 10Y TIPS has surged since mid November from ~-1.2% to ~-0.4%. Gold should therefore have fallen quite significantly — but didn't? It completely separated from its traditional tracking of the inverse of the Real Rate.
One of the reasons for this was that Gold priced in US dollars rises and falls with the US dollar as priced against a traded weighted basket of foreign currency pairs. The US dollar during this period has fallen (though with significantly increased volatility) as shown in the grey box below of the the DXY dollar chart. The drop approximates ~ $40/OZ which coincidentally approximates the trading range of gold during this period.
WHAT IS AHEAD FOR GOLD?
The result of this has been the emergence of the trading wedge in Gold as shown below. Gold appears clearly ready to breakout with its volatility coiling like a tight spring. The question is which way??
The answer in our view lies in understanding why Gold has diverged from Real Rates and what is the direction of real rates?
WHY HAVE REAL RATES HAVE RISEN SO FAST?
The US government has issued its largest amount of TIPS in history since November. To be precise, $76B just in the last 3-months ending in December. To put this into perspective: that's almost 5% of the total outstanding amount of TIPs. This doesn't include January not shown in the chart to the right.
Why is the US Government issuing such unprecedented amounts of US TIP securities?
The Federal Reserve's current "TAPER" program, which is reducing its rate of increasing holdings of Treasuries, is now forcing the US Treasury department to sell more debt to the public. Increases in Treasury supply normally pushes yields higher and prices lower. Which is exactly what we are seeing. The sales of recently created Treasury i-Shares yielding over 7% has drawn significant sales, though the actual issuances are not yet readily available.
We have seen an unprecedented move in US 10Y Treasury Notes during this period of time. When we put the following projection together in the fall (labelled by the upward blue "B") we thought it shocking, but our analysis confirmed this was what we should expect! It has been a "moon shot" since.
To put all this in perspective we need to revisit the fact that US Treasury Bonds are highly dependent on Real Rates via the Fisher Equation.
NOMINAL RATES = INFLATION BREAKEVENS + REAL RATES
10y US Treasury Note closed Friday 02-11-22 at the following levels:
Instead of everyone watching Fed Chairman Jerome Powell, markets should be closely monitoring US Treasury Secretary Janet Yellen. What she does with new US Treasury issuances going forward controls real rates and consequently gold prices.
There is also little doubt that the Federal Reserve is also aggressively assisting with the purchase of Inflation Swaps to keep the 10Y Inflation Breakeven at ~2.5% while PPI sand CPI are at more than twice that level and not seen in over 40 years! Few seem to be questioning any of this??
CONCLUSION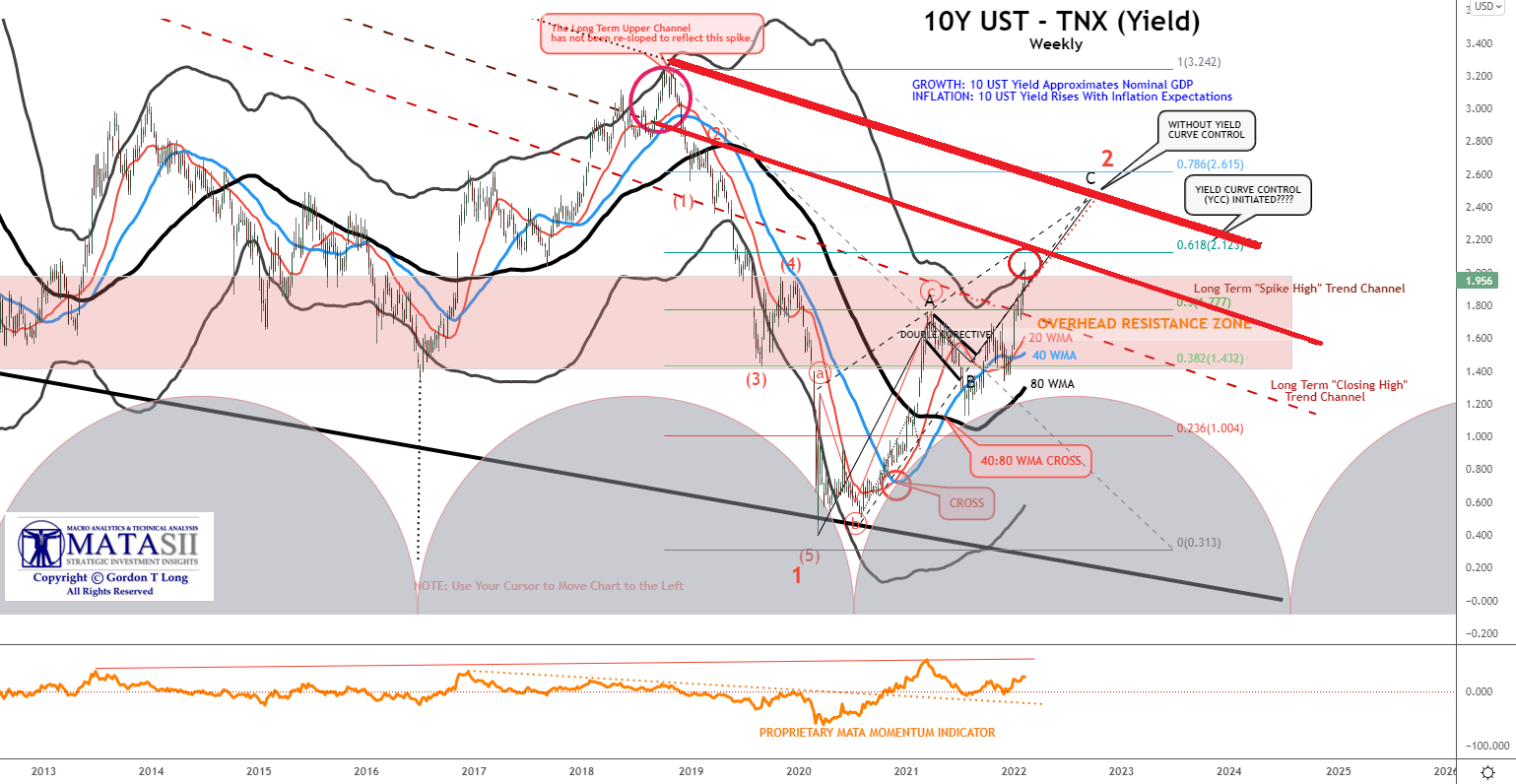 10Y Real Rates should be closer to -1.5% if the US Government is to have any hope of proven Macroprudential strategies like Financial Repression alleviating the US debt burden in the longer term.
If Inflation Breakevens were to be closer to 3.5% this would price the 10Y Note at ~ 2.0%. It would also keep it below what has become a longer term boundary trend line (as shown by red bars in the chart to the right top).
Gold in reality is trading today as the ultimate hedge for central banks losing control of the "system" and increasingly a play in the near term on whether the Federal Reserve is actually able to combat inflation.
FAIR USE NOTICE  This site contains copyrighted material the use of which has not always been specifically authorized by the copyright owner. We are making such material available in our efforts to advance understanding of environmental, political, human rights, economic, democracy, scientific, and social justice issues, etc. We believe this constitutes a 'fair use' of any such copyrighted material as provided for in section 107 of the US Copyright Law. In accordance with Title 17 U.S.C. Section 107, the material on this site is distributed without profit to those who have expressed a prior interest in receiving the included information for research and educational purposes.  If you wish to use copyrighted material from this site for purposes of your own that go beyond 'fair use', you must obtain permission from the copyright owner.
---
---
NOTICE  Information on these pages contains forward-looking statements that involve risks and uncertainties. Markets and instruments profiled on this page are for informational purposes only and should not in any way come across as a recommendation to buy or sell in these assets. You should do your own thorough research before making any investment decisions. MATASII.com does not in any way guarantee that this information is free from mistakes, errors, or material misstatements. It also does not guarantee that this information is of a timely nature. Investing in Open Markets involves a great deal of risk, including the loss of all or a portion of your investment, as well as emotional distress. All risks, losses and costs associated with investing, including total loss of principal, are your responsibility.