HERTZ SKIDDING ON THE EDGE OF BANKRUPTCY WITH AIRPORTS DESERTED
I was interviewed this week by Kerry Lutz of the Financial Survival Network. The interview was requested by FSN because many of the MATASII warnings made during prior interviews have been confirmed by the 2020 CoronaVirus triggered market turmoil (Kerry highlights these in the interview).
One Investment Theme we had previously highlighted was the coming cyclical rotation of the Auto industry and its' dependent Financial Lending Sector. Both have been SII sector focuses since 2016 with the Auto sector following 26 securities and the Lending sector following 19 securities of the over 150 covered by MATASII.  We warned that the coming rotation would be much more devastating than prior cycles and global in nature for the first time in auto history. Our thesis was based on a number of structural concerns outlined below.
Kerry Lutz is a Lawyer with a background in Financial Credit and he confirmed in the interview our shared belief about the era we are now in when he states:
  "…. its a good time to be a debtor and not pay because basically there is a moratorium on any enforcement; the courts are closed, the foreclosure process has a moratorium, evictions a moratorium …… you can't collect any money. You can't go to court!"  
AUTO SECTOR: Before the CoronaVirus market turmoil the financially vulnerable auto Industry was confirmed to be in the early stages of a major Cyclical downturn.  Global Light-Vehicle Sales peaked in late 2017 and had been falling rapidly on an annualized basis ever since (see chart below).

The CoronaVirus triggered market collapse has reduced new auto sales to levels last experienced at the lows of 2008 Financial Crisis.
Global new car sales fell 38% in March and are expected to be even worse when April results are published. Sales in South America fell 27% in March, 50% in Western Europe, and 80% in China (in February).
In an attempt to shore up falling sales the industry has shifted to longer term leases (72 months), heavy discounting and incentives. As a result of demand pull forward, there are fewer new buyers and are typically "upside down" on new loans further limiting their ability to upgrade.
There is little doubt that some major players will not survive this cycle in their current form.
AUTO SECTOR
WE HAVE A CYCLICAL GLOBAL SALES PROBLEM IN ADDITION TO A CONSUMER SPENDING CRISIS!
You have seldom every seen charts like those below. Company cash commitments simply are not built to withstand such a shock! Bankruptcy, Takeover, Merger or Bailout are the to be expected options!
AUTO FLEET SALES
2019 US new car sales were 17.1 million units. March's US annualized rate is 11.2 million units. It is a serious question whether an already troubled auto industry has the financial capabilities of surviving this historic degree of collapse.Falling Fleet Sales have made  bad situation even worse.
All six auto sub-sectors within MATASII's tracking show major concerns. The biggest near term concern is in Auto Fleet Sales.
Already heavily impacted by a consumer preference shift towards services like Uber and Lift, the complete stoppage of travel has pushed a tenuous situation into "FULL RED".
According to the Wall Street Journal this week, Hertz is rumored to already being forced to consider filing for bankruptcy after failing to make a lease payment.
Hertz: "We are reducing expenses, deferring capital expenditures and adjusting fleet levels and staffing based on the significant in travel demand. Importantly, conversations with our leaders are ongoing and we remain in discussions with the US Treasury".
Hertz has $17B in debt and is under a grace period until May 4th.
Any move down from $5 is a significant percentage move!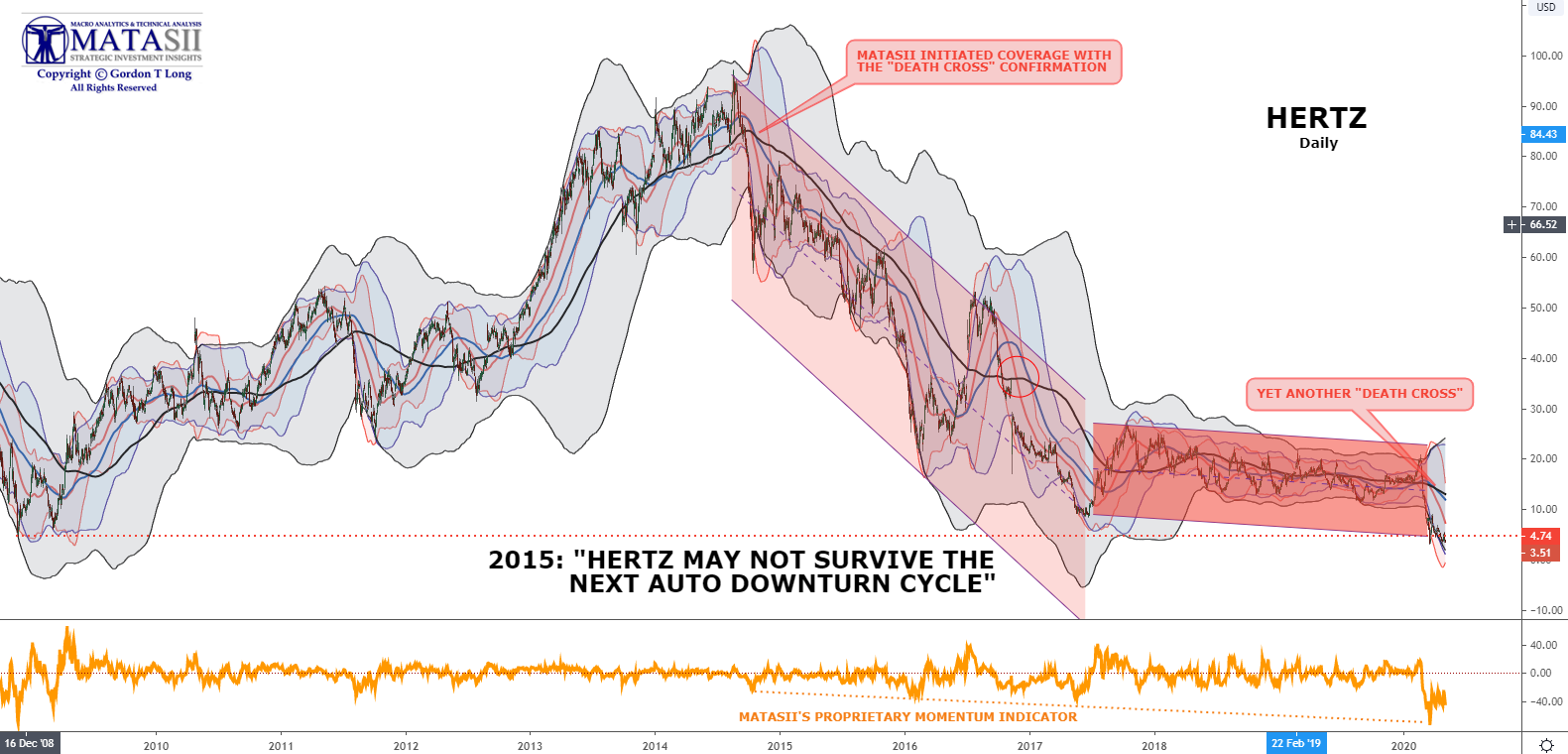 Your LIVE DESK TOP / TABLET / PHONE
MACRO ANALYTIC Video Chart Link:  
FAIR USE NOTICE  This site contains copyrighted material the use of which has not always been specifically authorized by the copyright owner. We are making such material available in our efforts to advance understanding of environmental, political, human rights, economic, democracy, scientific, and social justice issues, etc. We believe this constitutes a 'fair use' of any such copyrighted material as provided for in section 107 of the US Copyright Law. In accordance with Title 17 U.S.C. Section 107, the material on this site is distributed without profit to those who have expressed a prior interest in receiving the included information for research and educational purposes.  If you wish to use copyrighted material from this site for purposes of your own that go beyond 'fair use', you must obtain permission from the copyright owner.
---
---
NOTICE  Information on these pages contains forward-looking statements that involve risks and uncertainties. Markets and instruments profiled on this page are for informational purposes only and should not in any way come across as a recommendation to buy or sell in these assets. You should do your own thorough research before making any investment decisions. MATASII.com does not in any way guarantee that this information is free from mistakes, errors, or material misstatements. It also does not guarantee that this information is of a timely nature. Investing in Open Markets involves a great deal of risk, including the loss of all or a portion of your investment, as well as emotional distress. All risks, losses and costs associated with investing, including total loss of principal, are your responsibility.