IN-DEPTH LOOK AT THE JUNIOR COBALT MINERS
Summary
Cobalt spot price history and some background cobalt articles.
A new look at the cobalt juniors that have a chance to make it.
This idea was discussed in more depth with members of my private investing community, Trend Investing.
This article first appeared on Trend Investing on February 16, therefore all data is as of that date.
The cobalt miners had a great year in 2017, with many returning over 100% returns and some way above that. 2018 still offers the potential for strong returns in the sector, but investors need to select more carefully.
Some background cobalt articles of mine to read:
Cobalt spot price history - 2005-2018 - Price = USD 36.97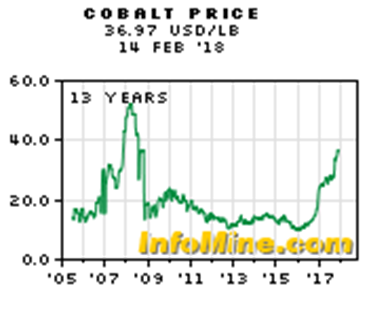 Source: InfoMine
A new look at the cobalt juniors (in order of likely production)
Highlands Pacific [ASX:HIG] (OTC:HLPCF) - Price = AUD 0.08
Highland Pacific is an Australian mining company with projects in Papua New Guinea [PNG]. They own 8.56% of the Ramu nickel/cobalt mine (in production), and 20% of the massive $3.6b Frieda River gold/copper resource. The later project will require massive CapEx, two years for approvals and six years for construction, meaning first production would be no earlier than 2024/25. The company also has interests in The Star Mountains copper-gold project (JV with Anglo American) (drilling stage), and the Sewa Bay nickel laterite project (exploration stage).
The table below shows on a pro-rata project basis Highlands Pacific has the sixth largest total global cobalt resource.
Global cobalt resource comparison (not updated)

Source:24hGOLD
You can view company presentations here. Current market cap is AUD 76m. Analyst target is AUD 0.22 or 178% upside.
A good option for investors that don't mind the sovereign risk of PNG.
The Ramu nickel/cobalt mine - PNG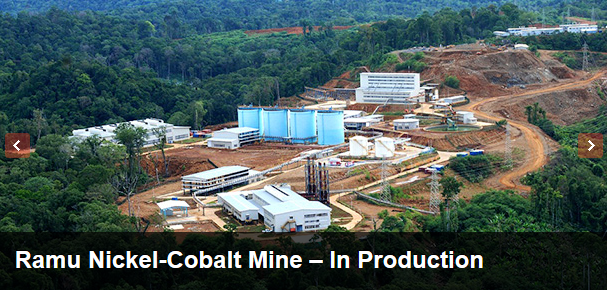 Artemis Resources [ASX:ARV] (OTCPK:ARTTF) - Price = AUD 0.185
Artemis Resources is a gold, cobalt, PGEs and other deposits explorer in Western Australia. The company states on their website - "Artemis Resources holds over 1400km2 of tenements and the only available processing plant in the Pilbara. This includes one of Australia's most exciting cobalt discoveries at Carlow Castle, diamonds at the Blacktop tenements as discovered by DeBeers, copper and zinc at Whundo, a possible world-class gold deposit at Purdy's Reward, Mt OscarWits, Silica Hills and Weerianna and Australia's largest platinum resource at Munni Munni." The company plans to restart the processor in June 2018.
They have a 50% JV with Novo Resources (the deal includes 4m shares of Novo (TSXV:NVO) - now ~CAD 3.12). The JV covers Conglomerate and Paleoplacer gold deposits on 38 Artemis Resources' tenements (covering 1,256 km2) within 100km of Karratha in the West Pilbara, High grade Carlow Castle Karatra Cobalt project.
Their resources are not yet very well defined and exploration is ongoing. For example, Carlow Castle so far has an I & I Resource of 4.5 Mt @ 0.9g/t Au, 0.07% Co, 0.4% Cu & 1.3 g/t Ag.
Valuation looks attractive with a market cap of AUD 116m, especially given they already have a processing facility, and can be a near term producer of various metals. Whilst the company is predominantly a gold project explorer/developer, there is also strong potential with cobalt and the platinum group elements [PGEs]. I was not able to find any analyst forecasts. You can read more here about conglomerate gold in the Pilbara.
Artemis Resources tenements map - showing also their JV tenements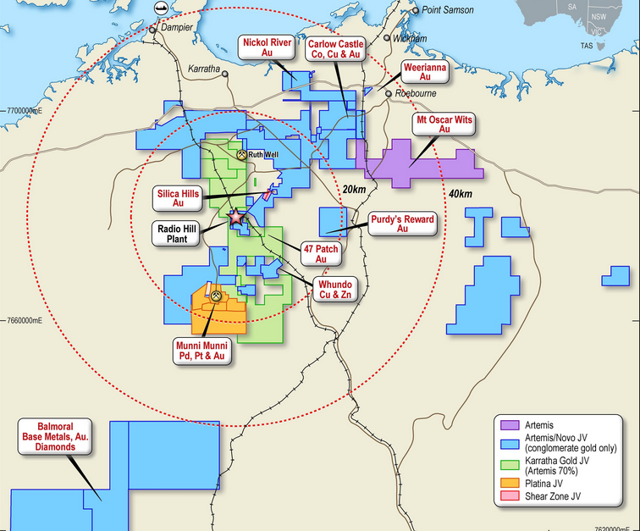 eCobalt Solutions [TSX:ECS] (OTCQX:ECSIF) - Price = CAD = 1.41
eCobalt 100% own the Idaho Cobalt Project [ICP] in Idaho USA. The company states on their website that the ICP "remains the only advanced stage, near-term, environmentally permitted primary cobalt deposit in the United States."
Total Measured and Indicated ('M&I') resources are 3.87 million tons at 0.59% Co, or 22,833 tonnes of contained cobalt. Inferred resource is 1.82 million tons at 0.46% Co, or 8,372 tonnes of contained cobalt.
The September 2017 Feasibility Study resulted in the following results:
Post tax NPV 7.5% of US$135.8M (pre-tax of US$176.9m) and an IRR of 21.3%, based on a price of US$26.65/lb for contained cobalt in cobalt sulphate.
Annual production to be 2.4M lbs (1,088 tonnes) of cobalt 3.3M lbs (1,497 tonnes) of copper and 3,000 oz of gold, over a 12.5 year mine life.
Upfront CapEx of US$186.7m, 2.9 years payback.
LOM Average Net Cash Cobalt Production Cost US$5.05/lb.
The ICP is expected to be an underground mine and mill.
The company is currently advancing due diligence with potential off-take partners, and has made significant progress in identifying strategic off-take partners.
Catalysts - Further resource upgrades, off-take agreements, project financing. Possible 2020 producer if everything goes well.
Current market cap is CAD 192m. Analysts' consensus target is CAD 2.00, representing 34% upside. My model shows an end 2020 price target of CAD 2.02, assuming they make it to be a producer.
My view is that the latest FS was a bit disappointing, especially with CapEx being higher than NPV (both pre-tax and post tax NPVs). On the positive side their cobalt grade is high and their cost of production is very low due to the copper and gold by-product credits. For me to be a buyer of eCobalt at current valuations, I would need to see a considerable resource upgrade which would allow for higher production volumes and better economics, and hence a higher certainty they will make it to production.
Fortune Minerals [TSX:FT](OTCQX:FTMDF) - Price = CAD 0.23
Fortune 100% owns the NICO gold-cobalt-bismuth project in the Northwest Territories of North America (160 km northeast of Yellowknife), as well as their nearby Sue-Dianne copper-silver-gold deposit, and other exploration projects in the Northwest Territories.
The NICO deposit contains open pit and underground Proven and Probable Minerals Reserves totaling 33 million tonnes containing 1.1 million ounces of gold, 82 million pounds of cobalt (37,194 tonnes contained cobalt), 102 million pounds of bismuth, and 27 million pounds of copper.
The 2014 Feasibility Study results included:
Post tax 7% NPV C$224 million IRR 15%pa. (Base Case Price assumptions are US$1,350/troy ounce ("oz") for gold, US$16/pound ("lb") for cobalt (US$19.04/lb in sulphate), US$10.50/lb for bismuth (US$12.64/lb bismuth in average production of ingot, needles and oxide), and US$2.38/lb for copper at an exchange rate of C$1=US$0.88.
1,615 tonnes of cobalt pa production with a 21 year mine life.
Negative US$5.19/lb cobalt cost of production.
CapEx of CAD 589m.
Fortune is currently updating and releasing soon their FS, which should see a nice boost as cobalt prices are higher and Fortune plans a 20-30% increase in the planned NICO production rate to 1,700 and 2,000 tpa.
Fortune is currently pursuing off-take agreements and financing solutions with the objective of commencing construction activities as soon as project financing is secured. The road to Whati and the mine access issue is improving with the Government currently putting out tenders.
Catalysts - FS update due out in Q2, off-take agreements, project financing. Possible 2020 producer if everything goes well.
Current market cap is CAD 78m. Analysts' consensus target is CAD 0.40, representing 60% upside. My model shows an end 2020 target price of CAD 0.76 or 3.15x upside, assuming they make it to be a producer by then.
My view is Fortune is a very good speculative buy with plenty of upside still. Their positives are their super low (negative) US$5.03/lb cobalt cost of production, their solid size resource all in the reserves category, their other projects (including Sue Dianne) and their North American location. Their negatives are the road access issue (appears to being slowly solved) and the high CapEx (higher than NPV). 2018 could be a great year for Fortune with an upgraded FS (and significantly higher NPV towards CAD 480m by my estimates), likely off-take agreements and project financing. One of the better juniors.
RNC Minerals [TSX:RNX] (OTCQX:RNKLF) (formerly Royal Nickel Corporation) - Price = CAD 0.24

RNC Minerals (formerly Royal Nickel Corporation) "RNC" is a Canadian explorer-developer looking to develop their flagship 50% JV (with private equity firm Warterton) Dumont Nickel-Cobalt project in Quebec Canada. The company also has a 100% share in the Beta Hunt gold-nickel producing mine in Western Australia, 30% in the Reed copper-gold producing mine in Manitoba Canada, and a 46% shareholding in gold explorer Orford Mining (US and Canada exploration).
The company states, "RNC's Dumont project in Canada has the world's 2nd largest nickel reserves, and the world's 8th largest cobalt reserves." Reserves are 3.1 million tonnes of contained nickel at 0.27%, and 126,000 tonnes contained cobalt at 0.0107%.
Global Cobalt projects compared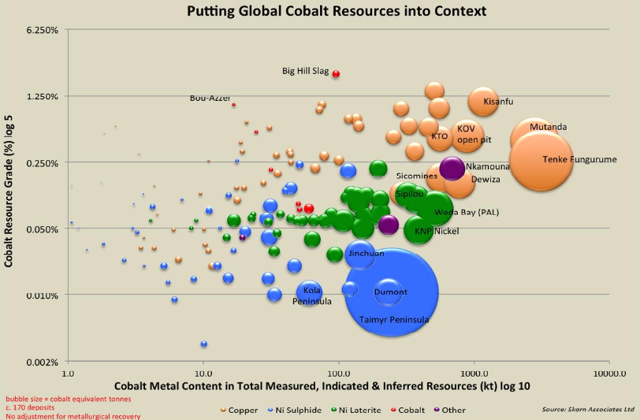 The 2013 FS result for the Dumont nickel project resulted in:
Post tax NPV8% of CAD 1.33b (USD 1.137b), IRR of 15.9%.
Based on average life of mine production of 41ktpa (90mlbs) nickel, 2ktpa (4mlbs) cobalt, and 19kOzpa PGEs. Nickel Net C1 cost of US$ 4.79/lb, and a nickel selling price of USD 9.00/lb, cobalt selling price USD 14/lb, platinum USD 1,800/oz, palladium USD 700/oz, CAD:USD of 0.90.
Initial CapEx was estimated at CAD 1.268b, with expansion CapEx at CAD 997m.
In January RNC Minerals announced that they have plans to allow a decision to begin construction of Dumont Nickel-Cobalt Project in 2019.
Catalysts - Off-take agreements, project financing. Possible 2020 producer if everything goes well.
Current market cap is CAD 85m. Analysts' consensus target is CAD 0.55, representing 112% upside.
Investors can view my CEO Mark Selby interview on Trend Investing here, or read my article "RNC Minerals Has A Very Large Low Grade Nickel-Cobalt Sulphide Project In Canada."
My view is RNC Minerals is a well valued speculative buy, and a strong optionality play on nickel prices (and to a lesser degree cobalt) rising. Their grade is low but they have a massive sulphide ore resource and a strong financial backing JV partner at Dumont. A rising nickel price and some patience required with a multi-bagger upside if everything goes right.
Clean TeQ [ASX:CLQ] [TSX:CLQ] (OTCQX:CTEQF) - Price = AUD 1.23

Clean TeQ 100% owns the Sunrise nickel/cobalt/scandium project in NSW, Australia. Clean TeQ has 132kt contained cobalt in laterite ore at their Sunrise project. The company states that they are "uniquely positioned as one of the largest and highest grade sources of cobalt outside Africa."
Their Proved & Probable resource is 96m tonnes at 0.65% nickel, 0.10% cobalt. The resource is shallow (5m to 40m) and extends over a 2km horizon.
A comparison of Australian laterite projects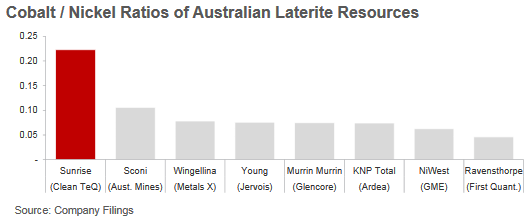 The 2016 DFS results included:
Post-tax NPV 8% of US$891m (A$1,187m) and 25% post-tax IRR.
Assuming long-term average nickel and cobalt price forecasts of US$7.50/lb and US$12.00/lb respectively.
Based on production of 18,730tpa of contained nickel metal equivalent and 3,222tpa of contained cobalt metal equivalent in years 3-20. 20+ year mine life.
C1 cash costs of US$0.89/lb nickel after cobalt by-product credits.
Capital cost of US$680m (A$906m) including US$62m (10%) contingency.
Catalysts - Q1 2018 - DFS to be released, further off-take agreements and possible project financing. Possible producer by 2019.
Current market cap is AUD 726m. Analysts' consensus target is AUD 2.09, representing 65% upside.
Australian Mines [ASX:AUZ] (OTCPK:AMSLF) - Price = 0.091 (trading halt)

Australian Mines 100% owns their flagship Sconi nickel-cobalt-scandium laterite project in North Queensland, Australia. They also 100% own the Flemington cobalt-scandium-nickel project in NSW next to CleanTeQ's Sunrise project. The company also 100% owns tenements adjacent to Cobalt Blue, called their Thackaringa Cobalt Project.
The Sconi resource is 89 million tonnes of ore at 0.06% Co. Average feed grade of 0.11% cobalt and 0.81% nickel for the projected life of mine (20 years), with 54,500 tonnes of contained cobalt in resource.
The Flemington maiden resource is 2.7 million tonnes of ore at 0.101% cobalt and 403ppm scandium, for 2,744 tonnes contained cobalt.
The Sconi PFS only included scandium so is not really relevant, so the market is keenly awaiting their BFS by mid 2018, which will include cobalt, scandium and nickel. Flemington is still growing the resource towards the next stage being a PFS.
Upcoming catalysts include:
Off-take agreements (the stock is currently in a trading halt awaiting an off-take announcement).
Flemington drill results and resource update. Later a PFS.
Mid 2018 - Sconi BFS.
Current market cap is AUD 244m. I was unable to find an analysts' consensus target price. Plenty of potential here, but investors need to remember laterite ores require a large upfront CapEx, so project economics need to be strong. All eyes will be on the mid-year BFS.
Ardea Resources [ASX:ARL] (OTC:ARRRF) - price = AUD 1.35

Ardea Resources 100% own the Kalgoorlie Nickel (laterite) Project (KNP) in Western Australia. Ardea state they have "Australia's and the developed world's largest cobalt resource."
Ardea's high grade zone (Goongarrie Nickel-Cobalt Project) has a resource of 65.7Mt of ore at 0.13% cobalt and 0.79% nickel. Ardea's total cobalt and nickel resource now stands at 405,000 tonnes contained cobalt (grade 0.05%), 5.46 million tonnes contained nickel (grade 0.7%). Their higher grade zone has 85,410 tonnes of contained cobalt. Added to this is their recent scandium discovery. Other projects include the Lewis Ponds zinc-gold-silver development project, and the Mt Zephyr Gold Project.
Upcoming catalysts include:
Q1 2018 - PFS results - KNP cobalt project (my estimate is an unrisked NPV8% of ~AU$1.1b) and Lewis Ponds project.
End 2019 - DFS results - KNP cobalt project
2021 - Possible producer.
Current market cap is AUD 121m. Ardea certainly looks very appealing especially when comparing to their more advanced peers CLQ and AUZ.
Investors can view their latest company presentation here, and my interview with Managing Director Dr. Matt Painter on Trend Investing here.
Cobalt Blue Holdings [ASX:COB] (OTCPK:CBBHF) - Price = AUD 0.67

Cobalt Blue is optioned to 100% own the Thackaringa cobalt-pyrite sulphide project in NSW Australia. They are buying in from Broken Hill Prospecting [ASX:BPL].
Cobalt blue currently has a total Indicated & Inferred resource of 54.9 million tonnes grading 0.091% cobalt (for ~50,000 tonnes of contained cobalt), with exploration upside. Cobalt Blue is targeting a resource of 100 million tonnes at 0.084% cobalt for 84,000 tonnes of contained cobalt. That will support a 20-year operation at 4,000 tonnes pa, and make Cobalt Blue a top five global producer.
Cobalt Blue will have a low cost of production due to their ore type and a new way to process it using gravity separation. The company states - "The heavy sulphide separates easily. We therefore only need to process 20% of mined ore (sulphide) in a refinery." The graph below shows the huge advantage this potentially gives Cobalt Blue.
Most of the laterite deposits will need to refine the ore at 0.1-0.2%, whereas Thackaringa will be refining concentrate at 0.4-0.5% cobalt.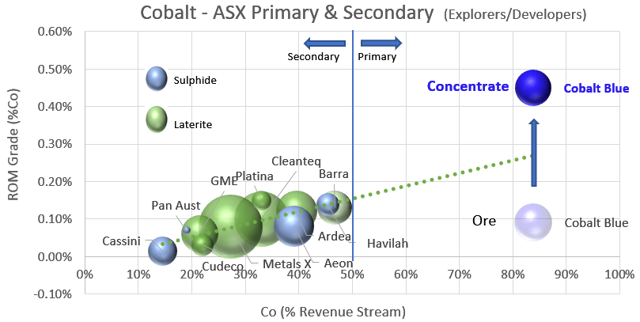 The company is currently working to prove up their resource with further drilling.
Upcoming catalysts include:
Late February/Early March - Upgraded resource estimate. Expect to upgrade to ~40kt indicated, and perhaps an overall resource increase.
By 30 June, 2018 - PFS to be released. My estimate is for an unrisked NPV8% of A$1.08b.
Current market cap is AUD 72m. My interview with their CEO Joe Kaderavek is on Trend Investing here.
I view Cobalt Blue as the best valued junior cobalt play and an outstanding buy opportunity still. The reason is they have a sulphide ore (lower CapEx), a way to massively reduce processing costs (lower Opex), a growing resource, and an exceptional valuation due to the early stage.
Aeon Metals [ASX:AML] - Price = AUD 0.25

Aeon Metals 100% owns their Walford Creek copper-cobalt project in Queensland Australia. The company states they have - "The largest and most advanced cobalt sulphide deposit in Australia with a ~25km mineralized fault. World class size base metal system with 2012 JORC Indicated and Inferred Resources of 73Mt at 1.43% Cu equivalent containing: 296,000t of copper, 60,000t of cobalt, 623,000t of zinc, 626,000t of lead, 55moz of silver."
Walford Creek Resource (over a 4km zone) - as of 2015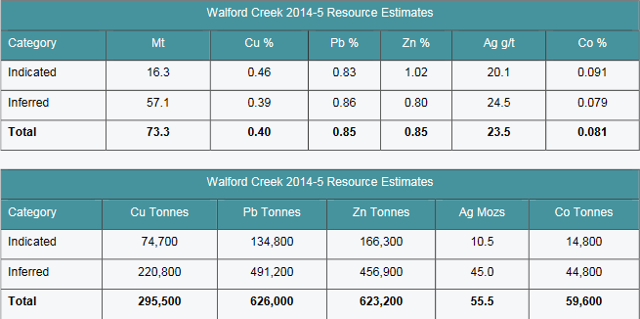 On January 24, Aeon Metals announced: "Doubling of copper resource at Walford Creek. This updated Resource shows Walford Creek to have one of the highest grade and largest tonnages of cobalt metal content among the cobalt sulphide deposits in Australia." Note the company has chosen here to increase the cut-off grades therefore the new total resource now has just 43,500 tonnes of contained cobalt at 0.13% (up from 0.081% in the table above). The details can be fully understood by reading here. In my view the company's previous DFS no longer has relevance, and I would expect an update via a FS in late 2018 early 2019.
Upcoming catalysts include:
2018 - Further drilling and drill results, further upgrades to the resource.
Current market cap is AUD 144m. Bell Potter recently released a broker reportwith a price target of AUD 0.48. I like that Aeon Metals has a ploymetallic deposit (Cu, Pb, Zn, Ag, Co), is a sulphide ore, with large exploration upside. One of my preferred picks.
GME Resources [ASX:GME][GR:GM9] (OTC:GMRSF) - Price = AUD 0.14

GME Resources own the NiWest Nickel-Cobalt Project located adjacent to Glencore's Murrin Murrin Nickel operations in the North Eastern Goldfields of Western Australia. The NiWest Project which has a total resource (0.8% Ni cut-off): 81Mt at 1.03% Ni and 0.06% Co (~75% in M&I categories) for an estimated 830,000 tonnes of nickel metal and 52,000 tonnes of cobalt. 

GME Managing Director Jamie Sullivan said "the unique characteristics of the NiWest ore and high quality of technical work completed to date provided confidence in the development potential of the NiWest Project, adding, "The relatively simple heap-leach processing route identified in the scoping study has been considered and trialed at several other nickel laterite projects including at the adjacent Murrin Murrin nickel refinery, which has recently commercialized a heap leaching program on similar ore types."
Investors can read the latest activities report here, or an excellent investor presentation here.
Australian cobalt miners compared by cobalt equivalent grade and contained metal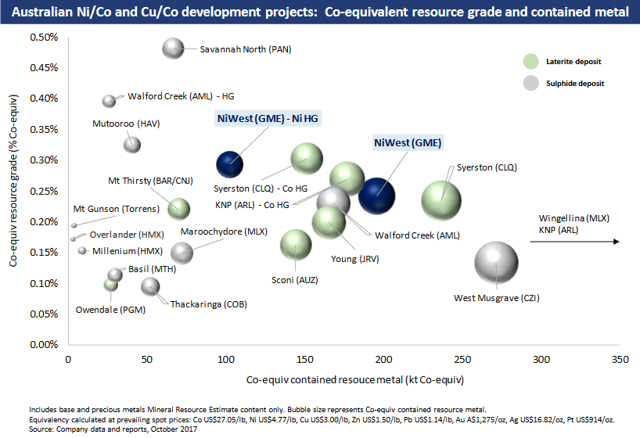 Source: GME Resources
NB: GME's projects are shown in dark blue and are a laterite ore.
Barra Resources [ASX:BAR] - Price = AUD 0.05 and Conico Ltd [ASX:CNJ] - Price = AUD 0.03

Barra are a Western Australian miner who owns 50% of the Mt Thirsty cobalt-nickel (laterite) project with Conico Ltd [ASX:CNJ] owning the other 50%.
The Mt Thirsty project has 39,300 tonnes of contained cobalt, in a laterite ore.
Barra also owns a few gold exploration projects (Burbanks, Phillips Find, and Riverina). The stock has had a tough year, which is most likely why Barra has recently appointed new management and a new CEO.
Barra has a market cap AUD 21m, and Conico is AUD 11m.
Celsius Resources [ASX:CLA] - Price = AUD 0.11

Celsius states are optioned to own 100% of Opuwo Cobalt Pty Ltd, which in turn holds the right to earn up to 76% of the Opuwo Cobalt (sulphide) Project in Namibia.
Their total project area is approximately 1,470 square kilometres. Mineralisation has already been intersected over a 15 km zone in the initial Celsius drilling program. The Aesir analysts report states "Cobalt-copper mineralisation has been confirmed over approximately 6km of strike with 11km showing proven DOF mineralisation (assays to follow). Additionally, drilling has commenced in the western portion of the project, where higher grade cobalt mineralisation (up to 4300ppm) has been identified at surface."
The company states they have "over 100 km of cobalt -copper prospective horizon now under control of Celsius." Hence this is a potentially large scale project.
Upcoming catalysts include a Q1 2018 initial JORC-compliant Mineral Resource report.
Market cap is AUD 65m.
Investors can view their latest presentation here, and an analyst's report here. I view Celsius as one of the better speculative early stage cobalt exploration plays, albeit with sovereign risk.
Celsius's Opuwo Cobalt "target" resource size compared to peers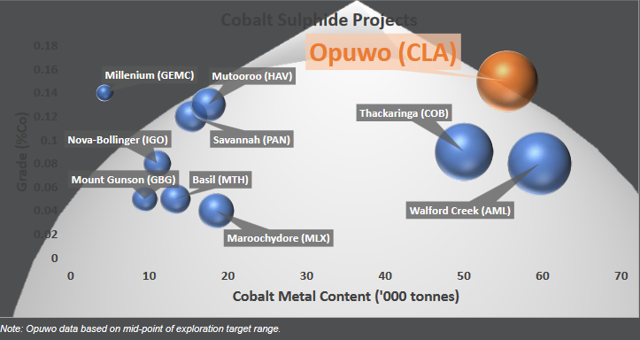 Source: November 2017 company AGM presentation
Nzuri Copper [ASX:NZC] (OTCPK:NZRIF) - Price = AUD 0.29

Nzuri 85% own the Kalongwe copper-cobalt project in the Kolwezi region of the Democratic Republic of Congo [DRC].
The company states on their website: "The Company has significant interest in a portfolio of permits that collectively cover some 350sq km of a highly prospective part of the western Katangan Copperbelt. At Kalongwe, the Company's flagship project, a near surface oxide resource of 302,000t contained Cu at an average grade of 2.72% Cu that also includes 42,000t contained Co has been delineated. Nzuri has released the results of a Definitive Feasibility Study for the Kalongwe Cu-Co Project.
The study outcomes are highly positive and indicate the strong economic viability for developing a stand-alone, low CAPEX, open pit mining operation. Refer to ASX announcement on the 16th October 2017. Nzuri is currently focused on fast tracking the development of the Kalongwe Project and on drill testing high priority exploration targets already identified on its other permits so as to build a substantial resource base."
Cassini Resources [ASX:CZI] [GR:ICR] (OTC:CSSQF) - Price = AUD 0.11

Cassini has been focused on copper, nickel and gold exploration; however also have solid cobalt prospects.
Cassini's flagship is the West Musgrave Project [WMP] in Australia, hosting over 1.0 million tonnes of contained nickel and 2.0 million tonnes of contained copper in resource. The company states that "the WMP is the largest undeveloped nickel copper project in Australia."
Investors should be aware Oz Minerals [ASX:OZL] (OTCPK:OZMLF) have a buy/earn in for West Musgrave which can get them to 70%. The company is also progressing its 100% owned projects including the Mt Squires Gold Project in WA, an early stage zinc exploration project in the West Arunta region of WA, and the 80% earn in option on Yarawindah Brook project (Ni+Cu+Co+PGE).
.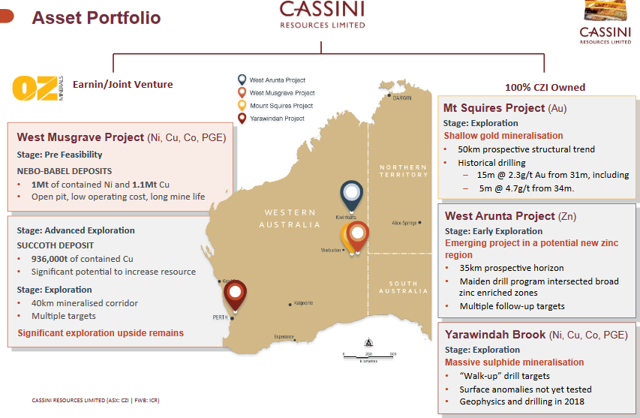 Analyst consensus target price is AUD 0.16, representing significant upside. Investors can read the latest company presentation here.
Cruz Capital Corp [NYSE:CUZ] (OTCPK:BKTPF) - Price = CAD 0.33
Cruz Capital operates as a cobalt project generator and developer. Cruz currently has six cobalt projects located in Canada, one in Idaho and one in Montana. Cruz's 4 separate Ontario cobalt prospects are all located in the vicinity of the city of Cobalt. projects include:
War Eagle Cobalt prospect (British Columbia, Canada) - surface samples of 6.41% cobalt, 3.59% nickel and 7.25% copper (historic data)
Johnson Cobalt prospect (Ontario, Canada) - grab assays over 300m up to 10.5% cobalt, 69 g/t silver, 12% nickel and 0.4% copper (historic data)
Bucke Cobalt project (Ontario, Canada) - assays grading 13% cobalt and 240 g/t silver (historic Ontario data)
Idaho Star Cobalt prospect (Idaho, USA)
Coleman cobalt project (Ontario, Canada) - assays grading 13% cobalt
The Chicken Hawk cobalt prospect - Consists of 94 contiguous lode claims covering approximately 1,940 acres and is located in Deer Lodge county, Montana.
Cruz has recently completed an airborne survey over our 4 Ontario cobalt prospects, which has identified 6 primary cobalt targets. Airborne data gathered on Cruz's 2 BC Cobalt properties has shown strong magnetic features within the cobalt prospects.
They currently trade on a market cap of just CAD 24m. Some patience required.
First Cobalt [TSXV:FCC] (OTCQB:FTSSF) - price = CAD 1.09

First Cobalt is a large tenement holder in Cobalt camp Ontario, Canada. Their primary focus is on its Greater Cobalt Project with over 10,000 hectares of prospective land including over 50 past producing mines, a mill and a cobalt refinery. The area is a historic cobalt and silver mining region.
The company has commenced drilling with a $7 million exploration program for 2018.
On January 10 First Cobalt announced, "First Cobalt reports positive drill results from Woods Extension. Highlights were 0.57% Co and 1.40% Ni over 0.40m, and 0.34% Co over 0.40m."
Market cap is CAD 212m which looks a high to me, given they are only at a very early stage. Investors can view the company presentations here.
Bankers Cobalt [TSXV:BANC] [GR:BC2] (OTCQB:NDENF) - Price = CAD 0.45

Bankers Cobalt is a cobalt and copper exploration and development company focused on advancing its high quality portfolio of permitted concessions in the Democratic Republic of Congo [DRC]. Bankers aim to generate a reliable, certified supply of cobalt and copper for existing and new processors in the DRC having excess capacity.
Bankers hold rights to 14 separate mineral concessions strategically located in the southern DRC Copperbelt and having a total area in excess of 210 km².
On January 4 Reuters reported, "Bankers Cobalt Corp announces agreement to acquire interests in six additional cobalt and copper concessions in the DRC." The agreement is a 70% earn in agreement.
Current market cap is CAD 42m. Investors can view the company presentations here, or my CEO Stephen Barley interview on Trend Investing here. An early stage high risk and high reward play on DRC cobalt and copper.
LiCo Energy Metals [TSXV:LIC] (OTCQB:WCTXF) - Price = CAD 0.14
LiCo Energy Metals is a company focused on the exploration and development of minerals essential to lithium-ion batteries. They own the Teledyne Cobalt project and the Glencore Bucke property (acquired from Glencore) in Ontario Canada.
On January 3 Stockhouse reported, "LiCo Energy hits commercial grade cobalt at Ontario project. The most significant results from drilling at Teledyne include hole TE17-02, which returned 0.95% cobalt over 1.9 metres from 143 to 144.9 metres, including 2.58% cobalt over 0.60 metres from 144.30 to 144.90 metres. Drill hole TE17-02 returned 0.59% cobalt over 3.9 metres from 156.0 to 159.9 metres, including 2.22% cobalt over 0.60 metres, from 156.6 to 157.2 metres."
On January 19 LiCo reported, "LiCo Energy Metals ‐ Intersects 21.9 % Cobalt over 0.36m and 18.7 % Cobalt over 0.15 m at Teledyne Cobalt Property."
Some super high grades over smaller strike lengths, so will need a lot more work to prove up a resource, but a nice start.
Current market cap is CAD 18m.
Brixton Metals Corporation [TSXV:BBB] - Price = CAD 0.34

Brixton owns the Langis-Hudson Bay silver-cobalt project in Ontario Canada. The Langis mine was a former silver producer that produced intermittently from 1908 to 1989, but is thought likely to also hold cobalt.
They also have the Thorn gold-silver exploration project in British Columbia, the Atlin Gold Project in British Columbia, and the Hog Heaven Silver-Gold Project in Montana.
On January 9 Brixton announced: "The Company has commenced drilling at its Langis and Hudson Bay projects located in the Cobalt Camp of Ontario, Canada. Drilling is currently underway and is focusing on high grade cobalt and silver targets as extension of the underground workings and newly identified structural targets."
They currently trade on a market cap of CAD 22m.
Cobalt Power Group [TSXV:CPO] - Price = CAD 0.23
Cobalt Power Group owns the Smith Cobalt & Canadian Cobalt Projects located in the Silver Centre region of the Cobalt Camp, Ontario Canada. They also own several exploration license applications in historic cobalt mining areas of southern Sweden.
Currently they trade on a market cap of CAD 27m.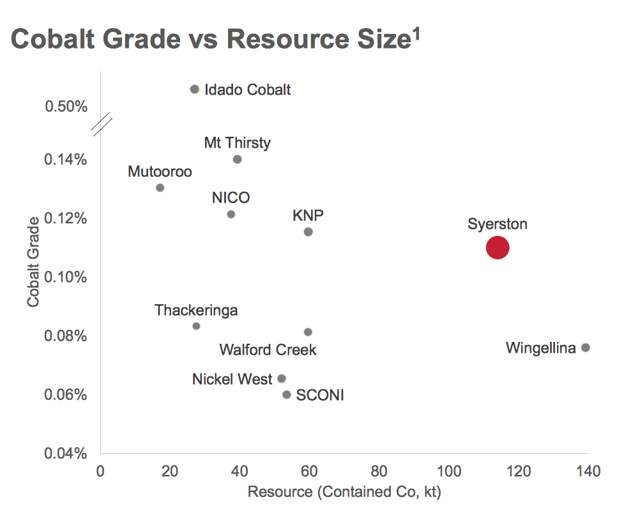 (Source)
Note: KNP is Ardea Resources high grade cobalt zone (now at ~85,000 tonnes). Wingellina is owned by Metals X, Syerston (now Sunrise) by Clean TeQ, and NICO by Fortune Minerals.
Note: I have not included Metals X [ASX:MLX] (OTCPK:MLXEF) in this article as they are more a diversified miner with an AUD 560m market cap already. Their Wingellina nickel/cobalt project has a very large, low grade nickel/cobalt resource. You can read a good Macquarie research report on Metals X here, with a price target of AUD 1.20.
Australian cobalt projects listed by resource size including grade
NB: Aeon Metals has 44-60kt of contained cobalt at their Walford Creek project, Australian Mines has ~98kt at their Sconi project, and Cobalt Blue ~50kt at Thackeringa. Clean TeQ Syerston is now known as Sunrise.
Risks
The junior cobalt miners are a risky sector. Risks include:
Sovereign risk - Especially those with African mines, and especially in the DRC, where the governments have been known for extreme corruption.
The usual risks of investing in small companies such as liquidity risk, poor management, dilution, financing, and mining risks.
Laterite ore cobalt mines require very high CapEx (E.g.: CLQ's CapEx is US$680m (A$906m)) to get into production, so the resource and Feasibility Studies need to be compelling, and a strong funding source is required.
The copper and nickel price (or other metals) can be the primary driver of many company's economics rather than the cobalt price.
Best to buy on local exchanges to avoid liquidity issues.
Many stocks mentioned here are very early cobalt explorers, so investors should invest cautiously.
Watch list of other junior cobalt miners

I am happy to hear any news updates from commentators. Tickers of promising cobalt juniors I will be following include:
Auroch [ASX:AOU] [GR:T59], Azure Minerals [ASX:AZS] (OTC:AZRMF), Blackstone Minerals [ASX:BSX], BHP (NYSE:BHP), Berkut Minerals [ASX:BMT], Castle Silver Resources Inc. [TSXV:CSR] (OTC:TAKRF), Cobalt27 Capital Corp. [TSXV:KBLT] (OTC:CBLLF), Cobalt Power Group [TSX:CPO], Cohiba Minerals [ASX:CHK], Corazon Mining Ltd [ASX:CZN], European Cobalt Ltd. [ASX:EUC], First Quantum Minerals (OTCPK:FQVLF), Global Energy Metals [TSXV:GEMC] (OTC:GBLEF), Global Energy Metals [TSXV:GEMC] [GR:5GE1] (GBLEF), Hinterland Metals Inc. (OTC:HNLMF), Independence Group [ASX:IGO] (OTC:IIDDY), King's Bay Gold Corp. (OTC:KBGCF) [TSXV:KBG], Latin American Resources, MetalsTech [ASE:MTC], Metals X [ASX:MLX] (OTCPK:MLXEF), Meteoric Resources [ASX:MEI], Mincor Resources (OTCPK:MCRZF) [ASX:MCR], MMC Norilsk Nickel, Northern Cobalt [ASX:N27], PolyMet Mining [TSXV:POM] (NYSEMKT:PLM), OreCorp [ASX:ORR], Panoramic Resources (OTCPK:PANRF) [ASX:PAN], Platina Resources (OTCPK:PTNUF) [ASX:PGM], Quantum Cobalt Corp [CSE:QBOT] GR:23BA] (OTCPK:BRVVF), Riva Resources [ASX:RIR], Sienna Resources [TSXV:SIE], (OTCPK:SNNAF), US Cobalt [TSXV:USCO] (OTC:OTCQB:USCFF), and Victory Mines [ASX:VIC].
Conclusion
The junior cobalt miners offer plenty of potential especially with cobalt prices rising towards US$ 40/lb. Investors need to be a bit careful as every company has different size resources and economics. For example the laterite ore miners will need to be able to raise large CapEx's or use a modular approach to make it to production. Other metals such as nickel, copper, scandium, silver or gold can heavily influence a project's economics.
My current top picks are the explorers/developers where I see resource upgrade potential, compelling valuations, and a good chance to make it to production in the next 2-4 years.
Cobalt Blue is a standout pick due to being a pure cobalt play, a cheaper sulphide ore extraction technique, and a low market cap due to their early stage.
Ardea Resources remains my second top pick based on their very large resource, Australian location, and cheaper valuation. The company will face the challenges of laterite ore, but their economies of scale should justify the large CapEx. Also their modular approach to production will help.
For those who want an established nickel-cobalt laterite producer, then Highlands Pacific is a good choice with a low market cap despite some PNG sovereign risk.
Fortune Minerals, Aeon Metals and RNC Minerals are my equal third picks right now.
Bankers Cobalt is my preferred exploration play due to their massive DRC tenements. Certainly, a much higher risk and higher reward stock.
Finally, I still see plenty of potential in several of the others especially those that have solid resources and are closer to production and hence with higher valuations such as Clean TeQ and Australia Mines. Artemis Resources is also a very interesting story focusing on gold, but with cobalt and PGEs potential, and currently appears well priced.
As usual all comments are welcome.
Trend Investing
Thanks for reading the article. If you want to go to the next level, sign up for Trend Investing, my Marketplace service. I share my best investing ideas and latest articles on the latest trends. You will also get access to exclusive CEO interviews and chat room access to me, and to other sophisticated investors. You can benefit from the hundreds of hours of work I've done to analyze the best opportunities in emerging industries, especially the electric vehicle and EV metals sector. You can learn more by reading "The Trend Investing Difference", or sign up here.
My latest Trend Investing articles are:
Disclosure: I am/we are long GLENCORE (LSX:GLEN), KATANGA MINING [TSX:KAT], NORSILK NICKEL (LME:MNOD), HIGHLANDS PACIFIC [ASX:HIG], AUSTRALIA MINES [ASX:AUZ], FORTUNE MINERALS [TSX:FT], RNC MINERALS [TSX:RNX] , ARDEA RESOURCES [ASX:ARL], COBALT BLUE [ASX:COB], AEON METALS [ASX:AML], GME RESOURCES [ASX:GME], CASSINI RESOURCES (ASX:CZI) , HAVILLAH RESOURCES [ASX:HAV], CONICO LTD [ASX:CNJ], CRUZ COBALT CORP [TSXV:CUZ], BANKERS COBALT [TSXV:BANC], POSEIDON NICKEL [ASX:POS].
 Includes: AMSLF, ARRRF, ARTTF, AZRMF, BAR, BHP, BKTPF, BRVVF, CBBHF, CBLLF, CSSQF, CTEQF, CUZ, ECSIF, FQVLF, FTMDF, FTSSF, GBLEF, GMRSF, HIG, HLPCF, HNLMF, IIDDY, KBGCF, MCRZF, MLXEF, NDENF, NVO, NZRIF, OZMLF, PANRF, PLM, PTNUF, RNKLF, SNNAF, TAKRF, USCFF, WCTXF