IN-DEPTH: TRANSCRIPTION - UnderTheLens - FEBRUARY - THE CURRENT GLOBAL MACRO
SLIDE DECK
TRANSCRIPTION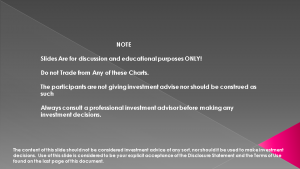 COVER
Thank you for joining me. I'm Gord Long.
A REMINDER BEFORE WE BEGIN: DO NO NOT TRADE FROM ANY OF THESE SLIDES - they are COMMENTARY for educational and discussions purposes ONLY.
Always consult a professional financial advisor before making any investment decisions.
SLIDE 3
In this year's first UnderTheLens video I would like to set the stage for our focus in 2021.
SLIDE 4
For those new to our service it may be helpful to start by differentiating our monthly UnderTheLens video from our monthly LONGWave video.
The LONGWave videos focus on the Markets from a Technical Analysis, Fundamental, Risk and Sentiment perspectives as shown at the top.
The UnderTheLens video examines markets from a larger Macro perspective regarding those elements that eventually affect trends in Fundamentals and Risk but also dislocation or false beliefs that can suddenly arrive like Black Swans and shock markets with major lifts and sell-offs.
Anyone who has been in markets long enough understands how months or even years of profits can suddenly disappear, almost instantly!
SLIDE 5
This year we hope to focus our UnderTheLens' Macro Analytics in an increasingly structured fashion as shown on the outline headings on the left. We think it will better assist us and you with categorizing market risk and portfolio exposures.
SLIDE 6
We have just issued our annual Thesis paper entitled Social Suppression.  It brings together a lot of prior Thesis papers which point to clear dislocations and turmoil ahead.
SLIDE 7
As such we need to outline, not so much what our conclusions are in this year's Thesis paper, but rather a large number of critical elements that need to be fully appreciated.
There are sufficient areas to be discussed, as a platform for forward ongoing analysis, that we have been forced to break the discussion in three parts.
We hate to do this but there are over a 100 slides involved, many of which we feel we will be referring to throughout 2021.
SLIDE 8
In this session we will tackle Part I: The central problems facing the Global Macro that are most likely to impact your policy strategies and positioning.
SLIDE 9
What we have witnessed throughout the progression of our Annual Thesis papers over the last decade is the continuous surrender of both Personal and Economic Freedoms.
These freedoms were eroded out of fear and desire by 'We the People" for the perceived guarantees of security and safety.
SLIDE 10
ECONOMIC SECURITY
First it was Economic Job Security after the Dotcom Bubble implosion as Corporations:
Outsourced,
Downsized / Right-Sized,
Off-Shored.
.. while the 'Mom & Pop' Businesses and Down Town merchants were lost to Corporate Franchisers, Malls and Big Box Stores.
Then …
FINANCAL SECURITY
Where we experienced financial pressures in the form of:
Skyrocketing Collage Costs / Student Debt,
Shift from Defined to Contributory Pensions with the loss of Pensions,
Benefit Reductions and Soaring Medical Costs with reduced hours worked.
SLIDE 11
PHYSICAL SAFETY
Then Terrorism and our Physical Safety after 911 as the world changed due to:
Bin Laden & El-Quida,
ISIS,
Domestic School Shootings,
HEALTH SAFETY
Now it is a Pandemic and the safety of the Health of family and friends.
Covid-19 Pandemic,
Social Distancing and Lockdowns,
SLIDE 12
WAS THIS AN ORCHESTRATED PROGRESSION?
These man-made actions and initiatives were as a result and contributors to a number of mounting Globalization problems.
In turn these developments pushed the political landscape further towards the bottom of the Nolan Chart to the right.
A chronology of Poor Policy Prescriptions, Expanding Government Control and a Reserve Currency & Risk-Free Benchmark problems have set the stage for a 'Cocktail' of Social Unrest & Shift towards looming Social Suppression.
We will come back to this in more detail
SLIDE 13
THE GLOBALIZATION PROBLEM
This is the list some of the major problems facing global leadership, financial institutions and political regimes. Almost all have been explored in prior annual Thesis papers:
 Lack of Global Growth,
 Insufficient Need for Labor (AI Robotics),
 Population Becoming Unsupportable,
 Unfundable Entitlements & Pensions,
 Unsustainable Global Debt & Leverage,
 Global Trade Imbalances,
 UniPolar to Multi-Polar World.
SLIDE 14
SPREADING & GROWING GLOBAL FALLOUT
These Global problems manifested themselves in the form of crisis's spreading from
DOMESTIC: FINANCIAL – 2008-2009
US Mortgage Market – Started as a collapse in Credit Default Swaps (CDSs) underpinning Collateralized Debt Obligations (CDOs) which supported the US Mortgage Market through Fannie Mae and Freddie Mac (which forced both into government guaranteed Conservatorship).
ECONOMIC: REGIONAL – 2012-2014
EU Banking Crisis – It started in Greece and spread to Cyprus and then the southern peripheral countries labeled the PIGS (Portugal, Italy, Greece & Spain) before being halted by an
explosion in the EU Target2 payment system.
POLITICAL: GLOBAL – 2018-2020
Global Central Banks – An explosion of over $15T in Global Central Banks' balance sheet to supply liquidity to a collateral short lending edifice unable to maintain credit growth sufficient to continue to rollover debt and fund sufficient debt growth.
WE NOW HAVE A GLOBALALIZATION PROBLEM
SLIDE 15
EARLY PART OF LAST DECADE
Our Annual Thesis papers documented the above evolution within the context of crisis strategic developments.
In the early part of the last decade we witnessed with the following Thesis papers:
Rather than address issues our elected officials chose to avoid the tough decisions and to "Kick-the-Can-Down-The-Road".
The easy way to gain competitive advantage (short term) was to adopt "Beggar-The-Neighbor" policies of Currency manipulation.
2012 Financial Repression
The easy way to solve a lack of productive investment (short term) is to implement macro-prudential policies of Financial Repression which misprices the price of risk and cripples effective market price discovery.
SLIDE 16
POOR POLICY PRESCRIPTIONS
MORAL MALADY
We witnessed policies that fostered Misinformation, Data Manipulation, Monetary Malfeasance, Mispricing of Risk and other short term "quick fix" approaches.  All of which led to Malinvestment.
MONETARY MALPRACTICE
As a result we saw the emergence of Moral Hazard, Unintended Consequences and Dysfunctional Markets.  The Deceptions, Distortions and Delusions that occurred can only be labeled as an Era of Monetary Malpractice.
SLIDE 17
MIDDLE YEARS OF LAST DECADE
In the middle years of the last decade we witnessed with the following Thesis papers:
A failing Economic System as a result of Unsound Money forced governments as a consequence to enforce Control in lieu of a natural self correcting system.
Mounting Trade Imbalances as a result of developed economies consuming more than they produced distorted current account balances and balance of payments resulting in unsupportable debt balances
Developed economies became increasingly burdened and trapped by Unfundable Entitlement programs which were left to worsen and become the problem of future political administrations.
An inevitable Loss of Trust of politicians, the government, financial institutions and the Status Quo grew within the electorate as populism grew. With it came new political leaders with socialist, nationalist and anti-government philosophies.
SLIDE 18
EXPANDING GOVERNMENT CONTROL
The above developments led to a shift towards Statism in the progression outlined here which we documented for a couple of years.
SLIDE 19
We have been living under Macro Prudential Economic policies of Financial Repression since the turn of the Millennium and for longer than at any time in America's history ….  With no end game in sight!
SLIDE 20
LAST PART OF THE DECADE
In the last part of the last decade we witnessed with the following Thesis papers:
Government Deficit Borrowing being double counted as "G" and "C" in the GDP formula hiding the degree of Insufficient Real Growth occurring over the last 3 decades.
The US as no longer the Unipolar controlling power in a new significantly changing Multi-Polar World
The US' use of economic sanctions has effectively "Weaponization the US$" thereby forcing targeted countries (and their trading partners) to reduce their US$ dependency. Additionally, BRICS have steadily been reducing their US$ currency reserves along with many countries adopting bi-lateral trade agreements using their own currencies.
Not since the Cold War have tensions being higher around the world. From the South China Sea, to Taiwan, Hong Kong, India, Iran, Syria, Yemen/Sudan these conflicts continue to go unresolved with escalating Power Tensions.
SLIDE 21
BOTH A GLOBAL RESERVE CURRENCY & RISK FREE BENCHMARK PROBLEM
The world's modern post WWII financial system is built on two bedrocks which are under assault:
THE US DOLLAR: The World's Reserve Currency & Trade Currency is the US Dollar.
THE RISK FREE BENCHMARK: The US Long Bond is still considered the benchmark for the pricing of risk.
SLIDE 22
Additionally, as we outlined in last year's Thesis paper we have entered an era of Global Conflict based on a number of factors including economic survival for many players.
We have also entered into an era of a new "Cold War" with China
SLIDE 23
Global Conflict will involve new forms of conflict of "low intensity" conflict. It is presently well underway.
We have three major power centers competing for Global control, which we outlined in this year's Thesis paper: Social Suppression.
SLIDE 24
All three place us on the road to centralized government control not decentralization where we should be headed.
It is leading us away from the choice and power of the individual to the control of collectivism.
It is leading us away from capitalism and towards socialism or worse. It is leading us towards Statism – Totalitarian approaches and lost freedoms.
The US is the last bastion of freedom and capitalism.
The US was founded on the Ideas of:
The Rights of the Individual (i.e. Right to Own Property),
Freedom of the Individual was the Road to Economic Prosperity
In God We Trust – The Divine Authority
The Globalists' believes this is no longer possible.
They Believe:
World Needs Centralized Global Planning & Coordination,
The State must Control 'Property' (i.e. Cornerstone of Communism),
Money Supply must be Controlled Globally,
Standard Globalization Taxation (i.e. Carbon Tax,) & UBI
Democracy's Purpose is to Maintain the Masses Belief That They Have An Input,
The "Party" Apparatus at the Country Level Must Be The Controller,
Religion is a only a "Cult" with no meaningful value
SLIDE 25
At the same time we are entering a time where:
-- The U.S. National Debt continues its exponential trajectory,
-- In March of 2009 the DOW touched down at about 6,700
while the U.S. National Debt was over $10 trillion.
-- Perhaps we're approaching another such divergence?
-- The DOW dives 15,000 points – or more – to below 15,000.
SLIDE 26
This will not be allowed!
The probably therefore continues to increase, that as we pointed out in last February's UnderTheLens outlook, we are highly likely headed towards some form of the Nationalization of US and Global Financial Markets?
Certainly, the loss of "Freely Trading Markets".
SLIDE 27
As I always remind you in these videos, remember politicians and Central Banks will print the money to solve any and all problems, until such time as no one will take the money or it is of no value.
That day is still in the future so take advantage of the opportunities as they currently exist.
Investing is always easier when you know with relative certainty how the powers to be will react. Your chances of success go up dramatically.
The powers to be are now effectively trapped by policies of fiat currencies, unsound money, political polarization and global policy paralysis.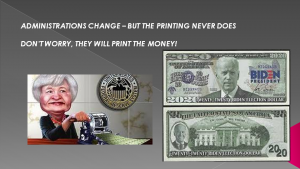 SLIDE 28
I would like take a moment as a reminder
DO NO NOT TRADE FROM ANY OF THESE SLIDES - they are for educational and discussions purposes ONLY.
As negative as these comments often are, there has seldom been a better time for investing.  However, it requires careful analysis and not following what have traditionally been the true and tried approaches.
Do your reading and make sure you have a knowledgeable and well informed financial advisor.
So until we talk again, may 2021 turn out to be an outstanding investment year for you and your family.
Thank you for listening