INFLATION MAY BE READY TO EXIT THE "GENIE BOTTLE"
Everyone will be watching today's NFP (Non Farm Payrolls) for signs of inflation wage pressures.  A stable CPI may be about to change as the recent dramatic spike in US Treasury yields (also German & Japanese Yields) are signalling. History & Fed Chairman Paul Volcker taught us than when inflation gets out of the "Genie Bottle" it is almost impossible to get it back in!
Goldman writes that investors may be underestimating the risk of upside surprises in inflation. Here's one excerpt along with a visual (MATASII Annotated above) that shows you how well-behaved inflation data has become:
US inflation risk might be higher than investors think. There is always risk of a fast pick of inflation and upward pressure on rates when moving late cycle, especially with US fiscal stimulus and the introduction of trade tariffs. Our economists highlighted capacity constraints and the risk of overheating of the labor market - the current policy backdrop is similar to the run-up to the late 60's inflation shock.
In the late 60's it was about coming off the Gold Standard and paying for Wars (Vietnam) and social programs (Johnson's Great Society) with a "Credit Card" This time it may be about nearly a decade of cheap money and massive debt growth.
You should also be acutely aware of the fact that real yields are to a certain extent a function of inflation expectations given the data-dependent Fed. The more inflation pressure, the more inclined the market believes the Powell Fed will be to respond. A hawkish response pushes real rates higher.
Let me drive that point home in the most poignant way possible. Did you happen to notice when stocks ran out of steam on Wednesday? It was at the precise (almost) moment when 10-year real yields hit 1%: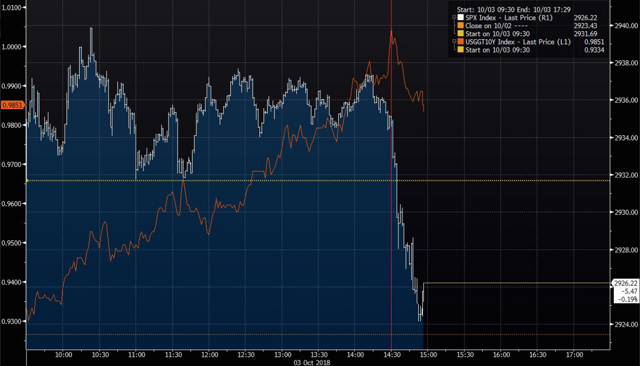 (Bloomberg)