MATASII DECEMBER 2018 NOTES: CREDIT CONTRACTION II
CREDIT MARKETS ARE IN A BUBBLE!
LEON BLACK:
"The amount of covenant-less debt is more than 2007. You have a thirst for yield that exists on a global basis. So there is true excess."
C-Corp switch remains an issue Apollo is examining,
Black said that in this environment his private equity business tries to get as much covenant-lite as possible, and fixed rate debt. And of course, Apollo takes the opposite approach in its credit business where the firm makes sure to have covenants,
"We try to play a more conservative, cautious role in a bubble environment," said Black, noting that the PE firm's credit and insurance operations offer the most growth potential,
He expressed some regrets about the firm's decision to take ADT Inc.public. "I would have waited longer to take ADT public," he said. "We got it done at $13 versus our cost of $5. Then it has proceeded to go down to $7 5/8 today. The public market isn't always rational," he said. "A lot of that is because of disruption concerns even though we have a joint venture with Amazon."
On the prospect of converting to a C-Corp, he said: "Frankly, I would love to have a shareholder base that included a lot more long only investors. I would love to get in an index. The question is at what cost?" Black said it may take a year to judge whether the conversion of its peers is sustainable or not. KKR & Co. and Ares Management Corp. have already made the switch.
The excesses/imbalances are very much present, driven in part by such a long period of extremely low rates, which drove investors to reach aggressively for yield, and non-Financial corporates, in particular, to issue significant volumes of debt.
MORGAN STANLEY
Morgan Stanley: "the credit bear market, which likely began when IG spreads hit cycle tights in Feb 2018, has begun and will continue in 2019, with HY and then eventually loans underperforming, as headwinds shift from technicals to fundamentals."
notes that in many cases these risks look even worse today than when the bank last ran the analysis at the end of 2017.
Morgan Stanley provides a few examples why the bear market in credit will become increasingly more self-evident:

In the leverage loan market, covenant quality is weaker than in 2007, the cushion beneath the average loan is lower and 1st lien leverage levels are higher. 48% of LBO transactions are levered over 6x vs 51% in 2007, but as a part of those leverage numbers, 27% of deals have EBITDA adjusted for prospective cost savings/ synergies vs only 15% in 2007. 22% of loan issuance was B- or lower in 2018 vs 15% in 2017 and 13% in 2007, driven in part by record CLO demand/issuance.
IG debt outstanding has grown by 142% in this cycle and non-Fin BBB debt has grown by 181%. IG leverage is 0.68 turns above 2007 levels today. Non-Financial corporate debt/GDP has never been higher. And IG interest coverage, which used to be a bright spot is now below 2007 levels.
The loan market has grown by 88% in this cycle, with 24% growth just since the beginning of 2017. Much has been made about a shrinking HY market. Remember, HY debt outstanding has still almost doubled in this cycle, just much of that growth occurred in the first half, not that different from how it played out in 2006/07, when most of the leveraged finance growth also came from loans. Additionally, 64% of speculative grade debt has a corporate family rating of B2 or lower today vs 53% in 2007.
2018 was a record year for M&A loan issuance and 25% of IG supply was issued to fund M&A this past year, while stock buyback volumes (ex-fin) hit a record this past year.
Certain investors have reached out the risk spectrum for yield aggressively in this cycle, given rates at or below zero globally for many years, with non-US ownership of US corporate bonds increasing to 30%, as one example, although declining in 2018 on the back of rising currency hedging costs.
While consumer balance sheets are clearly healthier in this cycle, non-mortgage consumer debt/GDP is just off of record levels.
CRE prices are ~25% above prior cycle peaks. We have seen lax underwriting quality in this cycle in pockets of consumer credit (e.g., autos), also shown in the table.
CREDIT CARD DELINQUENCIES & SMALL BANKS SHOW CREDIT NOW "OVER ITS SKIS"
Generally bubbles form and then burst when asset valuations rise well in excess of income,
Historically in bubbles, assets have appreciated far faster than incomes to support these higher asset prices.
Lower interest rates and higher leverage have been used to incent greater quantities of debt (to be paid in the future) to finance rising asset values,
Presently Assets Valuations have never been higher in comparison to disposable income (what is left to all American's after taxes are paid),
How do we recognize this? Answer: Credit card delinquencies among the not top 100 US banks versus household net worth as a % of disposable income.

At some point the higher asset prices push rents too damn high, etc. etc. and the marginal consumer OD's on credit. Then the delinquencies begin,
Consumers and banks both find themselves over their skis and in need of cutting back. A vicious cycle typically ensues,

The other 4600+ US banks not getting interest on excess reserves, not too big to fail, have overextend to make a buck and keep up with the big banks,
The marginal US consumer is misusing subprime credit cards and the proverbial "canary in the coalmine" is dead,
FED'S WARNING ON LEVERAGED LOANS SECONDED BY US BANK REGULATOR
The Office of the Comptroller of the Currency cautioned in its Semiannual Risk Perspective that it's looking at "transactions with

Increasing leverage,
Weaker capital structures, and
Looser credit agreements."

The report includes a special section highlighting emerging risks in corporate bonds and lending, after the preceding version released in May didn't address this high-risk debt.
The reason leveraged loans aren't threatening banks is that "they're selling them off to other investors." Instead of keeping the loans on their books, lenders package the debt into securities known as collateralized loan obligations, or CLOs, which are often sold to investors such as pension funds and insurance companies.
The banking industry has enjoyed record profits in recent quarters, but the OCC's risk report said banks have faced increasing competitive pressure from each other and -- more than ever -- from other types of financial firms. That has contributed to what had been years "of incremental easing in underwriting."
BIS NOW ALSO FEARS "BULGE OF BBB DEBT" & "FINANCIAL CYCLE" DEFAULT WAVE
In its 4th quarter review, the BIS is concerned about the rise in near-junk debt, fearing "waves" if the economy sinks.
Indicators of the state of the financial cycle do a better job than a flatter yield curve in signalling recession risks,
Based on its credit parameters, the BIS believes financial cycles tend to last 15-20 years while business cycles last about 8 years,
Financial cycle peaks tend to coincide with banking crises or considerable financial stress. This is not surprising. During expansions, the self-reinforcing interaction between financing constraints, asset prices and risk-taking can overstretch balance sheets, making them more fragile and sowing the seeds of the subsequent financial contraction. This, in turn, can drag down the economy and put further stress on the financial system,
The clear warning of BBB corporate debt hovering just above junk is that "if and when the economy weakened, it is bound to put substantial pressure on a market that is already quite illiquid and, in the process, to generate broader waves."
Indeed, Credit Spreads Signal Recession, which is precisely what the BIS is worried about.
CREDIT "DEATH SPIRAL" ACCELERATES - RECORD LOAN ETF OUTFLOWS - PRIMARY MARKET FREEZES
SLOW AT FIRST, THEN ALL OF A SUDDEN!!  GROWING FEAR & ANXIETY
Fears of a slowing global economic growth even as rates continue to rise,
Anxiety over trade talks between the U.S. and China,
Concerns about higher interest rates weighing on corporate profits,
The recent rout in credit products,
Reluctance to take risk before year end,
.. have all led to a widespread fear across markets. These fears are spreading across credit markets, from investment-grade debt to junk bonds.
"No one thinks this is the big one," said Richard Farley, chair of the leveraged finance group at Kramer Levin told Bloomberg. "But on the fear to greed continuum we have definitely moved closer to fear."
Still, optimists remain: " -- "We anticipate most managers will keep buying in this market trying to be opportunistic and those who don't have to sell will just hold."
In Europe, the market appears to have already locked up, as three loans were scrapped over the last two weeks, victims of the Brexit tensions gripping the UK.
Investors are now fleeing the $6.4 billion Invesco BKLN Senior Loan ETF, an index of low-grade debt as credit spreads blow out and cracks appeared across virtually all credit products,
Another major loan ETF, the Blackstone $2.9BN leverage-loan ETF, SRLN, just suffered its largest ever one-day outflow since its 2013 inception,
Investors have pulled over $4 billion from leveraged loan funds in the three weeks ended Dec. 5, the largest cash bleed in almost four years for such a period,
The S&P/LSTA leverage loan price index tumbling to a two year low.
With the leveraged loan market freezing up - and potentially entering a death spiral - the recent weakness has raised concerns that:
Other debt sales currently in the works may be sold at discounts that are so deep underwriters may have to book a loss, if they can be sold at all.
This is precisely what happened in late 2007 and early 2008 when underwriters found themselves with pipelines of debt sales that sudden got blocked, and were forced to take massive haircuts to keep the credit flowing.
The behavior we are witnessing in which ETF administrators first sell high quality paper then shift to deep discount holdings, is a necessary condition for credit ETFs to enter a "death spiral." Which virtually everyone - including the Fed, BIS and IMF - have been warning (that the next crisis will begin in the leverage loan sector) -  The question to ask is "has it begun"?
JP MORGAN: THERE IS A GROWING THREAT OF DISORDERLY TRANSFER OF CREDIT RISK"
"Companies are currently much more vulnerable to a decline in incomes and/or rise in interest rates that in the previous two cycles."
Rating downgrades or fallen angels "drive a wedge between spread returns and total returns as the managers who are only allowed to hold investment grade bonds are forced to offload their downgraded bonds."
Like with fallen angels, corporate downgrade reviews have yet to rise materially,
While many have expressed concern about the threat from future downgrades, the realized negative impact that downgrades and fallen angels typically exert on credit returns has yet to hurt credit investors in a big way,
The leverage metric has been rising steeply over the past decade to levels that are much higher than those seen at the peaks of the previous two cycles in 2007/2008 and 2001/2002,
BBB companies currently account for more than half of the HG corporate bond universe and look vulnerable,
The median net debt-to-EBITDA ratio for companies in JPMorgan's BBB indices in both the US and Europe has also risen for BBB corporates to above the peaks of the previous two cycles especially in Europe.
If one looks at the portion of BBB companies with net-debt-to-EBITDA ratio higher than the BB average of 2.3 in the US and 2.6 in Europe since 2001, JPM finds that this portion stands at 55% currently in both the US and Europe, or at the highest level in at least two decades,
From a net-debt-to-EBITDA point of view - and much more concerning from a future downgrade standpoint - more than half of BBB companies in the US and Europe look more like high yield than high grade.
In Europe alone JPM estimates that roughly €100 – 120bn of bonds could be downgraded from investment grade to high yield during the next recession. This would cause the Euro high yield market to balloon in size by at least a third from the current notional of just over €300bn,
A similar calculation to corporate bonds in the US, and found that over $1 trillion in IG bonds could be downgraded to High Yield once the cycle turns.
"the downgrade and fallen angel risks look pretty elevated at the moment for both US and European high grade corporates, raising the prospect of disorderly transfer of risk between HG and HY markets over the coming year."
CREDIT ON VERGE OF CRISIS: $176B A-RATED CORPORATE DOWNGRADED TO BBB IN Q4
CORPORATE CREDIT RATING DOWNGRADES
Many are predicting that the cause of the next credit crisis (when the upcoming recession finally hits) will be a wholesale downgrade of investment grade (or BBB) rated companies into the junk space as rating agencies finally wake up to the reality of what the combustible mix of:

Record debt,
Declining cash flows and
A contracting economy mean for US corporations.

Deutsche Bank calculates when looking at those bonds most at risk of getting junked, $150bn of the $736bn of BBB- bonds are currently on negative watch/outlook with at least one rating agency, and in danger of imminent "junking."
Deutsche Bank has warned even before we get to an economic slowdown - some time in 2020 - or even before the market start pricing the slowdown in, "it feels like the tide might be turning and we start to see fallen angels outpace rising stars over the next year."
CORPORATE FINANCING TOOL OF CHOICE - LEVERAGED LOANS & CLO'S
Market's are currently frenzied about the cracks appearing in the Leveraged Loan market (remember these are now rolled into CLO's and sold to institutions) following:

Record outflows,
A collapse in loan prices,
Massive original issue discounts,
Pulled deals,
Banks retaining loans on their books unable to find buyers and
A general sense that the market is about to freeze
THE INVESTMENT CLIFF: FROM IG TO HY
No less than $90 billion in A-rated bonds had been downgraded to the lowest investment grade rating, BBB, below which companies become "fallen angels" as they move from investment grade to high yield, resulting in forced liquidations as countless vanilla funds are simply not permitted by their mandate to retain junk on their books.
Goldman reports that just two weeks after our original report, the number of A to BBB downgrades has doubled to a whopping $176 billion in the fourth quarter, just shy of the all time high hit in Q4 2015, and with several more weeks still left this quarter, it is likely that a new downgrade record will soon be hit,
DOWNGRADING OF HIGHER GRADE IG - DEBT FUNDED SHARE BUYBACKS A DOWNGRADE CATALYST
In Goldman's Lotfi Karoui' (a credit strategist) opinion, the downgrade risk is higher among A-rated issuers than it is among their BBB-rated peers.
"Quarter to date, over $176 billion of debt has migrated into BBB territory from the A bucket; the highest amount since 4Q2015, which was a period characterized by a heavy wave of commodity-related "fallen angels".
$12 billion worth of bonds rated A- remain on downgrade watch,
Goldman writes that over the long term, "we continue to believe the risk of negative rating action in the high end of IG remains elevated, more so than in the BBB bucket"
One recent announcement showed where a debt-funded share buyback – and the related deterioration in leverage – served as the catalyst for a downgrade into BBB territory.
The willingness of many highly-rated IG firms to utilize their ample debt capacity for maintaining (or increasing) shareholder returns and pursuing M&A opportunities in 2019 is STILL strong.
The best place to be short presently is those "pre-fallen" A bonds which will first become BBBs, before they too join the deluge into the junk space, some time around late 2019/early 2020.
LEVERAGED LOANS
SITUATIONAL ANALYSIS: LEVERAGED LOANS
Blackstone leverage-loan ETF, SRLN, which last week saw its largest ever one-day outflow since its inception,
S&P/LSTA lev loan index last week fell another full point, and is now down to 95.4, its lowest price in over two years.
Demand from collateralized loan obligations, the biggest and until recently most reliable buyers in the $1.3 trillion leveraged loan market, is rapidly slowing.
Current tremors in the CLO market seem more related to diminishing investor appetite than a deterioration of underlying credits. CLO issuance this year has hit a record $125 billion, officially eclipsing the all-time record of $124.1 billion set in 2014.
"The market is turning for loans and CLOs,"-- "Both markets have struggled as people think the upside is now less because the Fed is getting close to the end of its rate hiking cycle."
"The appeal of floating rate instruments has become less attractive," -- "The late-cycle credit concern, as well as the Fed's more dovish tone, may weigh on both leveraged loans and CLOs going into 2019."
Many have voiced concerns about the risks inherent in a collapse in the loan market, among them:

IMF,
Fed,
BIS,
JPMorgan,
Guggenheim,
Jeff Gundlach,
Howard Marks and countless others,
Concerns about leveraged lending were highlighted this week when Janet Yellen reiterated warnings that declining underwriting standards for corporate loans could lead to more bankruptcies and prolong the next economic downturn.

While floating-rate loans tend to track bonds, they are often slower to react both to the upside and downside,
LEVERAGED LOAN MARKET BECOMING UNSTABLE
"Aggressiveness - on terms and structure - has created more price volatility than in the high-yield market, now that we've seen demand for loans slow a bit."

JPMorgan had to slash the price on a $210 million loan to 93 cents on the dollar from par to sweeten investor demand and help finance a private jet takeover. This represented one of the steepest discounts seen in the leveraged loan market this year. And with the market on the verge of freezing, the size of the deal was cut by $70 million from the originally targeted amount.
In Europe, the market appears to have already locked up, as three loans were scrapped over the last two weeks. To wit, movie theater chain Vue International withdrew a 833 million pound-equivalent ($1.07 billion) loan sale. While the deal was meant to mostly refinance existing debt, around 100 million pounds was underwritten to finance the company's acquisition of German group CineStar.
Diversified manufacturer Jason Inc. became at least the fourth issuer to scrap a U.S. leveraged loan.
Additionally, Perimeter Solutions also pulled its repricing attempt,
Ta Chen International scrapped a $250MM term loan set to finance the company's purchase of a rolling mill,
Algoma Steel withdrew its $300m exit financing.
Global University System in November also dropped its dollar repricing.
U.S. LEVERAGED LOAN FUNDS LOSE CASH AT FASTEST PACE EVER
U.S. leveraged loan funds saw $2.53 billion of net outflows in the week ended Dec. 12, the biggest decline on record

U.S. leveraged loans saw $1.04 billion in fund outflows for the week ended Dec. 5 after $1.32 billion of outflows the previous week

Investors pulled $1.82 billion from Mutual Funds that buy the debt, according to Lipper,

ETFs saw outflow of $705 million in the week, Lipper data showed,

Fears have left investors willing to take few risks heading into year-end. That has disrupted issuance of the debt, with several offerings shelved.  Fears of:

Slowing global growth,
Rrade-war tensions and
Slumping energy prices have left investors willing to take few risks heading into year-end. That has disrupted issuance of the debt, with several offerings shelved.

Fund outflows and waning demand from collateralized loan obligations (CLOs), the biggest loan buyers, are adding pressure.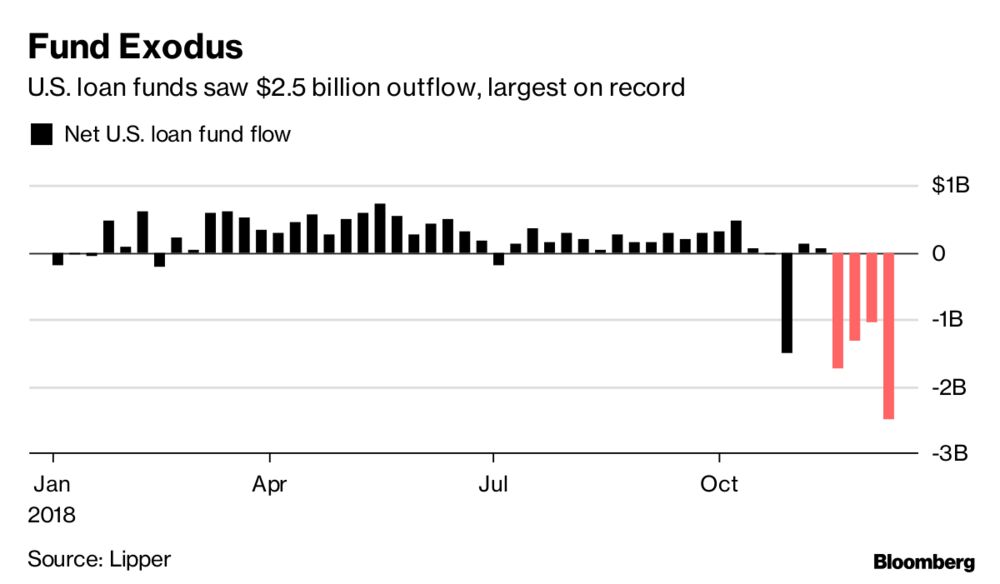 "DEALERS ARE HOARDING COLLATERAL" AT A RATE NOT SEEN "SINCE THE WORST DAYS OF 2008"
This one's more about collateral transformation using US junk as a basis in one of the legs rather than Eurobond junk which might've been the major problem seven months ago. 
Either way, dealers are stuck in the middle on the wrong side of a potentially serious reversal perhaps still in the early stages.
The latest liquidations began right after October 3. Oil shifted toward contango/crash, curves collapsed, even stock markets which looked like they had skated past disruptions early in the year were slammed.
It was as if every market hit the same air pocket all at once, therefore identifying (global) liquidity as the major issue driven, of course, by reversing economic and risk assumptions. In other words, money dealers.
The very dealers the Fed relies upon to transact with as well as forward data and interpretations are hoarding collateral at a rate we've not seen since the worst days in 2011 or 2008.