REAL RATES & MBS HEDGING FLOWS
10Y TNX was trading at 1.55 earlier this AM before falling off (currently 1.52 from a close yesterday of 1.485).
The current rise is about a rapidly increasing REAL RATES. Credit is becoming more expensive!
Real Rates increase based on Credit Availability and Demand.
What causes real interest rates to rise?
Interest rate levels are a factor of the supply and demand of credit: an increase in the demand for money or credit will raise interest rates, while a decrease in the demand for credit will decrease them. ... An increase in the amount of money made available to borrowers increases the supply of credit.
What does rising real rates mean?
In effect, you're being encouraged to remain conservative. The same thing works for borrowing money. When real rates are very low or negative, it's a good time to take a little risk and borrow money; when real rates are higher it becomes costlier to borrow and you might play it safe and pass on taking out a loan.
This change in real rates is about the expected coming surge in US Treasury Supply ($800B) as a result of a resolution to the Debt Ceiling (expect another kicking the can down the road) PLUS Fed "Tapering" (beginning in November or December).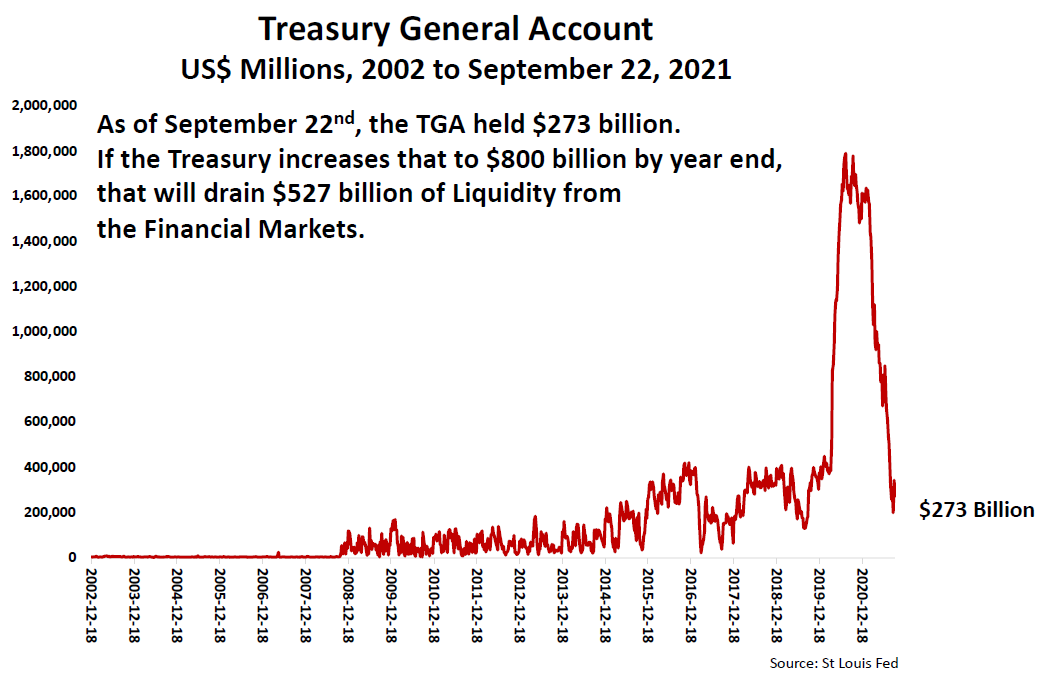 I laid both out in my latest newsletter, WHICH IF YOUR ARE NOT READING I STRONGLY RECOMMNET (https://conta.cc/3mn6MQP ).
We have nailed this lift because we understood the mechanics and not the hype .... this is investing not trading!
MORE INVESTMENT THOUGHTS
I am starting to believe we are going to move to and hold 1.8% in the 10Y TNX as we go into yearend.  
I am coming at this mark from what I am seeing happening in the hedging flows linked to mortgage-backed securities (MBS). This is getting little coverage - as of yet!
With the Fed announcing its intend to 'Taper' it will reduce the $40B of the $120B allocated to MBS. Since breaking out from below 1.38% it has now brought the mortgage universe closer to the point of peak negative convexity.  It will encourage (force) duration repositioning across mortgage portfolios.  As you are aware negative-convexity hedging  involves selling Treasuries to compensate for a scenario where rising yields lengthen the duration of mortgage debt as refinancing slows.
Many of you will recall this is the same dynamic as we saw back in March, when comments from Fed Chair Jerome Powell drove U.S. 10-year yields toward their peak level of 2021 approaching 1.8%. That move soon faded as buyers of Treasuries emerged and because the Fed's large footprint in the MBS market.  Thanks to its monthly purchases of MBS it muted the impact of convexity-hedging flows. That will be forced to change as well as the fact that Japan clearly has a diminishing interest in US Treasury purchases.
FAIR USE NOTICE  This site contains copyrighted material the use of which has not always been specifically authorized by the copyright owner. We are making such material available in our efforts to advance understanding of environmental, political, human rights, economic, democracy, scientific, and social justice issues, etc. We believe this constitutes a 'fair use' of any such copyrighted material as provided for in section 107 of the US Copyright Law. In accordance with Title 17 U.S.C. Section 107, the material on this site is distributed without profit to those who have expressed a prior interest in receiving the included information for research and educational purposes.  If you wish to use copyrighted material from this site for purposes of your own that go beyond 'fair use', you must obtain permission from the copyright owner.
---
---
NOTICE  Information on these pages contains forward-looking statements that involve risks and uncertainties. Markets and instruments profiled on this page are for informational purposes only and should not in any way come across as a recommendation to buy or sell in these assets. You should do your own thorough research before making any investment decisions. MATASII.com does not in any way guarantee that this information is free from mistakes, errors, or material misstatements. It also does not guarantee that this information is of a timely nature. Investing in Open Markets involves a great deal of risk, including the loss of all or a portion of your investment, as well as emotional distress. All risks, losses and costs associated with investing, including total loss of principal, are your responsibility.