STRATEGIC INVESTMENT INSIGHTS
RECORD 2022 USD RISE, FOLLOWED BY 2023 DIVE!
In this newsletter we want to cover both supporting news developments since we released the October UnderTheLens video as well as areas we didn't have time to address.
The skyrocketing US dollar as a "Flight-to-Safety" destination for the plummeting Yen, Euro and Yuan has more to go! However, it will soon peak and begin a steady descent. The fundamentals of the US$ have weakened significantly:
 Monstrous Twin Deficits have yet to be priced in as the US consumes vastly more than it produces.
The Weaponization of the USD through the use of political sanctions has incented the reduction of USD dependency by targeted countries.
The share of global FX Reserves has been steadily shrinking for many years as the US exports weaken. Today, about 59% of global central bank currency reserves are held in dollars. In 2000, that number was 70%.
 World power is rapidly shifting from a Uni-polar to Multi-polar world.
=========
WHAT YOU NEED TO KNOW
WORRYING FORWARD GLOBAL PE's

Global equity markets are signaling a strong probability of a major slow down globally in 2023 and possibly a global recession.

GROWING GLOBAL RISK CONCERNS

Japan is failing in its sudden panic attempts to arrest the drop in the YEN.
Yield Curve Control (YCC) has now failed in Japan because of global inflation pressures. Our concerns for a potential liquidity squeeze outlined in this month's video are about to unfold. 

MOUNTING GLOBAL CONFLICT TENSIONS

Putin broadcasts nationally a partial mobilization of Russia as he calls up an initial 300,000 Russian Reservists.
Russia Defense minister indicates that Nuclear weapons are a real possibility, as he sees that Russia is not just fighting the Ukraine military in the Ukraine conflict but also western powers. 
China's Xi JInping again tells armed forces to focus on preparing for War as the third party conference discusses plans for unification of Taiwan.
Xi has made it clear that he will use the 20th Congress to mobilize the entire Party and the Chinese people to vigorously promote the building of "a community of common destiny for mankind," his euphemism for China's global domination. Xi's foreign policy will increase its hostility against the United States; he has made it no secret he perceives the U.S. as the primary obstacle to the CCP's strategic goal of expanding its core interests.

NATIONALIZATION TREND

The trend towards increased government control and Nationalization of key resource is emerging as evidenced by German nationalizing struggling natural gas supplier Uniper SE and France initiating the nationalization of its nuclear sector. 

2023 WILL BE A TOUGH YEAR FOR THE US DOLLAR

A strong dollar in 2022 will lead to global calls for a weakened US$ in 2023, not too dissimilar to the Plaza Accord demands by Europe in 1985. 
=========
WORRYING FORWARD GLOBAL PE's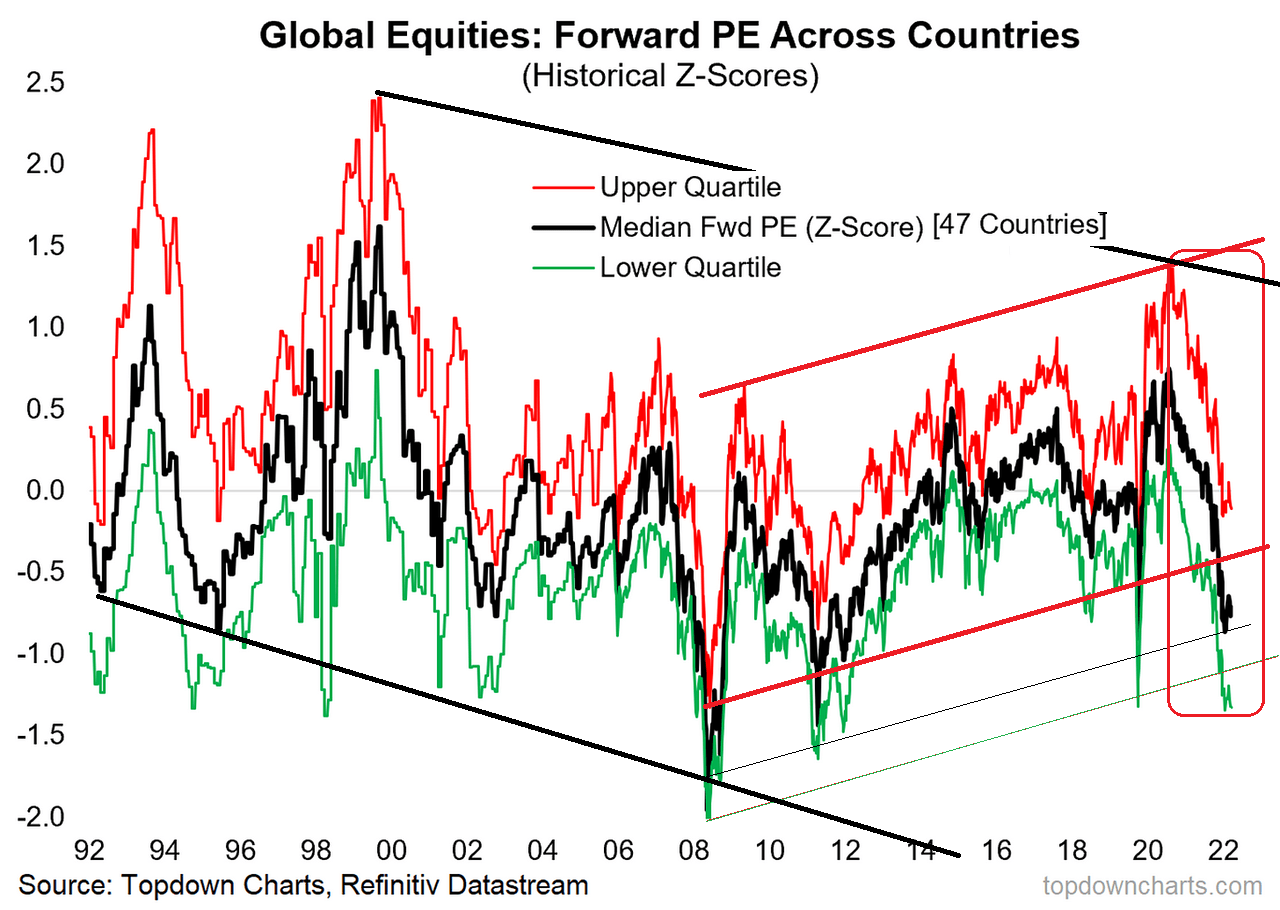 Though we focused in this month's UnderTheLens video on the breaking of key support by the Yuan, Yen and Euro as key warning signs, we could just have easily focused on collapsing forward PE ratios in these key three areas.
Global equity markets are signaling a strong probability of a major slow down globally in 2023 and possibly a global recession.
CHART BELOW: Valuation ranges of MSCI regions over a 20-year timeline. 12 Month Forward P/E. 
GROWING GLOBAL RISK CONCERNS
JAPAN FAILS IN ATTEMPT TO STOP CRASHING YEN
The BOJ this week in a kneejerk panic executed the first Japanese FX intervention in 24 years that was anything but stealth:
The Japanese government intervened in the foreign exchange market to prop up the yen, the country's top currency official Masato Kanda says.
Kanda, vice finance minister for international affairs, spoke to reporters after the yen climbed sharply against the dollar, erasing most of its decline following the Bank of Japan's decision to maintain ultra-easy monetary policy.
Kanda says Japan took "bold action" in markets.
… as the BOJ has no choice but to prop up the YCC while ignoring the collapse in the yen, it is only a matter of time before this BOJ/MOF intervention fizzles, as have all previous attempts to contain the USDJPY through direct currency intervention…
… and the yen resumes its march toward 150, then 200 and so on, on its irreversible way to the scrapheap of MMT destroyed currencies.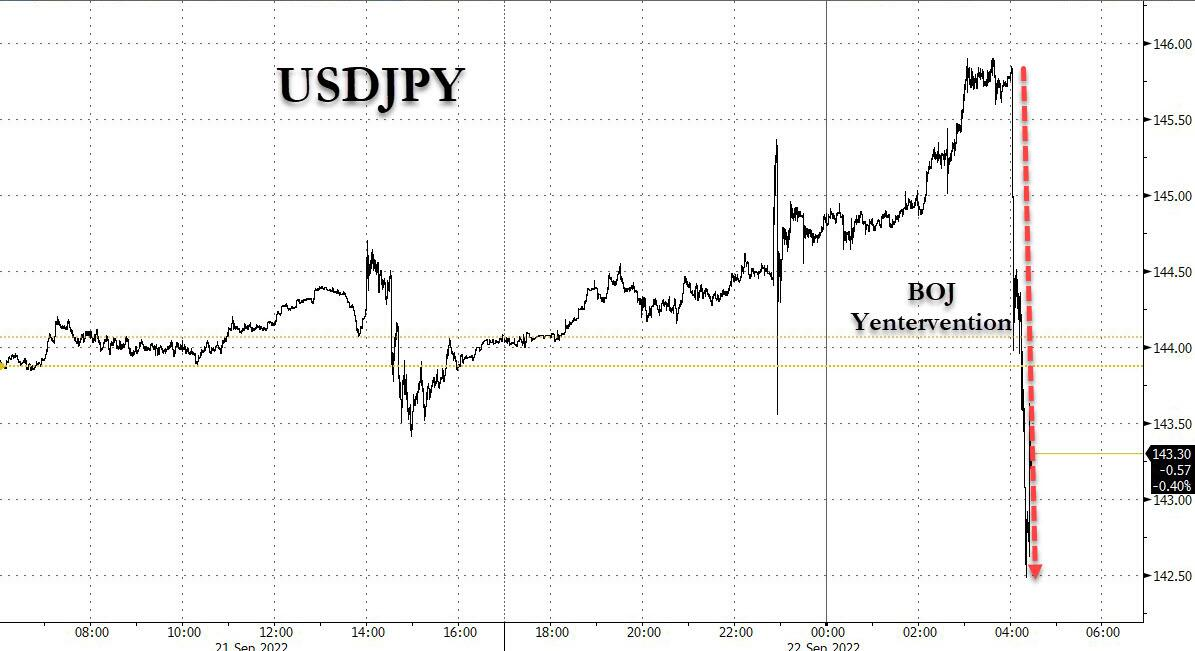 Here a quick primer: in Japan, FX interventions are carried out by the Bank of Japan on behalf of the Ministry of Finance. The last time Japan intervened to sell dollars and buy yen in June 1998 at the height of the Asian currency crisis, while the last time officials stepped into markets to sell yen to weaken the currency was in November 2011. In kneejerk response, the Yen predictably soared, jumping as much as 1.1% as the USDJPY collapsed by a whopping 300 pips from 145.50 to 142.50!
It now appears that the new market level which the BOJ is comfortable with is around 143. Now we witness the BOJ firing its yen intervention bazooka (while fundamentals are screaming for a far weaker yen for years to come), Kuroda stating that there will be no change in policy for at least two years…
*BOJ'S KURODA: "NO NEED TO CHANGE GUIDANCE FOR 2 OR 3 YEARS"
READ: Strong Dollar Fatigue: Japan's Yen Intervention Will Not Work. How Can It?
CHART BELOW
An analysis by Bloomberg (below) echoes skepticism that historically, the yen boost post intervention is likely to endure over a 1-week horizon. However, the effect will diminish soon after — even with repeated yen buying.  A study of 5 distinct historical intervention periods shows:
USD/JPY dived in the week following intervention, and by an average of 1.7%, with the trade-weighted exchange rate up 2.6%.
But, that was it. The average peak impact occurred after one week.
A month later, the effect had waned, even with follow-up interventions. One-month trade-weighted changes averaged 1.7%. That is, the yen had declined 0.9% on average between 1-week and 1-month.
Translation: USDJPY 150 and much more is now guaranteed, even if the time to reach it is delayed by one or two weeks. 
MOUNTING GLOBAL CONFLICT TENSIONS
PUTIN WARNS
Putin has thrown downs the gauntlet – "I Am Not Buffing!"
Calls up 300,000 active reservists,
Mobilizes Russia in national broadcast,
Threatens to use Nuclear Weapons if western powers don't back off interfering in the Ukraine conflict.
Russian Defense minister broadcast nationally: ""We are not fighting with Ukraine, but with the collective west " . He also added more nuclear threats: "All types of arms, including the nuclear triad, are fulfilling their tasks."
WE OUTLINED WHAT WAS AHEAD IN OUR
2020 ANNUAL THESIS PAPER
Complete Thesis paper is available on the
MATASII.com web site

This year will bring the equivalent of a tectonic shift in China's politics when the Chinese Communist Party (CCP) holds its 20th Party Congress, which began Oct. 16. Epoch News reports:
This will be the most significant Party Congress in many decades, for three reasons.
First, despite serious contention with CCP leadership, and major economic and social problems in China, Chinese President Xi Jinping remains its ultimate authority and in control of the Party. His travel to the Central Asian states of Kazakhstan and Uzbekistan this month is notable because he will meet with Russian President Vladimir Putin in Samarkand at the annual meeting of the Shanghai Cooperation Organization, thus signaling their alliance remains strong. Xi's support for Putin has been unwavering since Russia's invasion of Ukraine. 
This trip will be the first time Xi has left China since before the COVID-19 pandemic and it may be the harbinger of more frequent international travel. Travel plans indicate that Xi is optimistic about his position of power and his ability to advance China's influence abroad, and act as a signal to other Party leaders and the Chinese people that their leader is active on the global stage.
Second, if Xi wins a third term as Party leader and chairman of the Central Military Commission, as expected, it will break precedent for the modern Party leaders after Deng Xiaoping.  Like Mao, he plans to impose "Xi Jinping Thought" on the Party and the Chinese people, as the CCP Politburo's statement announced, and to implement measures such as the Five-Sphere Integrated Plan and the Four-Pronged Comprehensive Strategy. This bodes ill for the possibility of any relief for Chinese people who suffer under Xi's tyrannical rule.  
In Xi's third and potentially fourth terms, the CCP wants to move toward achieving its second 100-year goal of building a modern socialist power by 2049, the 100th year of the party-state's founding. Before that, it must modernize its army by 2027, the 100th year of the People's Liberation Army's founding. According to Japan's Nikkei, Chinese President Xi Jinping is expected to stack the country's senior military leadership during next month's Communist Party congress with loyalists aligned on his goal of unifying Taiwan and the mainland.
Meanwhile, the CCP faces a critical point in time when the end of its term is near. Xi will push to fortify his governance in the name of perfecting the efficiency and effectiveness of the Chinese communist system by restructuring the giant power pyramid under the so-called the "fifth modernization," which enables him to control the Party and state in a more refined, sophisticated, comprehensive and diversified way.
There is every indication that Xi intends to remain the CCP's ruler until he dies, is overthrown, or becomes unable to rule for some reason. At 69, he could remain China's leader for the better part of the next two decades. That means many future U.S. presidents will encounter his rule. Thus, understanding his motivations and strategic aims — to see the People's Republic of China as the world's hegemon — and the seriousness with which Xi is determined to achieve his goals is of paramount importance for the Biden administration and its successors.
Third, Xi will become more aggressive and belligerent after the conclusion of the Party Congress — ideologically, diplomatically and militarily. While he will remain watchful of real or imagined opposition, and move to crush it, after the Party Congress he will have his CCP house in order, so to speak. The Party — and indeed, the world — will witness a new beginning in Xi's leadership. He will be unfettered to achieve his aims. While Xi already has boldly advanced China's interests against the U.S. and its allies, what has occurred since he came to power in 2012 until now may be a period of moderation compared with what follows this fall's Party Congress. Xi will be more determined than ever to advance his agenda, including forcing the U.S. from its position of leadership and reshaping global politics.
Xi has made it clear that he will use the 20th Congress to mobilize the entire Party and the Chinese people to vigorously promote the building of "a community of common destiny for mankind," his euphemism for China's global domination. Xi's foreign policy will increase its hostility against the United States; he has made it no secret he perceives the U.S. as the biggest obstacle to the CCP's strategic goal of expanding its core interests. He will increase the size and preparedness of China's military in anticipation of winning China's global domination. At the same time, Beijing will continue to deceive the United States for a longer period of strategic opportunity; the CCP is still not strong enough for a showdown with the U.S.
As Beijing's "wolf warrior" diplomacy turns more aggressive, the West must anticipate that Xi will seek to conquer Taiwan. Equally important, Washington must expect that the intensity of Xi's post-Congress belligerence will be greater than it has witnessed, and his ambition will be directed against the U.S. and its allies. The Biden administration likely is unprepared for this.  But an intellectual shift must be made now, and be followed immediately by tangible measures to deter Communist China's aggression.
NATIONALIZATION TREND
We further concluded in this month's video that "Nationalization" of country resources to combat crippling scarcities was just around the corner.
WE OUTLINED THIS EXPECTED EMERGENCE IN OUR
MARCH 2020 VIDEO
Video outlining this evolution is available on the
MATASII.com web site
This week we read:
GERMANY
Germany has announced a move to nationalize struggling natural gas supplier Uniper SE as it strives to keep the industry functioning in the wake of a global energy crisis, according to Reuters. 
Uniper is Germany's largest importer of Russian NatGas and has suffered  tremendous losses after Russian energy giant Gazprom slashed Nord Stream 1's pipeline capacity to zero, forcing the utility to purchase natgas outside contracts on the open market at record high prices.
Berlin agreed to purchase the remaining stake owned by Uniper's parent company, Finnish utility Fortum Oyj for  $1.69 (1.70 euro) per share. Buying Fortum's stake means Germany will own 99% of Uniper. The cost of nationalization comes as Berlin is set to inject 8 billion euros, equivalent to around $8 billion, into the utility. 
The move is to keep the lights on across German homes and businesses as the risk of power rationings increases.  
"This step has become necessary because the situation has worsened significantly.
 "The state will do everything necessary to keep systemically important companies in Germany stable at all times," Robert Habeck, Germany's economy minister, said Wednesday.
Uniper shares crashed by as much as 39% to 2.55 euros. Shares are down 93% on the year… 
In July, Berlin injected a whooping 15 billion euros ($14.95 billion) to save the utility though the move to nationalize ahead of winter shows further deterioration in energy security for Europe's largest economy.
Here's what Markus Rauramo, CEO and President of Fortum, said about the deal:
"Under the current circumstances in the European energy markets and recognising the severity of Uniper's situation, the divestment of Uniper is the right step to take, not only for Uniper but also for Fortum.
"The role of gas in Europe has fundamentally changed since Russia attacked Ukraine, and so has the outlook for a gas-heavy portfolio. As a result, the business case for an integrated group is no longer viable." 
Uniper CEO Klaus-Dieter Maubach also commented:
"This secures the energy supply for companies, municipal utilities, and consumers." 
The bailouts and nationalization of utilities won't likely end with Uniper. Berlin plans to take control and shore up positions in other struggling utilities to avoid a 'Lehman-style' collapse. 
The good news is Germany has managed to fill up its NatGas storage facilities ahead of winter to approximately 90%. These supplies only cover two months, and without increased imports of liquefied natural gas from afar, it could only suggest a dark winter for Europe. 

CONCLUSION
LOOK SOON FOR CALLS TO WEAKEN THE DOLLAR!
Talk about a weak dollar often leads to political shenanigans. 
As we spelled out in this month's video, the strong dollar is more about the weakness in the Yuan, Yen and Euro than the actual underpinnings of the US dollar. We are witnessing a "Flight-to Safety" from poor policies in these sovereign government currencies. 
We need to recall that after Fed Chairman Paul Volcker substantially raised interest rates in the US in the early 1980s, the dollar became much stronger compared to foreign currencies. The alleged problems of a strong dollar soon became a popular topic among politicians, both foreign and domestic.
Talk about the need for a weak dollar often leads to political shenanigans!  French, German, Japanese and British politicians then began lobbying the US government to devalue the dollar for the benefit of foreign currency.  
Three years later, US government politicians caved to pressure, spurred by half-baked economic orthodoxy about the alleged value of a weak currency.
American policymakers thus embraced the Plaza Accord in 1985 and the US dollar began to lose value and purchasing power soon thereafter.
This, of course, came at the expense of American savers and consumers. The inflationists won, and a new generation learned that talk of a "strong dollar" is often quickly followed by calls for devaluation.
It is unlikely soon to be any different this time.
YOUR DESK TOP / TABLET / PHONE ANNOTATED CHART
Macro Analytics Chart:  SUBSCRIBER LINK
YOUR DESK TOP / TABLET / PHONE ANNOTATED CHART
Macro Analytics Chart:  SUBSCRIBER LINK
YOUR DESK TOP / TABLET / PHONE ANNOTATED CHART
Macro Analytics Chart:  SUBSCRIBER LINK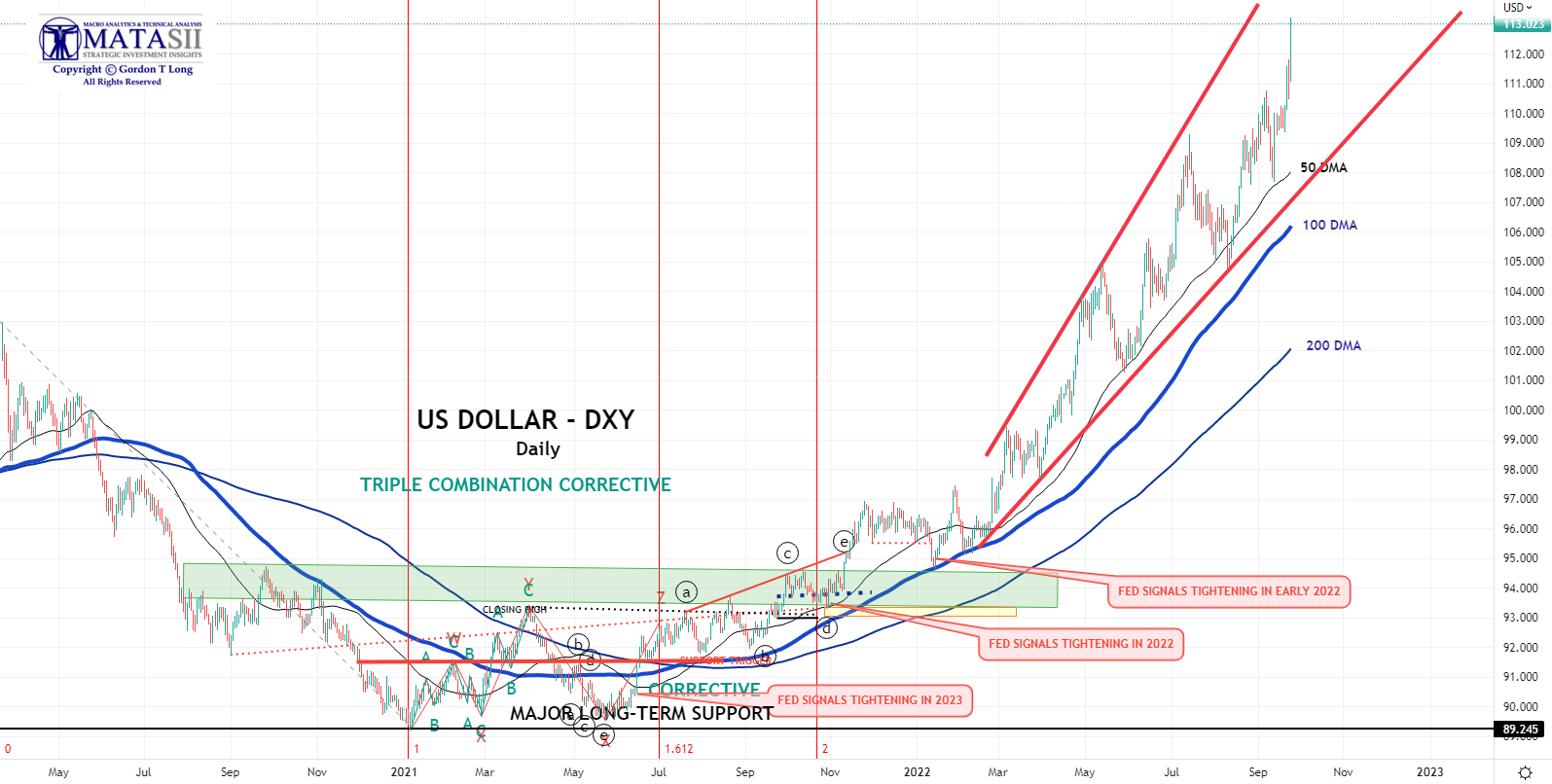 YOUR DESK TOP / TABLET / PHONE ANNOTATED CHART
Macro Analytics Chart:  SUBSCRIBER LINK
THE WORST IS STILL IN FRONT OF US,
EXPECT ANOTHER SHORT TERM BEAR MARKET COUNTER RALLY,
FADE THE UNFOLDING COUNTER RALLY – SELL THE RIPS.
US DOLLAR APPROACHING TARGET PIVOT REVERSAL LEVEL
US$ has been correlated to rising real US rates. This will soon reverse.
LONG TERM GOLD "CUP & HANDLE" FORMATION PATTERN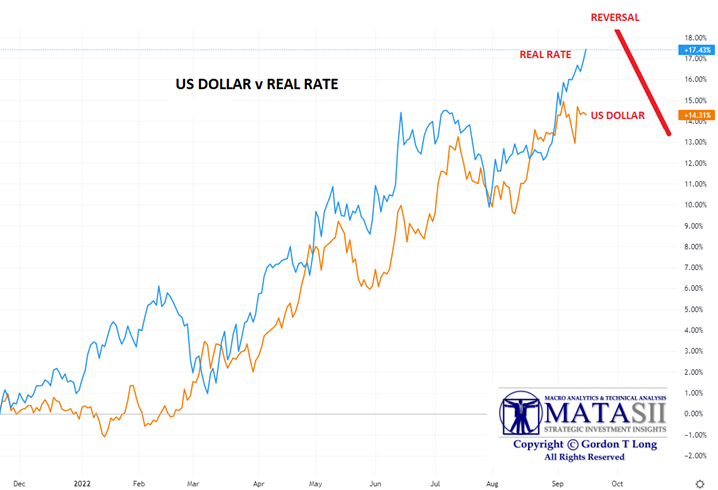 YOUR DESK TOP / TABLET / PHONE ANNOTATED CHART
Macro Analytics Chart:  SUBSCRIBER LINK
FAIR USE NOTICE  This site contains copyrighted material the use of which has not always been specifically authorized by the copyright owner. We are making such material available in our efforts to advance understanding of environmental, political, human rights, economic, democracy, scientific, and social justice issues, etc. We believe this constitutes a 'fair use' of any such copyrighted material as provided for in section 107 of the US Copyright Law. In accordance with Title 17 U.S.C. Section 107, the material on this site is distributed without profit to those who have expressed a prior interest in receiving the included information for research and educational purposes.  If you wish to use copyrighted material from this site for purposes of your own that go beyond 'fair use', you must obtain permission from the copyright owner.
---
---
NOTICE  Information on these pages contains forward-looking statements that involve risks and uncertainties. Markets and instruments profiled on this page are for informational purposes only and should not in any way come across as a recommendation to buy or sell in these assets. You should do your own thorough research before making any investment decisions. MATASII.com does not in any way guarantee that this information is free from mistakes, errors, or material misstatements. It also does not guarantee that this information is of a timely nature. Investing in Open Markets involves a great deal of risk, including the loss of all or a portion of your investment, as well as emotional distress. All risks, losses and costs associated with investing, including total loss of principal, are your responsibility.