REITS TRAPPED IN A LOSING "CATCH-22"!
REITs (Real Estate Investment Trusts) are showing some of the underlying risks that investors may not yet be considering in an era of Covid-19. The failure of businesses en masse is likely to begin happening in Q3. Certainly already devastated cash flows will begin wrecking havoc on lucrative dividend payouts from REITs. The unenviable position REITs find themselves in is that they're payouts are part of the problem for small & medium sized businesses across America! Let me explain.
Rent is one of the largest expenses restaurants, retailers, and many small businesses have. They may be able to lay off workers (and possibly get the governments PPP) and stop ordering raw materials, but rent keeps piling up even when operations are told to shut down. What's challenging is that those small businesses don't keep the kind of cash cushion that larger companies with revolvers and secured credit lines often do to pay bills in a downturn.
Small businesses average just 27 days of operating cash on hand, and restaurants average just 17 days. Two months without operating will put them out of business without incurring more debt (if they can borrow and at what terms) or Government Bailouts
Remember, we are talking every small or medium sized business in America!  REITs can either:
Force these companies out of business or
They can reduce or waive rent while operations are slow.
If they force companies out of business, it's unlikely there will be an eager tenant willing to fill the vacancy given the economic backdrop today. But if they reduce rent, the REITs' cash flow (and dividend) will decline in the short term.No matter what they do, REITs are holding a losing hand.
SITUATIONAL ANALYSIS
What makes the COVID-19 pandemic unique is that it's causing a correlated downturn in almost every business. Hotels are empty, malls have been shut down, and there may be millions of small businesses closed down over the next year. The former head of the Small Business Administration, said recently that 20% to 30% of small businesses may fail "even in a good scenario." 
Small & Medium businesses are ultimately the ones that pay rent to mall owners, organize business trips and stay in hotels. When they are failing en masse, it's having a devastating effect on associated REITs.
REITs are no better than the consistency of the individuals or companies who pay their bills. If malls are empty, Simon Property Group and Brookfield Property REIT are in trouble. And if hotels are empty, Host Hotels and Apple Hospitality will be in the same boat. The same can be said for any industry REITs serve. 
We've seen mall REITs like Simon Property Group (NYSE:SPG) and Brookfield Property REIT (NASDAQ:BPYU) plunge 61% and 50.9%, respectively, so far in 2020. Hotel REITs like Host Hotels & Resorts (NYSE:HST) and Apple Hospitality REIT (NYSE:APLE) are down 39.2% and 44.3%, respectively. 
REITs were supposed to be a safe place to put your money in an economic downturn, but this one is fundamentally different!
COMMERCIAL REAL ESTATE & REITS
Commercial Real Estate REITS can be categorized into primarily i) Office, ii) Mortgage, iii) Residential, iv) Healthcare or Retail REITS. As we outlined in our video release Office REIT's face major obstacles ahead. To show how they can be impacted lets examine Retail REITS where retail stores have already be 'lockdowned'. MATASII has been following the collapse in Retail industry since 2015 with 26 securities of a 150+ security SII tracking set. One of those securities is US Mall operator Simon Properties. With the following Mall Anchor stores in the news this week we thought its charts would be instructive.
The following chart is from the March 6th, 2017 report on Simon Properties. With prices at $179/share a break of the $171/share MATASII Trigger indicated a new downside price target of ~$155.
Though Simon Properties stock stabilized in 2018 & 2019 at $155/share every indication was that the next leg down would be even more violent if Retail Mall traffic continued to deteriorate. The CoronaVirus retail shopping lock-down across America delivered that blow taking Simon properties to the low labeled (3) below.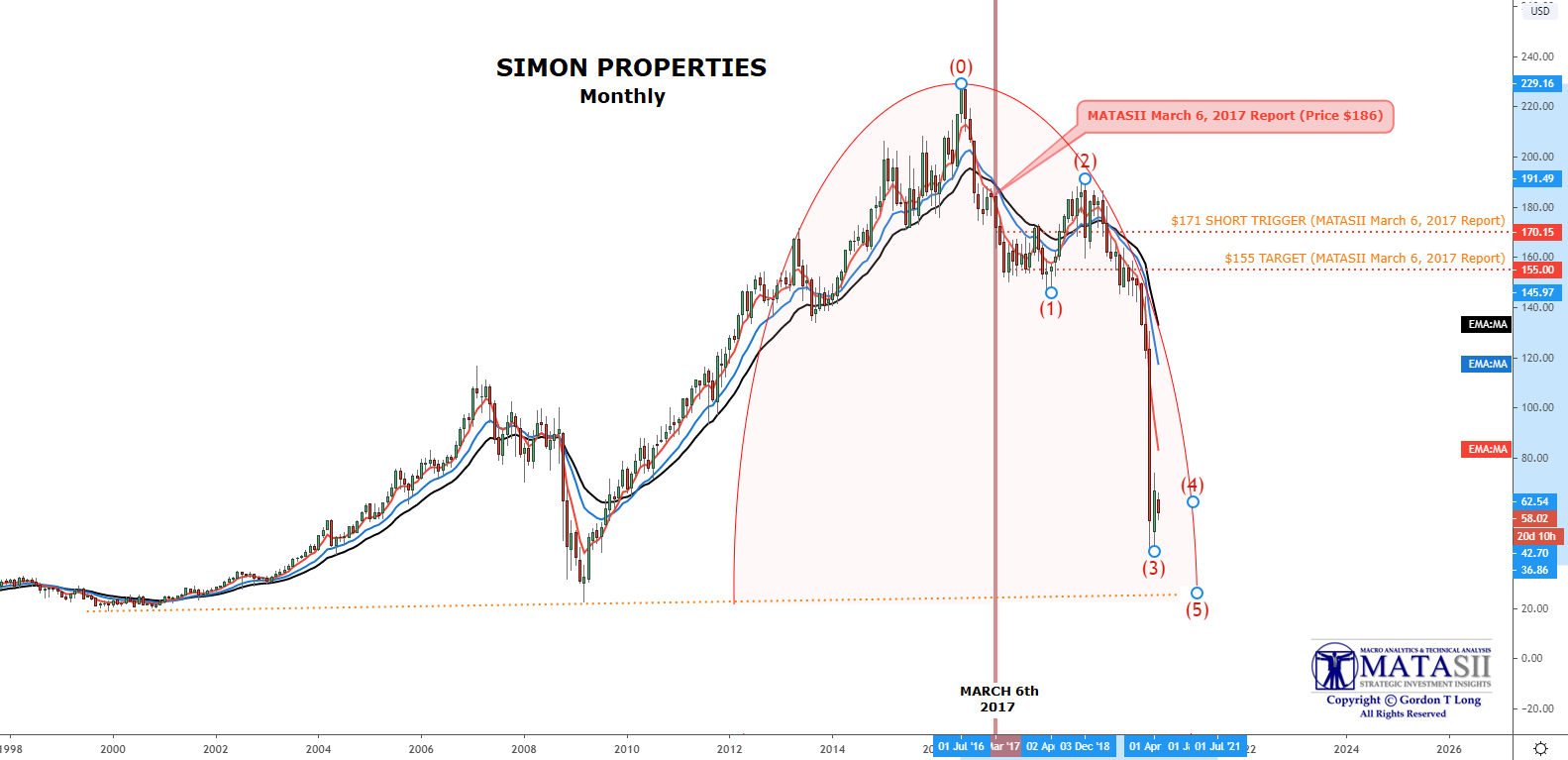 The Death Cross and a break of $155/share prepared MATASII subscribers in advance of the CoronaVirus retail lock-down. We now expect a consolidation to once again unfold, likely in the fashion shown below. We feel there is more downside ahead.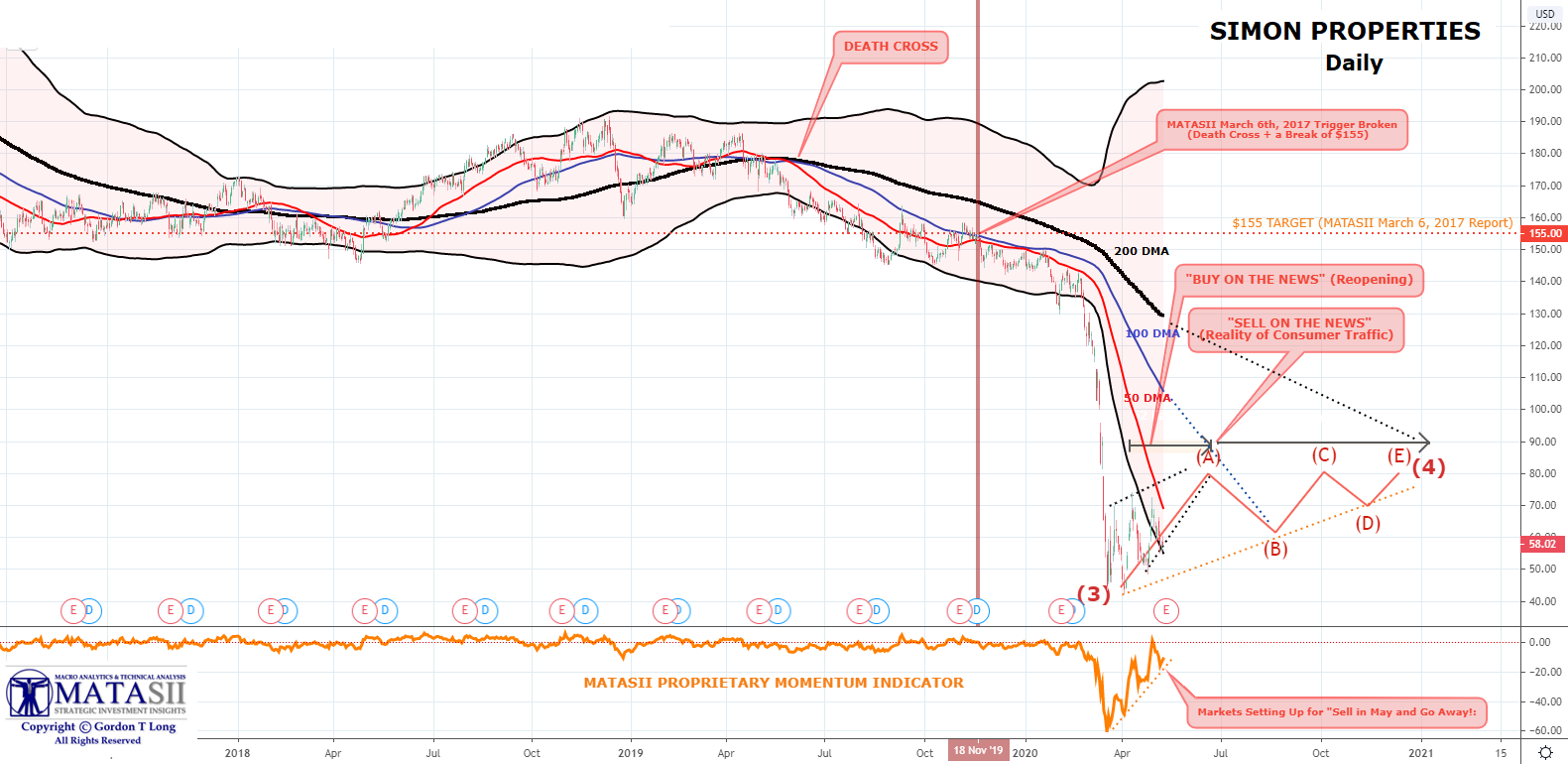 Your LIVE DESK TOP / TABLET / PHONE
MACRO ANALYTIC Video Chart Link:
FAIR USE NOTICE  This site contains copyrighted material the use of which has not always been specifically authorized by the copyright owner. We are making such material available in our efforts to advance understanding of environmental, political, human rights, economic, democracy, scientific, and social justice issues, etc. We believe this constitutes a 'fair use' of any such copyrighted material as provided for in section 107 of the US Copyright Law. In accordance with Title 17 U.S.C. Section 107, the material on this site is distributed without profit to those who have expressed a prior interest in receiving the included information for research and educational purposes.  If you wish to use copyrighted material from this site for purposes of your own that go beyond 'fair use', you must obtain permission from the copyright owner.
---
---
NOTICE  Information on these pages contains forward-looking statements that involve risks and uncertainties. Markets and instruments profiled on this page are for informational purposes only and should not in any way come across as a recommendation to buy or sell in these assets. You should do your own thorough research before making any investment decisions. MATASII.com does not in any way guarantee that this information is free from mistakes, errors, or material misstatements. It also does not guarantee that this information is of a timely nature. Investing in Open Markets involves a great deal of risk, including the loss of all or a portion of your investment, as well as emotional distress. All risks, losses and costs associated with investing, including total loss of principal, are your responsibility.