RETAIL MALLS SUFFERING WORSENING SECULAR PROBLEMS
THE MARKET REALITIES OF A DISAPPEARING MIDDLE CLASS
Nowhere is the problem from a gutted and missing American middle class more obvious than the lineups at charity food pantries and government sponsored high school food kitchens serving drive through meals during this Covid-19 crisis. The cars they are driving indicate this is not the poor you would expect but everyday working Americans without work, depressed and losing hope.
The middle class prior to the Covid-19 layoffs could no longer survive on their wages without incurring increasing levels of debt to survive. The consumer was in rough shape, despite President Trump touting of a V-shaped recovery and the stock market at record highs — households, mainly ones of the bottom 90% — are getting absolutely crushed in this downturn. This sets the stage for a consumer that died with a bang: because in a time of virtually no visibility on job prospects, economic recovery, and how the pandemic is resolved, consumer behavior suggests something serious and sustained is occurring. 
Here is what it means to investors:
The middle class is being forced to buy at the lowest cost outlets for perishables and basic needs. These outlets are national chains such as Walmart, Dollar Discount, Costco, BJ's, Targets etc. which effectively suck revenue out of the local community like a "vacuum cleaner" thereby reducing the Velocity of Money (see chart below) which once made local communities possible and vibrant. The foundation for the American Dream.
The middle class is additionally forced to buy all other goods online where the best discounted price can be found. Payments are made to companies like Amazon that have no presence in the local community thereby further sucking money and employment out of local economies.
America is a 70% consumption economy dependent on the middle class. The change in buying behavior is gutting the "MainStreet" wealth engine of America for the "WallStreet" Economy which has singly funded these consumer outlets and the local manufacturers that outsourced and downsized their employee jobs to foreign shores.
With 44 Million Americans filing form unemployment in the last 12 weeks the chance of a "V" shaped economy recovery is sincerely questionable despite what the Wall Street shrills tout!
  "The Markets Can Always Count on the US Consumer"
A Market Truism during market expansions in the 60's, 70's, 80's, 90's, 00's, 10's! [20's???]
SITUATIONAL ANALYSIS
Small businesses employ 58.9 million Americans, making up 47.5% of the country's total employee workforce. It's absurd to think the economy is going to come roaring back when nearly half of small business owners expect to shut down. 
Small Business has been crushed and a recent report from Azio, a major small business bank survey indicated that 47% of the small business owners surveyed said they anticipate shutting down, and 41% said they are looking for full-time work elsewhere.
Less than half of participants, 38 percent involved in Azlo's just completed survey, applied for PPP (Payroll Protection Program) loans. Of those who did apply, 37% said the program was slow to distribute funds and 20% described the process as 'painful'."
The Census Bureau's Household Pulse survey showed in the last five weeks through June 2, 31% of households said they had "little or no confidence" about paying rent next month. 
The survey showed 11% of households with a mortgage skipped servicing payments last month, and 16% said they wouldn't be able to make payments in the future.
Citing the U.S. Census Bureau's Household Pulse survey, Bloomberg reports that at least 17% didn't pay their latest monthly rent and an even larger number of folks are worried about missing upcoming rent payments as the squeeze on households is getting worse.
Federal Reserve Chair Jerome Powell said during a press conference: "There's been a tremendous amount of forbearance on the part of the banks…. but those are not decisions that we hold any legal authority to make, and by the way, we have encouraged those decisions."
MONETARY & FISCAL POLICIES HAVE FAILED AMERICA'S MIDDLE CLASS
THE RICH GOT RICHER, THE POOR POORER AS THE MIDDLE CLASS SUFFERED THE BRUNT OF THE GROWTH OF INEQUALITY IN AMERICA FROM FAILED & EXPLOITATIVE MONETARY AND FISCAL POLICIES. 
THE VELOCITY OF MONEY BELOW BEST CAPTURES THIS SHIFT.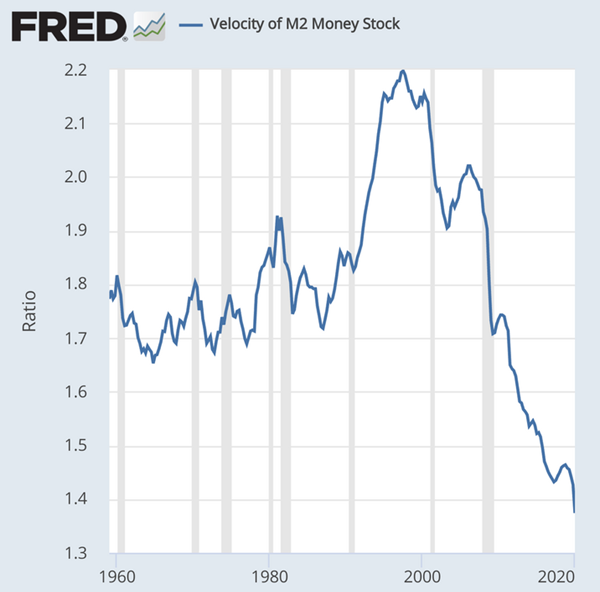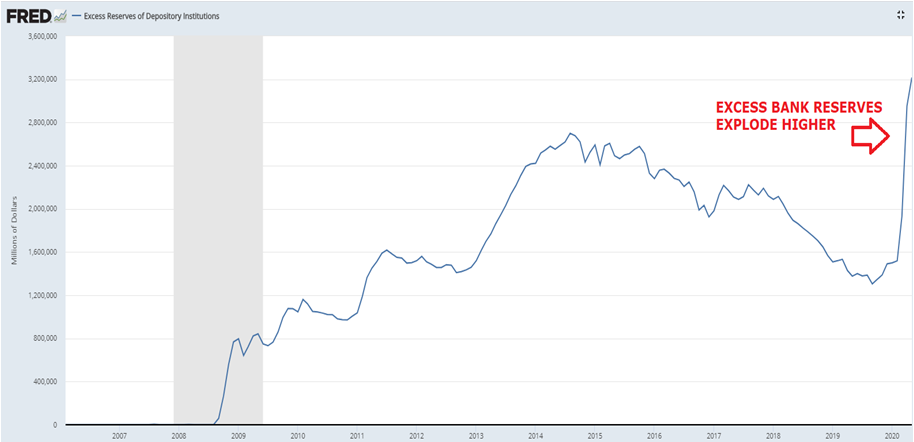 The Banks are tightening credit limits for credit card holders, dramatically increasing loan loss reserves and are placing excess lending reserves at the Federal Reserve despite the Fed cutting the interest rate on reserves. These are not signs of the expectations for consumption to soon return to "normal". 
This is "battening down the hatches" for a storm!
Whether small business, corporate America or government services they are all experiencing severe cash flow and revenue shocks (below). This has forced layoffs, furloughs and the rapid acceleration in bankruptcies. The retail sector has been one of the most impacted sectors during the Covid-19 'lock down'. 
Many already fighting the onslaught of online competition and cost to implement competitive online offerings simply don't have the financial strength to stay in business.
THE FOUNDATIONAL PILLAR  FOR COMMERCIAL RETAIL REAL ESTATE IS THE US MIDDLE CLASS CONSUMER
REITs (Real Estate Investment Trusts) are showing some of the underlying risks that investors may not yet be considering in an era of Covid-19. The failure of businesses en masse is likely to begin happening in Q3. Certainly already devastated cash flows will begin wrecking havoc on lucrative dividend payouts from REITs. The unenviable position REITs find themselves in is that they're payouts are part of the problem for small & medium sized businesses across America!  Let me explain.
Rent is one of the largest expenses restaurants, retailers, and many small businesses have. They may be able to lay off workers (and possibly get the governments PPP) and stop ordering raw materials, but rent keeps piling up even when operations are told to shut down. What's challenging is that those small businesses don't keep the kind of cash cushion that larger companies with revolvers and secured credit lines often do to pay bills in a downturn.
Small businesses average just 27 days of operating cash on hand, and restaurants average just 17 days. Two months without operating will put them out of business without incurring more debt (if they can borrow and at what terms) or Government Bailouts
Remember, we are talking every small or medium sized business in America!  REITs can either:
Force these companies out of business or
They can reduce or waive rent while operations are slow.
If they force companies out of business, it's unlikely there will be an eager tenant willing to fill the vacancy given the economic backdrop today. But if they reduce rent, the REITs' cash flow (and dividend) will decline in the short term.No matter what they do, REITs are holding a losing hand
Commercial Real Estate REITS can be categorized into primarily i) Office, ii) Mortgage, iii) Residential, iv) Healthcare or Retail REITS. As we outlined in our video release Office REIT's face major obstacles ahead. To show how they can be impacted lets examine Retail REITS where retail stores have already be 'lockdowned'. MATASII has been following the collapse in Retail industry since 2015 with 26 securities of a 150+ security SII tracking set. One of those securities is US Mall operator Simon Properties. With the following Mall Anchor stores in the news this week we thought its charts would be instructive.
PREVIOUS POSTED CHART: 05-09-20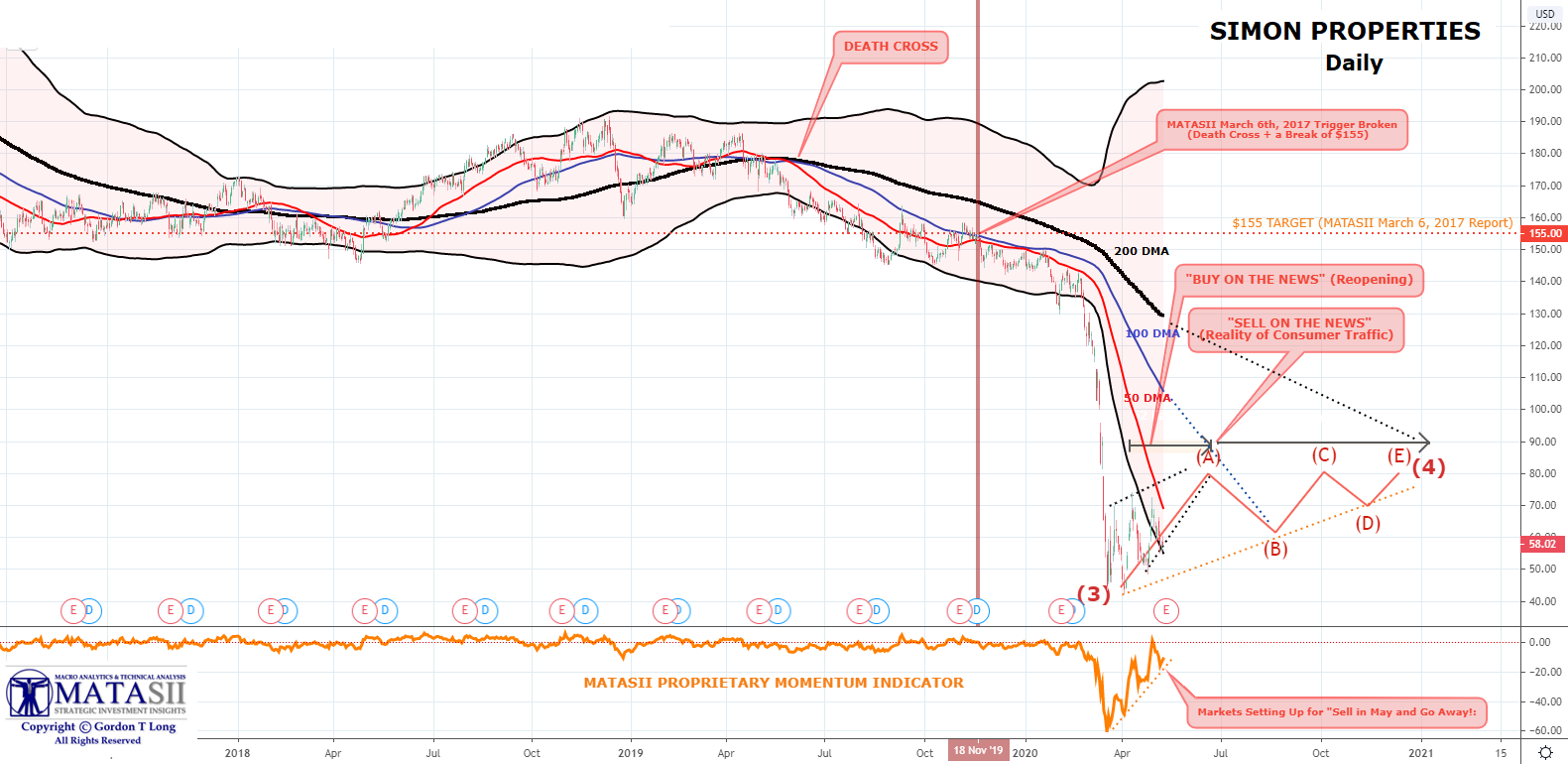 TODAY'S CHART:
America's largest mall operator, Simon Properties was down over 13% today after being forced to terminate its $3.6B merger agreement with rival Taubman Centers. The retail space continues to rapidly deteriorate despite retail stores & malls beginning to reopen across America.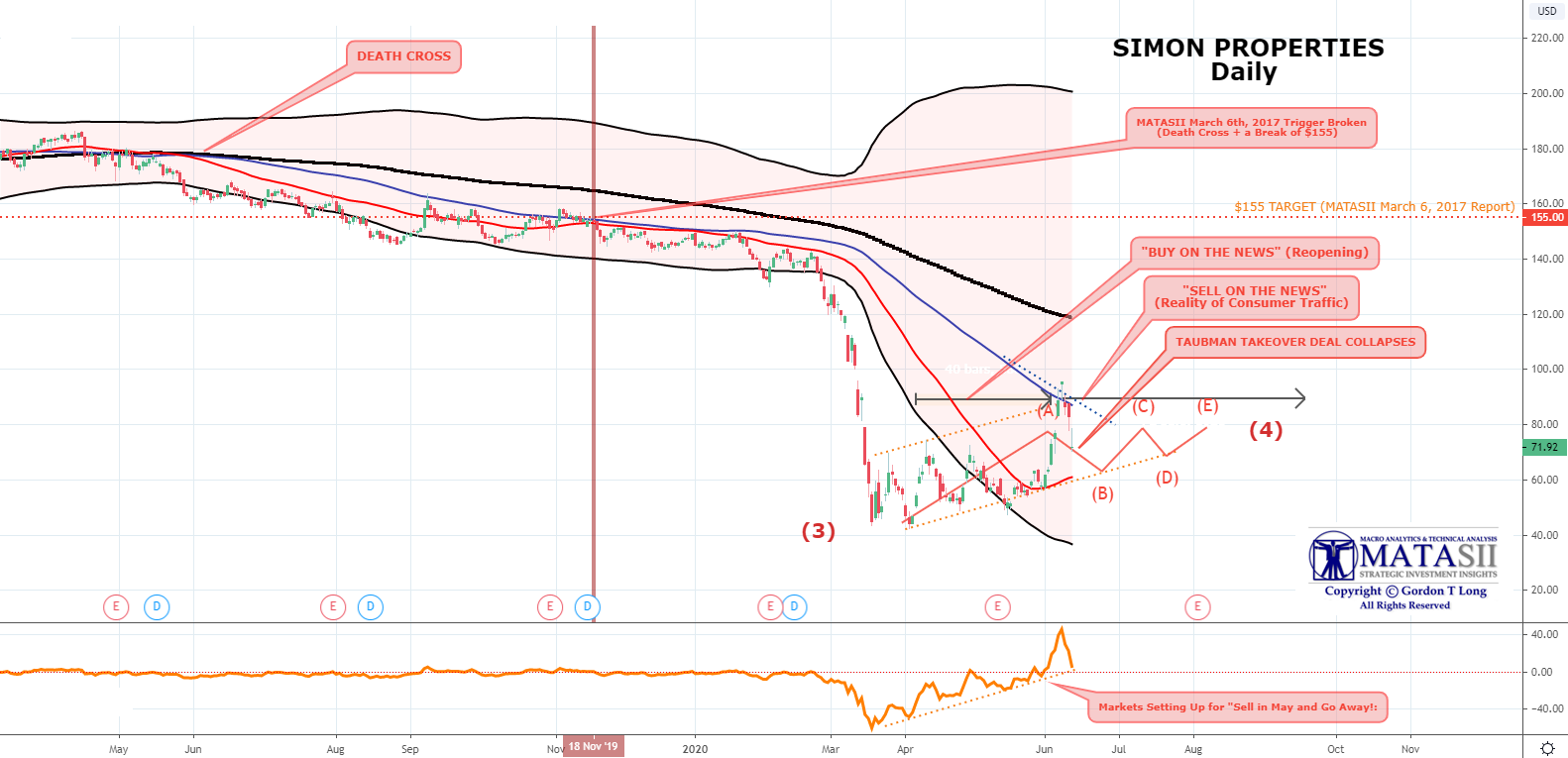 Your LIVE DESK TOP / TABLET / PHONE
MACRO ANALYTIC Video Chart Link: 
FAIR USE NOTICE  This site contains copyrighted material the use of which has not always been specifically authorized by the copyright owner. We are making such material available in our efforts to advance understanding of environmental, political, human rights, economic, democracy, scientific, and social justice issues, etc. We believe this constitutes a 'fair use' of any such copyrighted material as provided for in section 107 of the US Copyright Law. In accordance with Title 17 U.S.C. Section 107, the material on this site is distributed without profit to those who have expressed a prior interest in receiving the included information for research and educational purposes.  If you wish to use copyrighted material from this site for purposes of your own that go beyond 'fair use', you must obtain permission from the copyright owner.
---
---
NOTICE  Information on these pages contains forward-looking statements that involve risks and uncertainties. Markets and instruments profiled on this page are for informational purposes only and should not in any way come across as a recommendation to buy or sell in these assets. You should do your own thorough research before making any investment decisions. MATASII.com does not in any way guarantee that this information is free from mistakes, errors, or material misstatements. It also does not guarantee that this information is of a timely nature. Investing in Open Markets involves a great deal of risk, including the loss of all or a portion of your investment, as well as emotional distress. All risks, losses and costs associated with investing, including total loss of principal, are your responsibility.