Before & After
The two Daily charts below are a Before & After from our previous analysis.  The Left side is what we posted back in May 2020, the right is the current view as of end of Oct 2020. (click image to enlarge)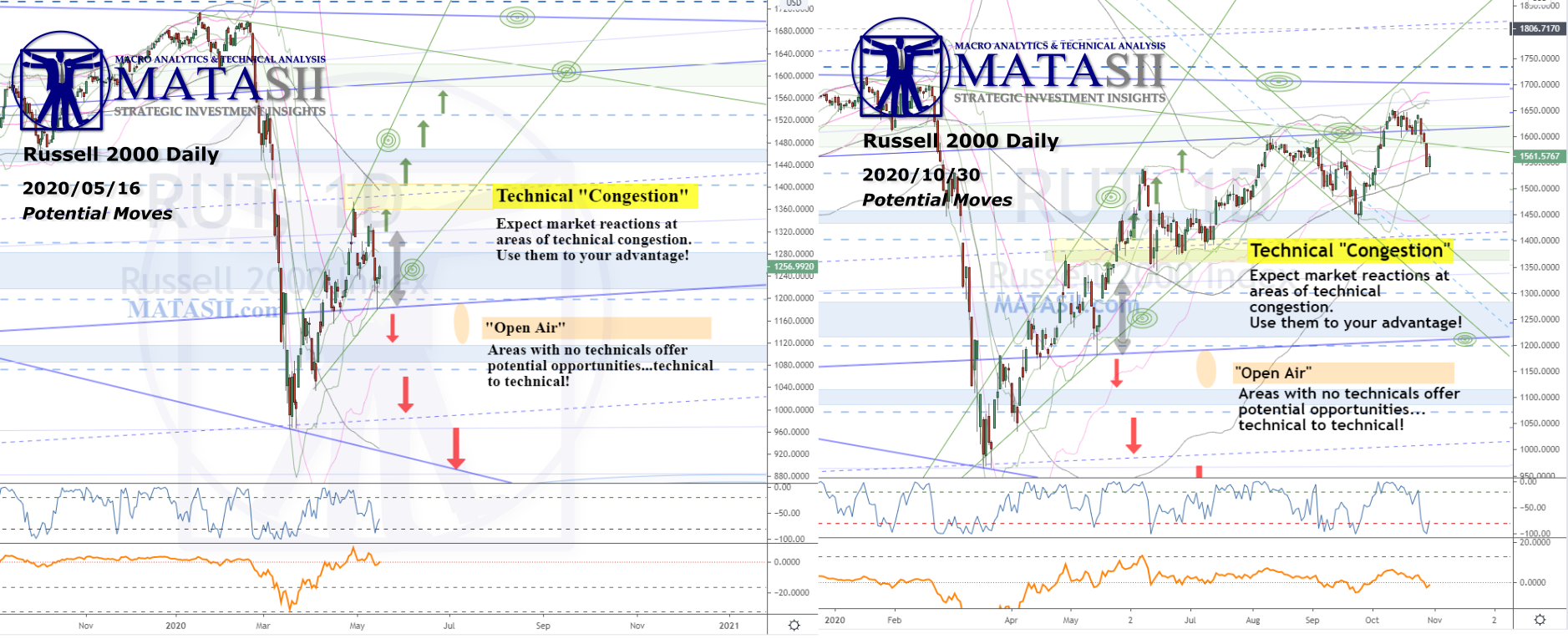 IF you follow along with the market and the technicals it moves through, you will see that for the most part the market moves from one technical to the next.  Areas where there are "open air" offer opportunities with less risk than the places where technical congestion can be seen. Expect reaction at any technical. Although the chart itself is NOT a trading plan, the market roadmap it gives allows any trading or investment strategy to be overlaid on top. Technicals given can be considered for entries, stops , exits, targets, etc.  
SUBSCRIBE To MATASII Full Site Access or TRIGGER$ to see current updated charts and the next potential market moves!
MATASII Subscription Options
Full Site Access (all sections)
SUBSCRIBE
FULL SITE ACCESS
$55/monthly
SUBSCRIBE
FULL SITE ACCESS
$550/yearly
TRIGGER$ HPTZ Technical Analysis (only)
SUBSCRIBE
TRIGGER$
$35/monthly
SUBSCRIBE
TRIGGER$
$350/year
Analysis / Technical Update can be purchased as a "single-serving" and viewed without a subscription
ANALYSIS INCLUDES
Actionable Charts:
RUSSELL 2000 : Weekly | Daily
*Live Charts: Weekly & Daily Russell 2000 charts. Links to *live charts from TradingView.com.  Ability to copy & save charts for your own use.
*delayed data; see Charts(2) in Disclaimer (right)
$2.99 Buy Now!
PLEASE READ: PURCHASING ACCESS ACKNOWLEDGES YOU HAVE READ, UNDERSTOOD, AND AGREE TO THE DISCLAIMER, TERMS OF USE AND OTHER NOTES CONCERNING CHARTING FOUND BELOW.
Disclaimer
MATASII.com is for educational, research and demonstration purposes only.
TRIGGER$ Media Publications, MATASII.com  and it's main contributors are NOT licensed investment advisers.   
Content is not investment advice, nor a recommendation to participate in the markets. 
THIS SITE AND IT'S CONTENTS ARE MEANT TO BE ONE PART OF YOUR OVERALL DUE DILIGENCE.