THE "JAWS" WILL BEGIN TO CLOSE IN APRIL WITH EARNINGS GUIDANCE
MATASII RESEARCH ANALYSIS & SYNTHESIS:  
Is the bond market right in anticipating a period of acute deflation and/or recession, or is it wrong and stocks, which are less than 5% below their all-time highs, correct in their optimistic outlook?
There have been two conflicting themes in the market so far in 2019:
The first one has been the relentless selling by equity investors since the start of the new year despite the market's remarkable surge in 2019,
Buying of fixed income securities in a scramble to lock up yield ahead of potential rate cuts and/or QE by the Fed later in 2019 or in 2020
It all really "depends from which direction the jaws close – through higher rates or via lower equity prices."
MATASII CONTEXT
We have seen this before ...and it did not end well. It took ~ 9 months to close with the 2008 Financial Crisis.
GOLDMAN SACHS' VIEW
Forecasts the 10-year US Treasury yield will rise to 2.8% at year-end 2019 (down from the previous forecast of 3.0%).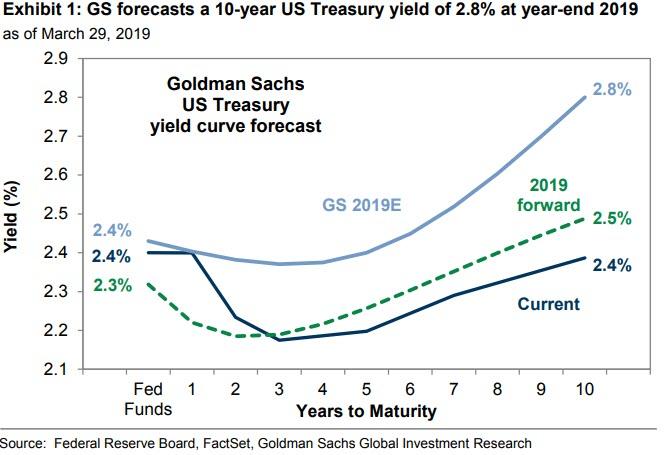 The 90 bp plunge in the 10-year Treasury yield since last September (3.2%) and 30 bp drop since year-end (2.7%) has caused the yield gap to widen to 350 bp, which is considerably above the 40-year average (230 bp).
The lower rate would be conducive to equity valuations remaining at or above the current elevated level of 16.8x,  which is in the 79th percentile in absolute terms versus the past 30 years but at just the 29th percentile relative to interest rates.
"The reduced pace of rising yields to less than 5 bp per month is encouraging for equity investors" and explaining that "historically, the S&P 500 has posted positive  returns when the 10-year Treasury yield has increased by less than one standard deviation relative to the prior 36 months."
THE PRESSURE OF THE "JAWS"
US equity markets appear to be currently pricing in only 15% chance of a typical US recession and discount only 3% decline in earnings.
In contrast, the 85bp fall in 5-year US Treasury yields from their early November peak points to 80% chance of a US recession.
In other words, stocks are pricing in smooth sailing while bonds are now certain a recession is coming. And while historically bonds have always been right in the end, this time equities have the explicit backstop of the Fed.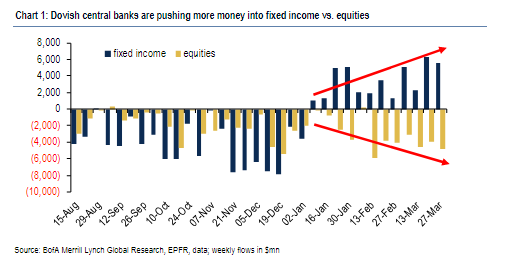 ---
[SITE INDEX -- MACRO: GLOBAL RISK - ASSESSMENT]
A PUBLIC SOURCED ARTICLE FOR MATASII
FAIR USE NOTICEThis site contains copyrighted material the use of which has not always been specifically authorized by the copyright owner. We are making such material available in our efforts to advance understanding of environmental, political, human rights, economic, democracy, scientific, and social justice issues, etc. We believe this constitutes a 'fair use' of any such copyrighted material as provided for in section 107 of the US Copyright Law. In accordance with Title 17 U.S.C. Section 107, the material on this site is distributed without profit to those who have expressed a prior interest in receiving the included information for research and educational purposes.  If you wish to use copyrighted material from this site for purposes of your own that go beyond 'fair use', you must obtain permission from the copyright owner.
---
NOTICE  Information on these pages contains forward-looking statements that involve risks and uncertainties. Markets and instruments profiled on this page are for informational purposes only and should not in any way come across as a recommendation to buy or sell in these assets. You should do your own thorough research before making any investment decisions. MATASII.com does not in any way guarantee that this information is free from mistakes, errors, or material misstatements. It also does not guarantee that this information is of a timely nature. Investing in Open Markets involves a great deal of risk, including the loss of all or a portion of your investment, as well as emotional distress. All risks, losses and costs associated with investing, including total loss of principal, are your responsibility.