US FARM CRISIS SIGNALS A FOOD INFLATION SHOCKER AHEAD

Here are just some of the headlines we have been following on a potential Food Inflation shocker from the current US Farming Crisis driven by
Lingering weakness in commodity prices,
Storms damaging crops and
Loss of key export markets such as China
MID-WEST FLOODING - CORN SHORTAGE TO FEED LIVESTOCK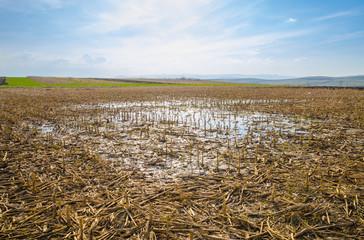 A Food Crisis Is Here- Trouble For Farmers In The Corn Belt

Corn is fed to the animals much of the country consumes, so without it, we are staring a food crisis right in the face.
The weather in four (Illinois, Minnesota, Indiana, and South Dakota) of the top six states for corn production couples with the skyrocketing number of bankruptcies of American farmers, we could be on the precipice of a food crisis,
The four states combined to produce nearly 40% of the corn in the U.S. If the weather continues a wet pattern through late May, consumer prices could go up this summer.
Iowa and Nebraska, the other two states among the top six corn producers, are also behind, albeit, only slightly behind, according to data from the USDA.
By this time of year, 43% of corn crops would already be planted in Illinois, according to the five-year average provided by the USDA. However, just 9% has been planted so far. Iowa averages 26% of crops planted at this point, and 21% has been planted so far.
Three of the other top corn producers are lagging behind this season so far. Minnesota (2% of corn crops planted by now compared to its five-year average of 24%), Indiana (2% compared to 17%) and South Dakota (0% compared to 17%) are also well off pace. –AccuWeather
US-CHINA TRADE WAR - SOY BEANS FOR INTERNATIONAL MARKETS
The trade war has cut over 80% of US soybean exports to China so far this market year (September-August).
China might completely stop purchasing agricultural products from the US. There are currently 7.4 million metric tons of beans that have not yet been shipped to China, according to the US Department of Agriculture data.
China could easily cancel the orders, or if the beans are en route, Chinese ports could refuse to take the cargo, a Bloomberg headline said.
CURRENT FALLOUT
Because of the unfriendly environment, the level of farm debt is approaching highs not seen since the farm crisis of the early 1980s.
U.S. farm debt soars to levels seen during 1980s farm crisis: Agriculture secretary

The amount of debt held by America's farmers has risen rapidly to 1980s-levels at $409 billion from $385 billion last year, with loan demand remaining "historically high,"
The figures reflect a level of strain on the U.S. farm belt that is comparable to the agricultural crisis of three decades ago,
"Farm debt has been rising more rapidly over the last five years, increasing by 30 percent since 2013 – up from $315 billion to $409 billion, according to USDA data, and up from $385 billion in just the last year – to levels seen in the 1980s,"
U.S. Department of Agriculture is concerned about a potential future decline in farmland real estate prices, a key pillar of equity for the U.S. agricultural heartland, but has seen no sign of that happening so far.
---
---
[SITE INDEX -- TIPPING POINTS - GLOBAL GOVERNANCE FAILURE]
A PUBLIC SOURCED ARTICLE FOR MATASII
READERS  REFERENCE: (SUBSCRIBERS & PUBLIC ACCESS) 

FAIR USE NOTICE  This site contains copyrighted material the use of which has not always been specifically authorized by the copyright owner. We are making such material available in our efforts to advance understanding of environmental, political, human rights, economic, democracy, scientific, and social justice issues, etc. We believe this constitutes a 'fair use' of any such copyrighted material as provided for in section 107 of the US Copyright Law. In accordance with Title 17 U.S.C. Section 107, the material on this site is distributed without profit to those who have expressed a prior interest in receiving the included information for research and educational purposes.  If you wish to use copyrighted material from this site for purposes of your own that go beyond 'fair use', you must obtain permission from the copyright owner.
---
---
NOTICE  Information on these pages contains forward-looking statements that involve risks and uncertainties. Markets and instruments profiled on this page are for informational purposes only and should not in any way come across as a recommendation to buy or sell in these assets. You should do your own thorough research before making any investment decisions. MATASII.com does not in any way guarantee that this information is free from mistakes, errors, or material misstatements. It also does not guarantee that this information is of a timely nature. Investing in Open Markets involves a great deal of risk, including the loss of all or a portion of your investment, as well as emotional distress. All risks, losses and costs associated with investing, including total loss of principal, are your responsibility.