WHERE IS THE FED'S FACILITY FUNDS FLOWING TO?
The US Government & Federal Reserve Pandemic Relief Funds are supposed to be flowing to the public in need. But is it?? The outcry from those needing it increases by the day. What also increases by the day is the rise in 5 stocks now controlling the perception that the market is on the mend with a "V" bottomed recovery. But is it? We explore the perception below.
THE BIG MARKET DIVERGENCE 
Our call continues to be that the current "V" bounce will test the underside of the S&&P 500 200 DMA. As of Friday, with a strong upside week ,the S&P 500 has only now reached the 50 DMA (still noticeably below the 200 DMA).
However, the FANG stocks in a major market divergence are back close to their Pre-Crash historic market highs. 
With major earnings and advertising revenue concerns existing in all the individual FANG stocks (Facebook, Amazon, Microsoft, Google and Apple), the question is why?
The short answer is Target Buying as a consequence of the historic liquidity injections from Unknown Sources while Money Managers, Investors and Institutions are all still sitting on the sidelines.  
Is the NY Fed through its newly authorized "Facilities Contractors" (to be exposed in the Upcoming UnderTheLens) the Unknown Sources? The answer is yes! Who else would buy with such disregard to risk and fundamentals.
The S&P is basically now just a handful of mega stocks, because as the chart below shows the largest 5 stocks in S&P 500 now account for 22% of market cap, even higher than during the Dotcom bubble.
THE FANG STOCKS APPROACH THEIR HISTORIC HIGHS
The group of technology stocks which include Facebook, Amazon, Microsoft, Apple and Google are now nearing their historical price high. They are additionally approaching their 200 DMA 2 Standard Deviation Bollinger Band in addition to a high in our MATASII Proprietary Momentum Indicator (lower panel). Caution is advised.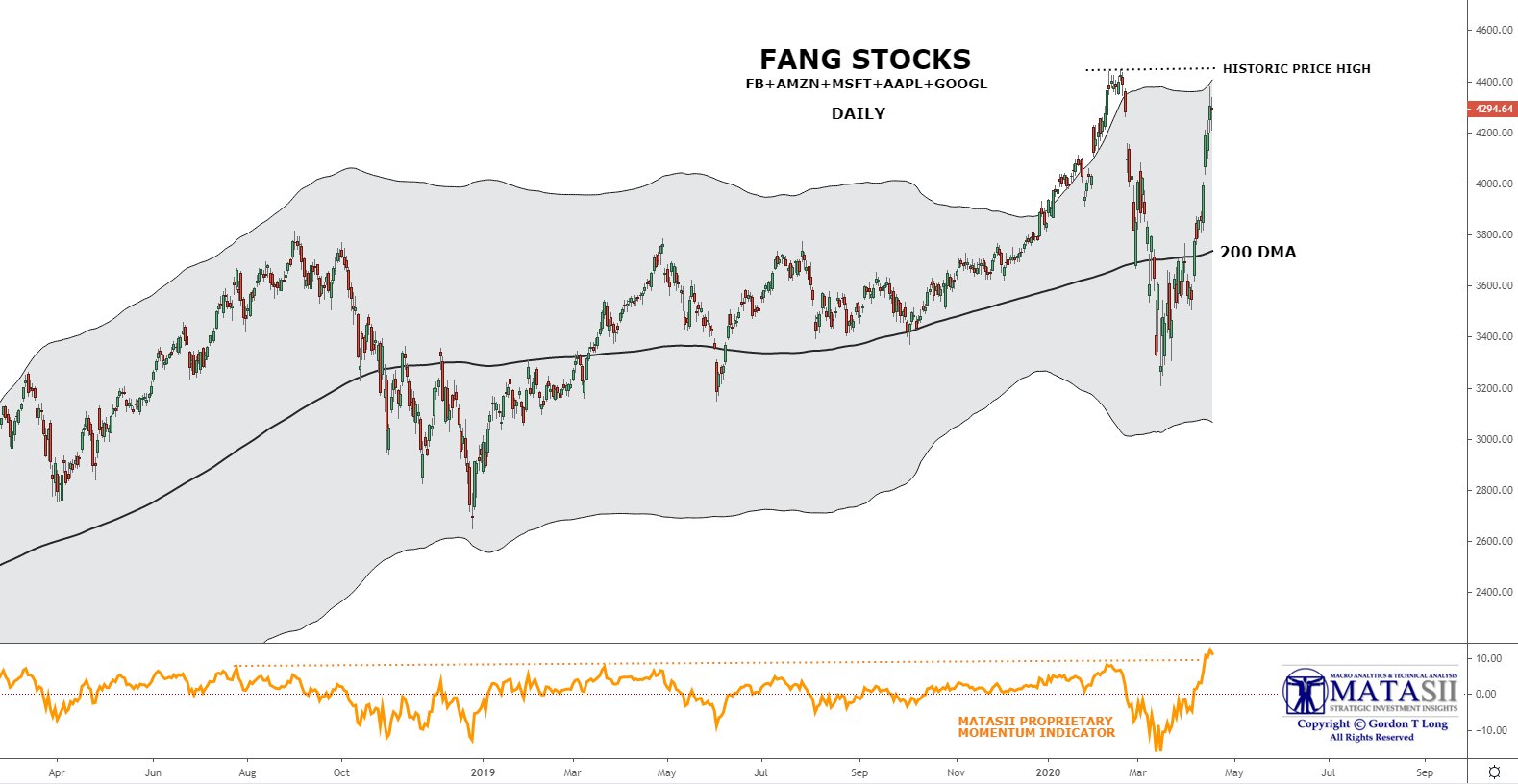 Your LIVE LONGWave Video Chart Link: 
THE S&P 500 REACHES ITS 50 DMA — STILL UNDER 200 DMA
Note that the S&P 500 is only now at its 50 DMA which is still well below its 200 DMA. The "V" shaped bounce from the lows suddenly and quickly alleviated the Institutional "Death Cross" which was occurring where the 100 DMA crosses the 200 DMA to the downside.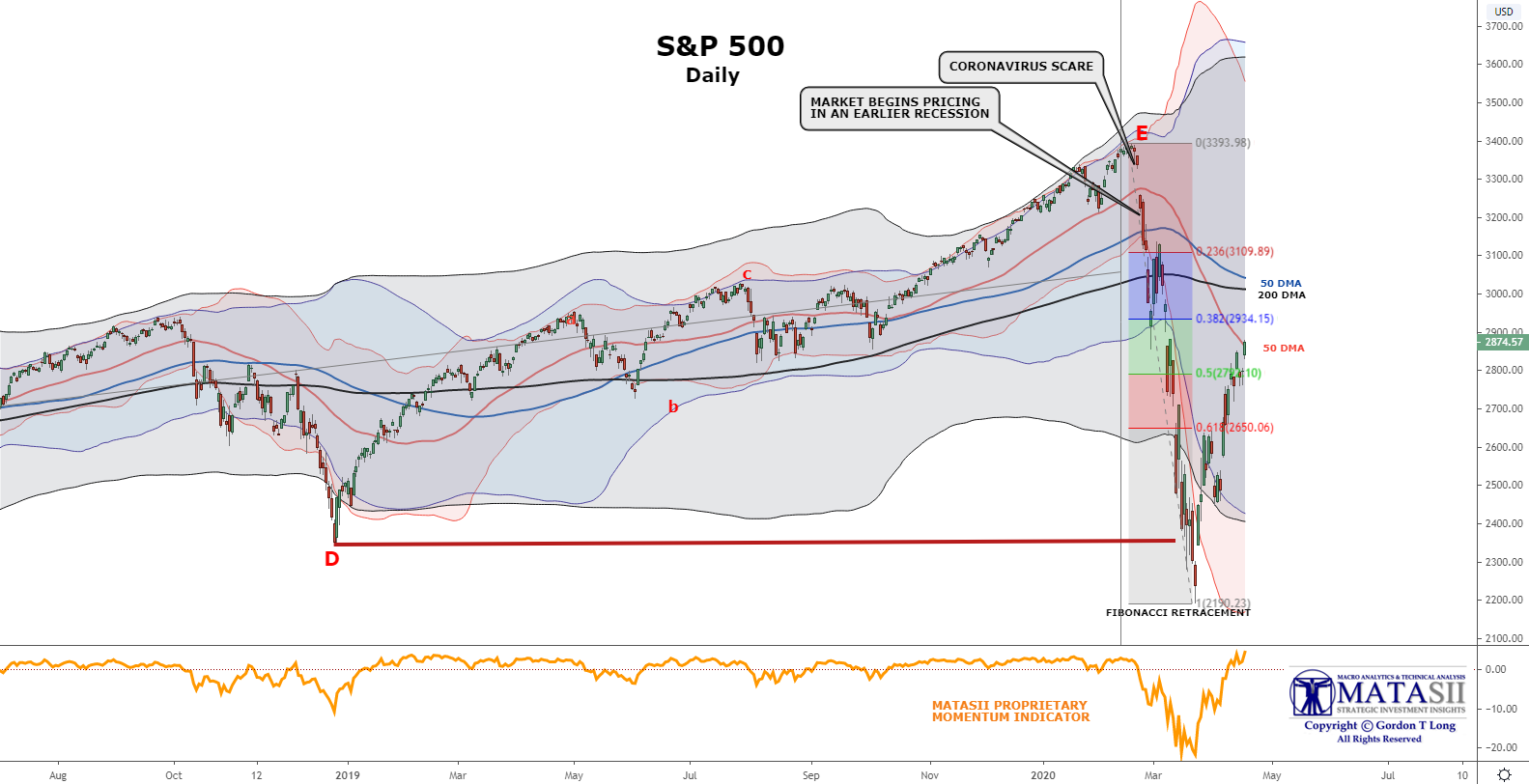 Your LIVE LONGWave Video Chart Link:
FAIR USE NOTICE  This site contains copyrighted material the use of which has not always been specifically authorized by the copyright owner. We are making such material available in our efforts to advance understanding of environmental, political, human rights, economic, democracy, scientific, and social justice issues, etc. We believe this constitutes a 'fair use' of any such copyrighted material as provided for in section 107 of the US Copyright Law. In accordance with Title 17 U.S.C. Section 107, the material on this site is distributed without profit to those who have expressed a prior interest in receiving the included information for research and educational purposes.  If you wish to use copyrighted material from this site for purposes of your own that go beyond 'fair use', you must obtain permission from the copyright owner.
---
---
NOTICE  Information on these pages contains forward-looking statements that involve risks and uncertainties. Markets and instruments profiled on this page are for informational purposes only and should not in any way come across as a recommendation to buy or sell in these assets. You should do your own thorough research before making any investment decisions. MATASII.com does not in any way guarantee that this information is free from mistakes, errors, or material misstatements. It also does not guarantee that this information is of a timely nature. Investing in Open Markets involves a great deal of risk, including the loss of all or a portion of your investment, as well as emotional distress. All risks, losses and costs associated with investing, including total loss of principal, are your responsibility.