WHY IS LEGENDARY INVESTOR WARREN BUFFETT HOLDING SO MUCH CASH?
Legendary Investor Warren Buffett is presently holding unusually high levels of cash. The obvious question is why?
A few weeks ago I published on Seeking Alpha an article entitled "Did Warren Buffett Actually State On CNBC That Stocks Are Fairly Valued?".  A further supporting proof to that article is Buffett's cash holdings with cash allocations at Berkshire Hathaway now being reported at $100B.  The additionally question being begged is: Can he not find any acquisitions that meet his fabled "Margin of Safety" criteria?
BUFFETT INDICATOR
The Buffett Indicator which has always been primarily a US Based view of the markets clearly supports the difficulties his Berkshire Hathaway team is facing in isolating real value in a very pricey US market.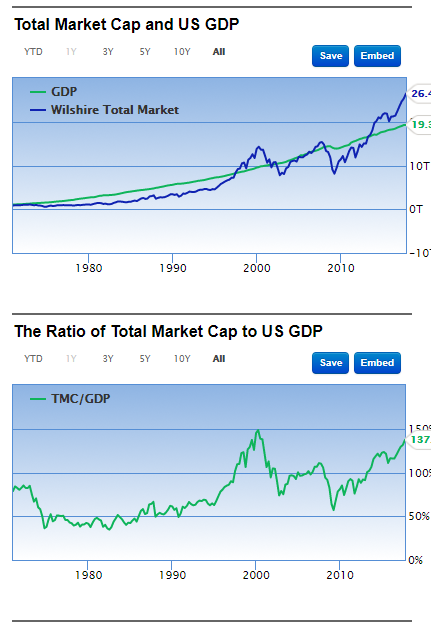 ... but is Buffett's problem solely a US problem?  Surely Berkshire Hathaway views opportunities on a global basis.
What does that look like?
Here is the thinking behind the Buffett Indicator considered on a  global basis. It compares Global Market Cap to the Global GDP.  It would appear that global equity values are also at extreme levels.  These are levels not seen since just prior to the 2007 Financial Crisis!
When you further "drill down" inside the developed economies around the world you find further obstacles for finding undervalued investments.
The MSCI-EAFE (EAFE) Index represents developed countries in Europe, Australasia and the Far East. After a rough 2016, the EAFE has been on a tear this year, tacking on nearly 19%. The EAFE has been so strong  that its rally has brought it to the area of its 2014 peak near the 2000 level. That area represents the high in the index for the past 9 years – and also an area of potential obstruction in the near-term.
Normally on charts like this you wait for the "handle" in a "Cup & Handle" pattern to form before making any moves. You wait!
Clearly, large scale multi-billion dollar investments are presently very scarce.  A correction / consolidation is needed to deliver better value.  Maybe this is why recently Buffett is so regularly on TV.  Is he simply killing time while he waits?
Maybe that "standing aside" and "waiting" is now the best advise he can give, but he doesn't.  He is no doubt acutely aware that this type of advise would never fly with CNBC's primarily sell side sponsors!  I observed the same media behavior at the last three market types (1987, 2000 & 2007). Nothing has changed!