WORRIES OF EURO CURRENCY WEAKNESS DUE TO INCREASING SIGNS OF ECONOMIC SLOWING
Euro may fall as low as $1.15 in two months: Eurizon's Staines

Danske recommends tactical short position targeting $1.21
SOURCE: 04-24-18 Bloomberg - "Euro Bulls Feel the Fatigue as Economic Woes Cloud ECB Path" --
Some euro bulls are wondering if the party is over, for now.
The outlook for the past year's best-performing major currency is being clouded by skepticism the European Central Bank will be able to tighten policy as early as previously thought, given signs of slowing economic growth. OppenheimerFunds Inc.'s multi-asset money manager Alessio de Longis is moving toward a neutral position on the euro-dollar pair, from overweight earlier this year, while Eurizon SLJ Capital Ltd.'s Neil Staines sees scope for a decline of about 6 percent in the next two months.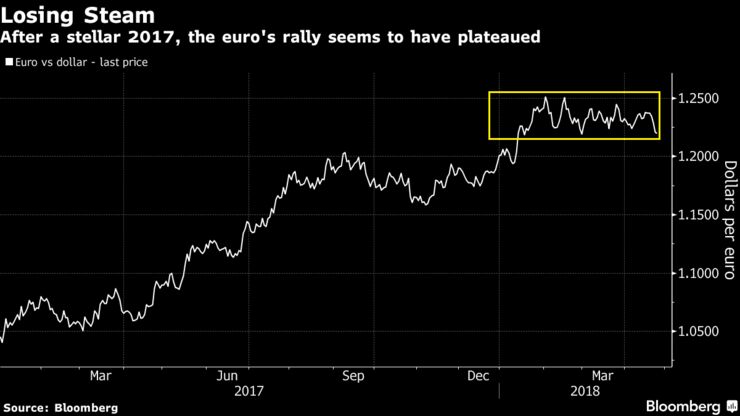 Danske Bank A/S has pushed back its estimate for the timing of the ECB's first interest-rate increase since 2011 to end-2019, from June next year previously, and now suggests tactically selling the euro against the dollar. The changes in views and positioning signal a turn in sentiment from earlier this year, when euro-bullish trades were among the top recommendations for 2018 after the currency weathered last year's political headwinds to beat peers.
"We expect the dollar bear market to take a pause, in other words the euro bull market to take a pause" as European growth shows signs of faltering and with the U.S. Federal Reserve likely to tightening policy further, New York-based de Longis said. "We are right now much closer to a neutral stance in the euro versus the dollar, waiting on the sidelines."
After surging to a more than three-year high of $1.2555 in mid-February, extending last year's 14 percent rally, the euro has retreated almost 3 percent to $1.2202. The shared currency touched a near two-month low of $1.2182 on Tuesday. It could fall as low as $1.15 in the next couple of months, according to Eurizon SLJ's Staines.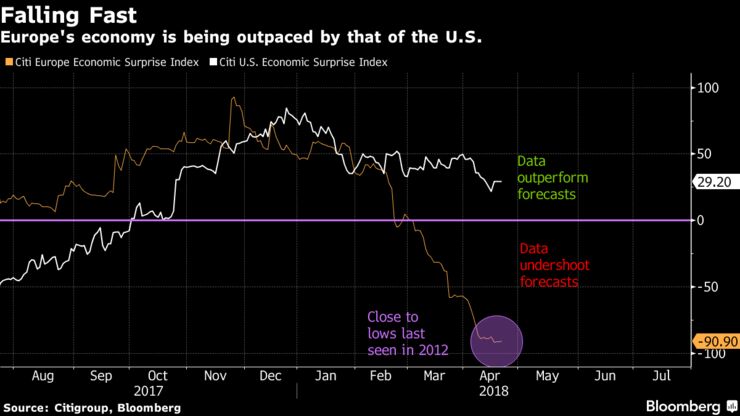 Option market sentiment is still positive on the common currency in the longer-term. One-year euro-dollar risk reversals are at 33 basis points in favor of call options. In the near-term, however, the outlook is increasingly negative. One-week riskies turned the most bearish on the shared currency since March 5 on Tuesday.
The European economic expansion seems to have passed its peak. The Citigroup Inc. Surprise Index for the euro zone slid since November to reach the lowest point since mid-2012 before rebounding on Monday after a gauge of confidence beat expectations. It is currently at minus 83, and a reading below zero shows that data have been undercutting predictions. In contrast, an equivalent measure for the U.S. stands at positive 33.
German Business Confidence Extends Drop as Economic Data Weakens
Both Staines and de Longis expect the ECB to refrain from signaling policy shifts in its April 26 announcement and wait until its staff economic projections due in June before taking a fresh view.
"The risk is the ECB may not stop asset purchases in September and we may get another small extension of 10-15 billion euros after September," Oppenheimer's de Longis said. This could result in the central bank pushing back an increase in the deposit rate beyond mid-2019, he said.
Danske Bank strategists including Christin Tuxen now see the ECB lifting the deposit rate, currently at minus 0.4 percent, by 20 basis points in December 2019. Previously, they had predicted a 10-basis-point increase in June next year. The analysts now have a near-term target of $1.21 for the euro, even though they see it recovering toward $1.25 in the next six months. Societe Generale strategists suggested using options to hedge downside risks in the euro on Tuesday.
"The market seems to realize slowly that the recently rather disappointing economic data points toward a painfully slow exit from expansionary monetary policy," Antje Praefcke, an analyst at Commerzbank AG, said in a note to clients on Tuesday. "The growth argument could crumble, and with it the euro."