FALLING US PRODUCTIVITY IS THE RESULT OF FAILED PUBLIC POLICY.
Using corporate free cash flows and borrowing to finance stock buybacks is not the road to creating or sustaining a productive society! However, this obsession is where the current corporate focus lies, which has left investment in labor productivity such as skills training off the priority funding list. In parallel the US Government's current obsession with Climate Change has likewise removed the productivity of the nation from its top priorities and in fact is impeding it with expanding regulations, licensing, agency approval and compliance staffing.
It used to be said that the Business of America was Business. This is rapidly changing to the government's focus cultural change resulting in a lack of focus and decay in the nation's competitiveness & labor productivity. 
PROBLEM: Either No Government Policy Direction or Bad Public Policy,
PROBLEM: Government Mis-focused on Climate Change versus Greatest Shock to Global Economy Since WWII,
PROBLEM: There is No National Post Covid-19 Re-Emergence / Revitalization Plan
We Need To Urgently Focus on Fixing
The Competitive Productivity Problem
OR
It Will Quickly and Insidiously Fix Us!
WHAT YOU NEED TO KNOW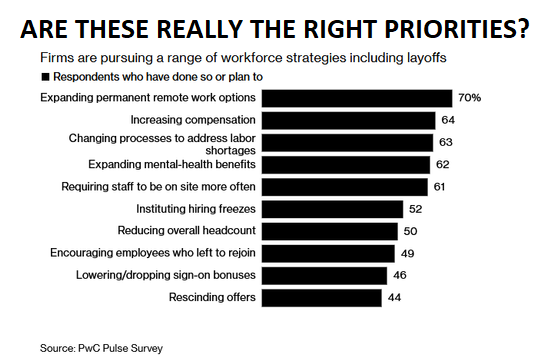 NATIONAL FOCUS IS REQUIRED:
A POST PANDEMIC RESET

Get Workers Back To Work & Fill The Employment Gap,
Remove Government Program dis-incentives to go back to work.

BIG GOVERNMENT REGULATORY STATE:

Reduction of "Out of Control" Federal, State, Local and Agency Regulations & Compliance Burden,
IRS expansion of 87,000 new auditors & $80B budget increase is increasingly what is to be expected in the new emerging Regulatory State. 

NATIONAL RE-THINK OF EDUCATION  versus TRAINING:

Worker Skills & Management Training,
Employee Retention.

PRODUCTIVITY INVESTMENT

Corporate understanding & alignment with of Gen Y and Gen Z workplace expectations of Work/Life balance,
Rapid Adoption of AI Robotics,
CAPEX Productivity Improvement Expenditure Tax Incentives.
LABOR PRODUCTIVITY IS ABOUT INVESTMENT, NOT COST CUTTING
=========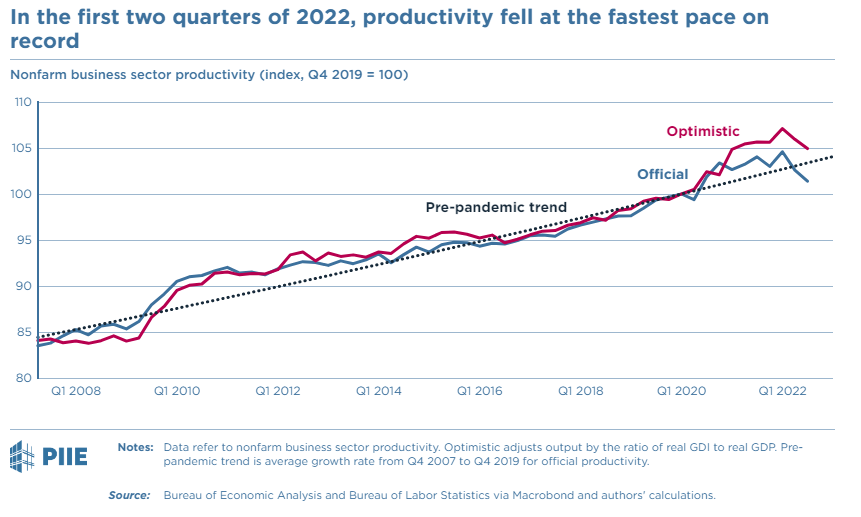 NATIONAL FOCUS PROGRAM REQUIRED
The record US productivity slump in first half of 2022 risks higher inflation and unemployment.
Over the last two quarters, US employment in the nonfarm business sector grew at a very strong 4.3 percent annual rate while output fell at a 2.3 percent annual rate. With average hours per worker decreasing, this means that output per hour, also called labor productivity or simply productivity, fell at a 6.0 percent annual rate. We also calculate an "optimistic" estimate of productivity growth, assuming output rose in the first half of the year, but even this optimistic estimate fell at a 4.0 percent annual rate.
Although productivity growth is very volatile and poorly measured at high frequencies, these declines surpass the largest two-quarter declines since the data began to be collected in 1947— with the official estimate nearly twice as large as the most significant previous decline. The exact magnitude of this decline may reflect measurement error, but the broad story—that output growth is slow or even negative while job growth remains very strong—is clear and robust across a wide range of data.
These data suggest the economy will not sustain higher compensation growth without passing it into price growth, perhaps even higher price growth than would usually be associated with this pace of compensation growth. Based on a range of measures, our best guess is that the underlying growth of wages is consistent with personal consumption expenditure inflation, excluding food and energy (core PCE inflation), of 4.5 percent or perhaps higher. Labor costs appear to have risen more than price growth, suggesting that, if anything, additional price increases are more likely than additional wage increases.
Moreover, continued strong increases in employment while output is weak or falling are unsustainable. This raises the fear that businesses will downshift their hiring in the coming year, unless there is a large increase in output growth.
POST COVID-19 PANDEMIC RESET URGENTLY REQUIRED
PROBLEM: Either No Government Policy Direction or Bad Public Policy,
PROBLEM: Government Mis-focused on Climate Change versus Greatest Shock to Global Economy Since WWII,
PROBLEM: There is No National Post Covid-19 Re-Emergence / Revitalization Plan
No matter which side you come out on this conflict, it suggests lower productivity is highly likely going forward compared to past trends.
5 MILLION MISSING WORKERS?
As we approach nearly 2.5 years after Covid-19 first impacted the US, we have 5M workers who have not returned to the work force. We need to ask the hard question of Why? There are many reasons, but they all come back to the government's handling the pandemic. We can make a lot of excuses, but the hard fact is that the government bungled and mis-managed the whole crisis. The pandemic was turned into a highly politized carnival punctuated with misinformation, censorship, poor science and terrible policy decisions.
The government demonstrated what governments are and are not. As Winston Churchill so aptly put it during the political chaos leading up to WWII – "You can always count on the US to do the right thing .. only after they have exhausted all other possibilities!". Nothing appears to have changed! 
The US labor force is still reeling from PUA (Pandemic Unemployment Assistance), PEUC (Pandemic Emergency Unemployment Compensation), Mortgage and Rent forbearance which, as of last September, the government was still cutting about 8-9M monthly checks! The CARES Act added about $4 Trillion to the US economy with resulting inflationary pressures which productivity improvements had to absorb,
As President Ronald Reagan so often said: "Government is not the solution, it is the problem!"
 

THE BIG GOVERNMENT REGULATORY STATE

The most effective and quickest way to reduce Labor Productivity is to burden corporations and small business with regulatory burdens and compliance requirements. No better example of this is the so- called $437B "Inflation Reduction Act".

MONSTROUS GROWTH IN THE IRS 

The bill allows the IRS to hire as many as 87K employees and increase the IRS budget by $80B.

To put that number in context, the annual budget for the IRS is about $12 billion. This constitutes a major increase in the IRS budget. The money will go to hire a small army of tax inspectors who will fan out across the nation on a giant fishing expedition. This will ensnare every corporations and small business in unproductive and unnecessary work. The IRS employees themselves do not add to the country's productivity but are a net subtraction!

The answer is to simplify the tax code! Any IRS hires should be targeted at methods of simplifying or automating the tax code to make business more productive! This is the wrong direction for a country trying to improve falling productivity!

One of the chief problems with the US economy right now is that it's so much more difficult to produce goods and services.

Over the past few years, the people in charge have put up endless road blocks and obstacles for small business.

 

 

COMMERCIAL PROPERTY TAX DEPENDENCY (ABOVE)

ALLIGNS WITH DEMOCRAT STRONG HOLDS (BELOW)!

 
They vanquished the labor market and made it all but impossible to find workers. They destroyed the supply chain. They engineered historically high inflation. They came up with a myriad of costly new environmental and public health rules.
MASSIVE $369B INCREASE IN "CLIMATE CHANGE" REGULATORY AGENCIES
On top of that they constantly create new rules and regulations, many of which step far beyond the government's authority.
(Last year, for example, the CDC Director decided in her sole discretion that she controlled the entire $10+ trillion US housing market.) The "Inflation Reduction Act" enacts massive numbers of new bureaucracy to enact climate change regulations to further burden corporations and small business.
23% of full-time workers today require a government license to do what they do, according to the US Department of Labor. Even being a hairdresser is full of red tape and costly bureaucracy.
Increased regulations along with a new threat of widespread tax audits is going to be yet another obstruction to Americans' productivity…. at a time when the economy desperately needs maximum focus.
A Big Government Regulatory State will be a headwind that few nations' productivity has survived!
 

 

NATIONAL RE-THINK OF EDUCATION VERSUS TRAINING

The US culture is primarily focused on graduating  well educated 'degreed' workers versus skill trained apprenticed workers! As older skilled "baby boomer" workers now retire, (getting a degree versus trade didn't explode until the late 70's in America), there is now a dearth of trained backfill of new hires available in the job market..

Core Difference between Training and Education

Training is the process of increasing skills and knowledge to an employee for better performance, while education is the process of developing the mental faculties of people to grab certain concepts in their field of study.
The nature of training is job oriented while that of education is career-oriented.
Training involves the practical application of skills whereas education involves the theoretical application.
Training teaches specific tasks whereas education teaches general tasks.
The place of training instruction is vocational institutions whereas education is educational institutions.
The objective of the training is to improve performance and productivity while education is to develop a sense of reasoning and judgment
The scope of training is narrower while that of education is wider.
Training is meant for one person whereas education for a large group of persons.
Training is dependent on educational knowledge whereas education is independent.
The term of training is short whereas that of education is long term.
Training prepares an individual for the current job whereas education prepares a person for the future job.
Training is easier to learn whereas education is harder to learn.
At the end of the training, the person is awarded a certificate or license whereas education is awarded the degree or graduate certificate.
The pedagogy of training is job experience while that of education is the classroom experience.

 

 

 

 

EDUCATION TEACHES YOU HOW TO LEARN,

WHILE TRAINING DELIVERS A PRODUCTIVE SKILL

 

 

 

 

 

 

 

 

 

 
PRODUCTIVITY INVESTMENT PROGRAMS
PRODUCTIVITY INVESTMENT v COST REDUCTION
Corporations have become obsessed with short term cost cutting results versus long term investment in productivity to remove cost. This needs to change.
AI ROBOTICS
Clearly the future for US labor productivity's competitiveness lies in the use of technology.
AI Robotics are soon to be, and must be, of significant importance going forward if US Productivity is to improve significantly.
However, will the redundant employees become a drag on national productivity?
CONCLUSIONS
The U.S. needs to return to the kind of economic and productivity growth it experien in the 50's and 60's, according to a Nobel Prize-winning economist Edmund S. Phelps, Director of the Center on Capitalism and Society at Columbia University. Phelps knows what he is talking about. We should listen to him, since he was awarded the 2006 Nobel in Economic Sciences for his work challenging the Phillips Curve, the view (popular in the 1950s and 60s) that the price for reduced unemployment was a one-time increase in inflation. Phelps introduced the factor of inflation expectations into the Phillips Curve, showing unemployment is determined by the functioning of the labor market rather than inflation figures. A stabilization policy can only diminish short-term fluctuations in unemployment.  
"We badly need to get back to economic growth. By that I don't mean an artificial temporary boom or a slower descent into lower employment, I mean that we've really got to get productivity growth on an upward climb approaching what it was in the 50s and 60s!",
"It is really important for people's morale that they come home from time to time with better paychecks than they had before",
"When everybody is doing so-so, when you're in virtual stagnation in terms of productivity, in that landscape, which we're unfortunately in now, it's really important that we get the growth rate up."
The most important questions are about the long run. Will businesses be able to deploy pandemic-era innovations, including work from home, to operate at a sustained higher level or growth rate of productivity? Will other advances, like artificial intelligence, finally start to sustainably boost productivity growth? Or will the economy return to the relatively weak productivity growth of the pre-pandemic period or perhaps even something worse?
The answer to this question will determine how fast the economy grows and how quickly living standards rise.
FAIR USE NOTICE  This site contains copyrighted material the use of which has not always been specifically authorized by the copyright owner. We are making such material available in our efforts to advance understanding of environmental, political, human rights, economic, democracy, scientific, and social justice issues, etc. We believe this constitutes a 'fair use' of any such copyrighted material as provided for in section 107 of the US Copyright Law. In accordance with Title 17 U.S.C. Section 107, the material on this site is distributed without profit to those who have expressed a prior interest in receiving the included information for research and educational purposes.  If you wish to use copyrighted material from this site for purposes of your own that go beyond 'fair use', you must obtain permission from the copyright owner.
---
---
NOTICE  Information on these pages contains forward-looking statements that involve risks and uncertainties. Markets and instruments profiled on this page are for informational purposes only and should not in any way come across as a recommendation to buy or sell in these assets. You should do your own thorough research before making any investment decisions. MATASII.com does not in any way guarantee that this information is free from mistakes, errors, or material misstatements. It also does not guarantee that this information is of a timely nature. Investing in Open Markets involves a great deal of risk, including the loss of all or a portion of your investment, as well as emotional distress. All risks, losses and costs associated with investing, including total loss of principal, are your responsibility.