IN-DEPTH: TRANSCRIPTION - UnderTheLens – 03-23-22 - APRIL – Putin's Chessboard
SLIDE DECK
TRANSCRIPTION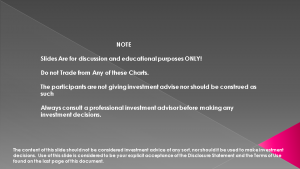 SLIDE 2
Thank you for joining me. I'm Gord Long.
A REMINDER BEFORE WE BEGIN: DO NO NOT TRADE FROM ANY OF THESE SLIDES - they are COMMENTARY for educational and discussions purposes ONLY.
Always consult a professional financial advisor before making any investment decisions.
COVER
In our recent LONGWave video we discussed Gold as once again assuming it's long held status as a Geo-Political hedge against risk.
The primary driver of present Geo-Political risk is the Ukraine-Russia War.  In this session I want to build on that by exploring what is the strategic thinking of President Vladimir Putin.  I strongly believe there's a lot more going on here than most fully appreciate.
SLIDE 4 – MACRO & INVESTMENT THEMES FOR 2022
I also hope to tie discussion in with one of our 2022 Macro and Investment Themes.
SLIDE 5 – FOCUS – RESTRUCTURING AND FINANCING OF ENERGY
The theme here is the Investment Theme of Energy and the Macro environment that centers it.
Russia is at the center of much of what is currently going on in Energy and therefore it is important to understand the drivers behind President Putin's possible thinking.
SLIDE 6 – AGENDA
As such I hope to cover the items outlined here in this video.
SLIDE 7 – THE KGB STRATEGIST – VLADIMIR PUTIN
President Vladimir Putin was a highly trained, successful career KGB agent.  Having operated at the highest levels and rising through the ranks during the Cold War and the subsequent breakup of the former USSR, he is acutely aware of what led to the downfall of the USSR. Based on recent videos he appears to still hold significant resentment towards the collapse of the USSR.
We must recognize that he understands Geo-Political Strategy and therefore understands that:
STRATEGY IS WHAT HAPPENS TO YOU WHILE YOU ARE LOOKING THE OTHER WAY!
SLIDE 8
THE KGB STRATEGIST VLADIMER PUTIN
How the Cold War Was Won,
The US won the Cold War because it forced Russia into an unwinnable arms race with the US which bleeds the USSR of its finite resources.
The US established the battleground on the US' strength as the Industrial giant in the world at that time.  Putin is acutely aware of this and therefore is well aware of where the US' Achilles Heel therefore lies.
Putin Never Accepted It! (Speech).
Putin recently released this half our video outlining his beliefs on why military action  against Ukraine is merited. I encourage you to listen to it to hear the deep-seated frustration he has with what has happened to the former USSR and how it has lost its natural position as a preeminent global power. Clearly he plans to resolve and restore that position. Ukraine is the first step.
What he doesn't express is that he is afraid that Russia faces a second collapse. A collapse which is once again the product of the policies of the West.
Putin understand that the central issue behind the 1991 collapse of the USSR,  is the same issue that once again appears to be behind Russia's current fear of collapse. That is:
Continued Inflation Adjusted Low Oil Prices.
SLIDE 9
When we historically examine inflation-adjusted oil prices, we see that a long period of relative low prices with a short lived, uneventful spike preceded the 1991 collapse. It hamstrung Russia's resources and limited its ability to compete effectively in the Cold War.
Low energy prices were harmful in many ways.
They reduced funds for reinvestment, which led to the collapse in oil supply,
They reduced the funds available to pay wages,
They also reduced the tax revenue that the Soviet Union could collect.
I must acknowledge here the great work that Gail Tverberg of Our Finite World did in putting together some of the charts I am using here.
SLIDE 10
Another of her illuminating graphics shows the Soviet Union's energy consumption rose rapidly in the period after World War II. Russia became a military rival of the US, as its energy consumption grew in the 1965 to 1985 period.  Its energy consumption leveled off before the central government collapsed in 1991. In fact, energy consumption has never gotten back to its level in the late 1980s.
It appears that Russia now fears that it is near collapse, not too different from the collapse of the central government of the Soviet Union in 1991.  Such a collapse would lead to a huge drop in Russia's living standards, even from today's relatively low level.
Putin Understands Energy, Commodities & their Economic Global role.
To understand Putin's Strategy you also need to understand Putin's perception of their role on the global stage and Geo-Political battleground.
SLIDE 11
Since about 2013 there has also been a long period of low, collapsing prices on an Inflation Adjusted basis.
Unless this pattern of low prices can be reversed quickly, Russia as a political entity could collapse.
Exports of all of the goods it now produces would likely fall.  What Russia (as well as every other oil producer) needs is a way to move oil prices significantly higher, for example, to $150 per barrel, so that more oil can be extracted.  During President Trump's presidency oil prices hit a low of ~$10/bl and he tried hard to get prices to $40/bl to protect US producers for collapsing.
Putin's hope is that a Russia-and-China-centric economy might be able to do this.
Ideally, the tolerable maximum price for coal and natural gas would rise, as well.
SLIDE 12
The scary fact facing Putin is that the global per capita energy consumption is flat to falling.
It is also is projected (as shown in the small insert) to fall significantly in over the next decade.
He must do something to get prices up and to shift the chessboard, that is Geo-Political Strategy or what has been called the great game. The Great Game, historically has been centered on Energy.
Who has it, Who needs it and Who can Use it to their Competitive Advantage.
SLIDE 13
Putin sees that a strengthening global economy (or a New World Order) in the future could be centered on Russia and China with them being tightly bound with other aligned BRIICS member nations.
The commonality, besides strong anti-capitalist, anti-American sentiment is their dominance as Commodity producers.
For those not familiar with the terminology, the original BRICS nations were (and stands for) Brazil, Russia, India, China and South Africa. All are recognized as strong commodity players in their respective regions.
SLIDE 14
In the latest annual conference that membership had grown to 15 member states. This does not include the closely aligned Asian Shanghai Cooperative Agreement members.
SLIDE 15
By adding the commodity rich African nations through Chinese agreements, along with the also commodity rich Central Eurasia "Stans", as an entity they have control of the commodities that an Industrial western power is completely dependent on.
You can produce nothing if you do not have the basic materials. Few appreciate that the advancement of Global Supply Chains have handed this advantage to the non-industrialized supplier nations.
It's called "Checkmate"! Of course it must be played properly and strategically.  Time will tell if this happens.
Putin and Chinese President Xi Jinping now see the rest of the world economy (to the extent that it continues to exist) will largely have to get along without much needed fossil fuels, other than the fossil fuels that countries continue to produce for themselves.
There is more going on with the massive push of Green technology in the fight against Climate Change than actually Climate Change.  It is also why the BRICS has been reticent to fully endorse the program as demonstrated at the recent COP26 conference in Glasgow, Scotland.
As a consequence of this potential shift in world order, population and living standards will fall in most of the 'outside' world.
SLIDE 16 – AGENDA – WHAT IS WEALTH
Let's explore why Putin and Jinping may just be right.
SLIDE 17
I am firmly of the belief that:
WEALTH CAN ONLY BE CREATED BY:
Growing It,
Mining It,    or
Building It
                        IT CAN'T BE CREATED BY PRINTING IT!
SLIDE 18
Growing it is about the Agricultural complex and seen primarily in the area of Soft Commodities.  Grains, Soy, Pork Bellies etc.
Mining it is about the process of mining and extracting and seen primarily in the area of Hard Commodities. Nickel, Copper, Zinc, Silver etc
Building it is about Production. Production is the process of adding value through combining or modifying materials.
Growing It                AGRICULTURE                   SOFT COMMODITIES
Mining It                   MINING / EXTRACTION   HARD COMMODITIES
Building It                PRODUCTION                     MATERIALS
                        IT CAN'T BE CREATED BY PRINTING IT!
This is how wealth is created.  It is why Commodities are sound Collateral, whereas paper collateral must be protected through margin levels and interest rates.
SLIDE 19 - ECONOMIC INDUSTRIALIZATION
To make all this work, Energy is required in all three! The process of creation and transformation requires Energy. It is the best rock of an industrialized nation.
An Industrial Nations Competitiveness Depends on Their Energy Costs
SLIDE 20
The key about energy is that it has a critical balance. It must be both high enough to merit the investment, yet low enough to be affordable at the consumer level or point of sale.
Low prices stop investment. High prices stop usage!
It is the ultimate Supply and Demand example in a freely trading market. However, Energy as we have experienced by Cartel's such as OPEC is anything but freely traded.
HIGH ENOUGH TO MERIT COSTS OF
- Extraction/Processing/Distribution
- Process (Wind, Solar, Nuclear etc),
LOW ENOUGH TO BE AFFORDABLE
SLIDE 21 – AGENDA – ENERGY
Energy operates within a highly charges geo-Political environment. This is because of its profound impact on a nation.
SLIDE 22
Energy directly controls the Standard of Living of a nation.
Decreasing Energy Consumption Per Unit of Energy Means a Decreasing Standard of Living
Example:
What the Price at the Pump today means to the average American Family's Standard of Living.
SLIDE 23
Energy in the form of fossil fuel derivatives directly impacts Inflation.
It is central to a broadest array of usages imaginable. Energy is a major input to ALL measures of Inflation – 72 Major Categories
Most inflation measures are expressed with or without Energy because of its volatility and importance. As is the other commodity: Food.
SLIDE 24
Energy is also about affordability because rising Energy Costs strangles consumer spending. In a 70% consumption economy like the US, this is equivalent to a Consumer "Shock" if prices move significantly.
Example:
What the Price at the Pump Today Means to the Average American Family's Budget?
What Rising Heating / Electrical Costs Mean to their Budget?
SLIDE 25 – AGENDA – THE MEANING OF ENERGY
So how exactly important is energy? Its important but just how central is it. It is something that can be easily dismissed if you have it. Without it or having a shortage of it is quite another thing.
SLIDE 26
We forget for example that even the process of creating wealth through Growing It, Mining It or Producing It requires high levels of Energy,
Commodities & Materials require extensive energy usage.
SLIDE 27
Heavy, energy usage equipment is required.
Miners:          Heavy Extraction Equipment
Farmers:       Heavy Use of Equipment
Farmers:       Fertilizers
Putin & Xi Jinping understand that who controls commodities AND Energy actually controls real wealth!
Real Wealth is not the product of Wall Street and Financialization. That is only a game of accounting.
That is the Achilles Heel of America.
When the US allowed over 55 thousand factories to leave America in the great outsourcing and off-shoring of 90's and first decade of this century it seriously exposed itself. When it adopted global supply chains it handed future power to those in real control of the commodities and energy!
SLIDE 28 – AGENDA – FORCING ENERGY PRICING HIGHER
We are hitting energy shortages in the near term because of historically chronically low prices. This is abruptly changing.
Too low a price slashes energy availability. Supply and Demand economics then kick in. However that has not been happening – WHY?
SLIDE 29
So what has been keeping prices down?
Energy prices have been kept low for a number of years because of the advent of Fracking Technology. This technology actually contributed making America Energy Independent.
Additionally, a decade of Quantitative Easing inflated standards of Living through the Bernanke's "Enrich-thy-Neighbor" to hide fiat currency devaluation via monetization.
This hurt Russia, Energy and Commodity producers.
SLIDE 30
How do you get prices up? Three examples being used by many developed nations is:
Green Energy Investment and anti-fossil fuel regulations,
Shortages by shutting down coal and nuclear powered electrical energy sources,
By making a country energy dependent as we have witnessed in the EU and US.
SLIDE 31 – AGENDA – THE LIMITS OF A FINITE WORLD
We live in what historians may someday call the Fossil Fuel Age.  With high energy consumption goes a high standard of living. . . A reduction of per capita energy consumption has always in the past led to a decline in civilization and a reversion to a more primitive way of life.
SLIDE 32
The world economy should have known about the importance of fossil fuels and the likelihood that the world economy would face depletion issues in the first half of the 21st century, ever since a speech by Rear Admiral Hyman Rickover in 1957.
In this speech, Rickover said.
"Current estimates of fossil fuel reserves vary to an astonishing degree. In part this is because the results differ greatly if cost of extraction is disregarded or if in calculating how long reserves will last, population growth is not taken into consideration; or, equally important, not enough weight is given to increased fuel consumption required to process inferior or substitute metals. We are rapidly approaching the time when exhaustion of better grade metals will force us to turn to poorer grades requiring in most cases greater expenditure of energy per unit of metal."
He also said:
". . . it is an unpleasant fact that according to our best estimates, total fossil fuel reserves recoverable (at not over twice today's unit cost) are likely to run out at sometime between the years 2000 and 2050, if present standards of living and population growth rates are taken into account.
I suggest that this is a good time to think soberly about our responsibilities to our descendants – those who will ring out the Fossil Fuel Age. Our greatest responsibility, as parents and as citizens, is to give America's youngsters the best possible education [including the energy problem of a world with finite resources].
Of course the Western industrialized world ignored this in its hubris, but Putin and Xi Jinping have not!
SLIDE 33 - CONCLUSION
If energy prices do not rise high enough, we will somehow need to get along with very little or no fossil fuels. It is doubtful that renewables will last very long either because they depend upon fossil fuels for their maintenance and repair.
SLIDE 34
We are living in a world today with shrinking energy resources per capita. We should be aware that we are reaching the limits of fossil fuels and other minerals that we can extract, unless we can somehow figure out a way to get the economy to tolerate higher prices.
If higher energy prices cannot be achieved, there is a significant chance that the change in the world order will be in the direction of pushing the world economy toward collapse.
The danger that we are approaching is that the possibility that top levels of governments, everywhere in the world, will either collapse or be overthrown by their unhappy citizens.
The reduced amounts of energy available will push governments in this way.
At the same time,
Programs such as government-funded pension plans and unemployment plans will disappear,
Electricity is likely to become intermittent and then fail completely.,
International trade will shrink back,
Economies will become much more local.
We were warned that we would be reaching a time period with serious energy problems about now. The first time came in the 1957 Rickover speech. The second warning came from the 1972 book, The Limits to Growth by Donella Meadows and others, which documented a computer modeling approach to the problem of limits of a finite world.
The Ukraine invasion may be a push in the direction of more serious energy problems, emerging primarily from the fact that other countries will want to punish Russia. Few people will realize that punishing Russia is a dangerous path; a serious concern is that today's economy cannot continue in its current form without Putin's fossil fuel exports.
Putin is plying this card now. While he still has time.
SLIDE 35
FORCES AREA LIGNEAGAINST THE WEST FOR NOW
Russia, China and the BRIC were/are prepared:
FX Reserves have been shifted,
Sanctions Protection have been put in place via an alternative to the Swift
System called (CIPS /SPFS System )
They Bought Physical Gold versus paper IOU Dollars
BRIICS
They stopped or significantly reduced their buying of US Treasuries
They are Playing a Strategic, Longer term Game while the west reacts to events.
It is Chess v Checkers; Planning versus Reacting
SLIDE 43
As I always remind you in these videos, remember politicians and Central Banks will print the money to solve any and all problems, until such time as no one will take the money or it is of no value.
That day is still in the future so take advantage of the opportunities as they currently exist.
Investing is always easier when you know with relative certainty how the powers to be will react. Your chances of success go up dramatically.
The powers to be are now effectively trapped by policies of fiat currencies, unsound money, political polarization and global policy paralysis.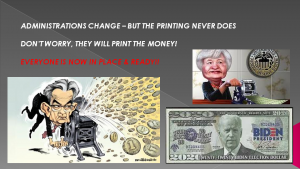 SLIDE 44
I would like take a moment as a reminder
DO NO NOT TRADE FROM ANY OF THESE SLIDES - they are for educational and discussions purposes ONLY.
As negative as these comments often are, there has seldom been a better time for investing.  However, it requires careful analysis and not following what have traditionally been the true and tried approaches.
Do your reading and make sure you have a knowledgeable and well informed financial advisor.
So until we talk again, may 2021 turn out to be an outstanding investment year for you and your family.
Thank you for listening