IN-DEPTH: TRANSCRIPTION - UnderTheLens - DECEMBER - Investment Significance of COP-26
SLIDE DECK
TRANSCRIPTION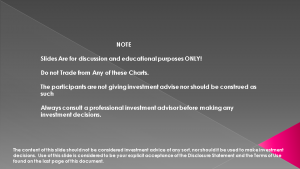 Thank you for joining me. I'm Gord Long.
A REMINDER BEFORE WE BEGIN: DO NO NOT TRADE FROM ANY OF THESE SLIDES - they are COMMENTARY for educational and discussions purposes ONLY.
Always consult a professional financial advisor before making any investment decisions.
COVER
I wrote a couple of newsletters prior to the recent Glasgow COP26 Climate Summit about what I thought might be really occurring there. It turned out to be even a bigger charade than I could have imagined but not nevertheless without major consequences unfolding.
AGENDA
Many of those consequences didn't make the news coverage, as many who understand these global elite "pow-wows" would appreciate, but will be consequential and impact everyone.
Maybe most interestingly, what they will mean to investors generally and your investment thinking specifically.
As such I would like to cover the items outlined here.
SLIDE 5
Let's start with the visible public highlights as we work our way to the real meat of the Summit as we endeavor to "Follow the Money".   My experience has always shown me to pay little heed to what is said but stay laser focused on who will make money, how they will do it and how the public will unwittingly be handed the bill. I don't want to seem mistrustful but frankly that is how these colluding power brokers operate.
SLIDE 6
Although disappointing headlines such as the "Glasgow Climate Summit Ends in Tears, Failure, And Kicking-The-Can on Commitments" were quite common, there were major winners that came out of the summit.
Shown here celebrating were the two clear national winners: China and India. The two biggest global polluters won big!
China by not even showing up and continuing to expand its coal based power generator plants form 500 to over 700; and
India by similarly not being impeded with its coal plant usage and even securing $1T in funding for it all!
No wonder they look happy together even though they have a serious contentious border problem.
This was the least-green climate summit to date and ended in a huge win for coal - after India and China forced last minute language changes into the final text of the Glasgow Climate Pact to "Phase down" instead of "Phase out" unabated coal power.
The language changes were dramatically introduced on Saturday night during the last half-hour of the final session, when India swooped in with the demand, as well as adding a clause which reads "while providing targeted support to the poorest and the most vulnerable." India of course being one of the most vulnerable.
SLIDE 7
Specifically, the 197-nation pact would be forced to agree to – and I quote:
"Parties commit to escalating efforts to phase down unabated coal power and phase out inefficient fossil fuel subsidies while providing targeted support to the poorest and the most vulnerable in line with national circumstances and recognizing the need for support towards a just transition."
Previously, the text read: "including accelerating efforts towards the phase-out of unabated coal power and inefficient fossil fuel subsidies, recognizing the need for support towards a just transition."
So - India and China just kicked the door back open on what was already going to be a near-impossible task to eliminate coal, and Western nations are now committed to 'targeted support' in the form of taxpayer dollars for poorer nations
While the beneficiaries of these changes took a victory lap, India said (with a straight face no less) that it would "call upon parties to escalate development and deployment" of green technologies and a transition towards lower energy use - while China issued an even less specific support for the call "according to what India, China, South Africa and Bolivia delegates, and like-minded countries and other developing countries, expressed [as] concerns."
SLIDE 8
The main public outcome was the Glasgow Climate Pact, which calls on 197 countries to accelerate climate-friendly actions and report their progress on the green agenda at COP27, which is set to take place in Egypt in November 2022.
Over 120 countries, representing about 90% of the world's forests, pledged to halt and reverse deforestation by 2030. More than 40 countries, including major coal-users such as Poland, Vietnam and Chile, agreed to shift away from coal.
Aside from fancy pens, COP26 attendees likely return to their countries with a most serious task - kick the can down the road for now, then come back next year with plans to strengthen their 2030 emissions reductions targets.
Rich nations have the added bonus to "at least double" the amount of money they give developing countries in exchange for adapting to climate change.
As always, there are no specifics underpinning a commitment to transfer gobs of money from rich nations to poor.
If ever, climate change activist Greta Thunberg should be pissed over 'empty words', now's the time!
SLIDE 9
Laughably, in response to the last minute changes, COP26 president Alok Sharma offered his apologies, saying he was "deeply sorry" for how the event wrapped up.
"May I just say to all delegates I apologize for the way this process has unfolded and I am deeply sorry," he told the crowd, adding "I also understand the deep disappointment but I think as you have noted, it's also vital that we protect this package."
As much of a joke as this was, it can't be under-estimated what was actually achieved.
Unfortunately the achievement was financially and legally oriented in extracting money from the global economy.
SLIDE 10
Mark Carney, former Goldman Sachs banker and both a former Governor of the Bank of Canada and Bank of England, was the UN Special Envoy for Climate Action and Finance at COP26. Carney assembled the Glasgow Financial Alliance for Net Zero, a group of bankers, insurers and investors committed to making climate change a top priority.
It is important to fully appreciate that Carney has also previously supervised the BIS Global Swaps policies for a period of time for the infamous Bank of International Settlements in Basel Switzerland. He is one of only a few people including former ECB president & now President of Italy Mario Draghi, who have had purview to, and hands on the inside workings and actual flows of the mysterious & unregulated OTC $600T global swaps market that in my opinion glues the global financial markets together.
Carney's assembled Alliance agreed to devote $130 trillion in private capital funding – around 40% of the world's financial assets – to hit net zero emission targets by 2050.
Its members represent over 450 financial institutions from 45 countries. From the US, banks that participated included Bank of America, Citi, JPMorgan Chase, Morgan Stanley, Goldman Sachs and Wells Fargo.
Members of the alliance pledged to report every year on their lending practices, disclosing the carbon emissions linked to where their capital is going.
However, these promises were taken with a pinch of salt by many activists who argued that the pledges were insufficient and demanded more immediate climate action.
"It is not green finance, nor is it all dedicated in the slightest to tackling climate change as long as financiers have large interests in fossil fuel expansion," said one observant activist critic.
SLDIE 11
When talking about the climate crisis or any other wide-ranging issue, banks typically have two main levers they can pull: lending and investments. These are the two practices that are coming under increased scrutiny in these sessions.
In investment banking, one major milestone was when Larry Fink's BlackRock, the world's largest asset manager, announced in 2020 that it would focus its investments on "sustainability-oriented securities". Fink was quite visible at the conference as he (no doubt)  eagerly ear-marked major global investments.
Big Lenders are beginning to adopt this kind of mentality as part of quickly growing ESG Policies. Progress was made at COP26 to further the green transition and increase transparency on where the money is going. It represents a big portion of corporate finance where lending is crucial for de-carbonizing the industry.
Moreover, the current picture the financial industry is painting isn't a pretty one.
Especially for the US.
SLIDE 12
According to a study by Banking on Climate Chaos, the world's 60 largest commercial and investment banks invested a total of $3.8 trillion in fossil fuels from 2016 – 2020.
In order to assess the impact on the fossil fuel industry, the study aggregates the banks' leading roles in lending and underwriting of debt and equity issuances.
JPMorgan Chase headed the charts as the world's top banker of fossil fuels, lending $317 billion in the five-year period. The next three top fossil fuel financiers were also US banks, namely Citi, Wells Fargo and Bank of America.
'The study noted how the most important task for banks in fighting climate change is to stop financing the expansion of fossil fuels, arguing that current policies are insufficient.
SLIDE 13
"The current wave of "net zero by 2050" commitments represents a tacit acknowledgement by banks that they too are major emitters. For years banks have resisted acknowledging their harmful climate impact at all, preferring to instead focus almost entirely on their vulnerability to climate change," the report said.
This reputation will be a difficult one for banks to overcome. They will need to shift their investment strategy and look for profitable opportunities in sustainable industries, which hasn't been happening in recent history. If the pandemic put regular life on hold, and therefore lowered carbon emissions from daily activities, the opposite was happening in the financial sector.
The first half of 2020 saw the most fossil fuel financing of any six-month period since the adoption of the Paris Agreement in 2015, the report also found. This happened as big banks around the world took advantage of low interest rates and central bank bond buying programs to purchase cheap debt preparing for more difficult times ahead.
This fueled concerns regarding the banking industry's attitude towards the climate crisis versus the opportunity for short-term profit.
Even if COP26 didn't provide the solutions that green finance enthusiasts hoped for, it did push forward the climate agenda in the financial space. The need for more transparent banking and enhanced disclosures is now being addressed, even if through new alliances or promises.
SLIDE 14
As an aside I found the concern about governments being exposed to trillions in fossil fuel climate litigation particularly interesting!
Governments which enact climate legislation now risk being sued for trillions of dollars by fossil fuel companies seeking compensation for lost revenue and stranded assets, according to data that campaigners warn threaten pledges made at COP26.
Energy experts predict that more ambitious climate action from world leaders will significantly increase companies' use of a tribunal mechanism that has already awarded billions to heavy industry.
Trade agreements such as the Energy Charter Treaty and NAFTA contain investor arbitration clauses, known as investor-state dispute settlement (ISDS), that allow foreign companies to sue governments over actions they say hit profits or investments.
Campaigners say that energy companies are increasingly turning to this type of arbitration to recoup investments as governments accelerate the shift away from fossil fuels.
SLIDE 15
So what is really going on here?
Basically the global elite are setting the stage to capitalize on the approximately $150T in government spending and contingent liability guarantees that are going to unfold under the auspices of climate change mandates and agreements.
SLIDE 16
The core driver is that The Global Economy and Central Banks are trapped in a Credit & Liquidity Crisis that requires the growth of Debt that is significantly larger than global economic growth of credit is capable of generating.
THE CONSEQUENCES: The current financial system is so massively over leveraged through 100's of Trillions of dollars of derivatives, futures contracts, options and balance sheet gearing that if credit and debt are not increased, the system will implode under its own unfundable weight.
THE SOLUTION: A Global campaign for Climate Change through an accelerated movement towards Green Energy provides the optimum vehicle for the creation of a stream of taxpayer and debt-funded "investments" which in turn will need a just as constant degree of debt monetization by central banks.
SLIDE 17
Climate change, "net zero", Green Energy and ESG provides an endless stream of taxpayer and debt-funded "investments" which in turn need a just as constant degree of debt monetization by central banks.
SLIDE 18
The beauty of this new Credit Spigot is that it fires up activists and left leaning politicians to pump this ideological spigot!
SLIDE19
But there is more than this going on here. You need to realize that it all fits within the UN's little publicized AGENDA 21.
SLIDE 20
So what is the UN's AGENDA 21 and why should a care?
Considering its policies are woven into all of the General Plans of the cities and counties in the United States, it's important for people to know where these policies are coming from. While many support the United Nations for its peacemaking efforts, few know that it has very specific land use policies that it wants implemented in every city, county, state and nation. The specific plan is called United Nations Agenda 21 Sustainable Development, which has its basis in Communitarianism.
In a nutshell, the plan calls for governments to take control of all land use and not leave any of the decision making in the hands of private property owners. It is assumed that people are not good stewards of their land and governments will do a better job if it is in control.
Individual rights in general are to give way to the needs of communities as determined by a global governing body.
In case you think this all a little farfetched then you need to understand that a non-governmental organization called the International Council of Local Environmental Initiatives, the ICLEI, is tasked with carrying out the goals of the US Agenda 21 locally. Over 600 cities and counties in the US are members. I bet you didn't know that and the costs are being paid by you, the taxpayer.
SLIDE 21
OK, you say, interesting -  but I don't see how that really affects my investing thinking?
Here are a few.
No matter where you live, I'll bet there have been hundreds of condos built or planned  in the center of your town recently. Over the last 10 years there has been a 'planning revolution' across the US.
Your commercial, industrial and multi-residential land has been quietly rezoned to "mixed use".
Most of your towns provided funding and or infrastructure development for these projects.  They used Redevelopment Agency Funds. Your money. Specifically, your property taxes.
Notice how there is very little money in your General Funds now, and most of that is going to pay Police and Fire? Your street lights are off, your parks are shaggy, your roads are pot-holed, your county hospitals are being downsized or closed.
The money that should be used for these things is diverted into the Redevelopment Agency for 30 years. It's the only agency in government that can float a bond without a vote of the people.  And they did that, and now you're paying off those bonds for the next 30 to 45 years with your property taxes. Did you know that?
SLIDE 22
So, what does this have to do with Agenda 21?
Redevelopment is a tool used to further the Agenda 21 vision of remaking America cities. With redevelopment, cities have the right to take property by eminent domain – against the will of the property owner, and give it or sell it to a private developer.
By declaring an area of town 'blighted' (and in some cities over 90% of the city area has been declared blighted) the property taxes in that area are diverted away from the General Fund.
The constriction of available funds is impoverishing the cities, forcing them to offer less and less services and thereby reducing your standard of living.
I could go on extensively but due to time must leave this here for you to investigate further.
If the nightly news of violence, defund the police, illegal immigration etc makes no sense then you need to read more to understand what is really going on by design and strategy!
SLIDE 23
UN AGENDA 21, Climate Change, Green Energy, ESG, DEI are all parts of larger policy frameworks that fit within what is referred to by the "Davos Global Elite" as the Great Reset.
SLIDE 24
The US Agenda 21 has broad initiatives that come under what they refer to as the three "E"s. Economy, Ecology and Equity.
They are about creating a balanced Global Standard of Living, Mass Migration & Rebalancing and Collectivism centering government policies.
A major catalyst for change and a social binder is Climate Change.
The solution that it fosters with the biggest Financial ingredient being the advancement of Green Energy.
The Social Divers for this are centered on the policies of ESG for organizations and DIE for social entities.
SLIDE 25
Major Behavioral Modification is achieved through rewards and penalization.
These have to include the Financial Sector, Country Governments and Consumers and Corporations.
The Net Zero Multi Trillion Carbon Swaps Market, Carbon Trading and Streaming as well as Carbon Taxes are all important pillars of the incentive reward system.
SLIDE 26
In general the public is unaware and not particularly interested in the Financial Elements of all this but for Investors it is critical important in isolating where major emerging investments will appear. Of particularly interest is in the area of Green Bonds, Carbon Streaming and Carbon Taxation.
SLIDE 27
Green Bonds: We can expect central banks to begin buying Green Bonds the same as they currently buy Mortgaged Backed Securities to support the Housing & Real Estate market.
Carbon Streaming: We can expect Carbon Streaming credits to become an investment industry with a broad array of emerging players and instruments.
Carbon Swaps: Between countries we can expect balance of payments to be offset with Carbon Swaps. This is likely to expand the already $600T Unregulated OTC Swaps market where global banks will dominate.
Green Technology: With the amount of money and financing available, mal-investment will run amok and as such Green Energy is likely to supersede High Tech and Bio Tech in the financial equity markets over the course of the 20's.
Green Services: Will emerge to support the adoption of green technologies. EV charging Stations, Ships and docking to support off shore wind farms, Solar Panel installation, replacement and cleaning, Wind generator "cowboy" technicians and the list goes on.
The adoption process will be culturally changing and something no investor should not prepare for!
SLIDE 28
As big as these changes will be we need to fully remind ourselves why all this is being targeted. We have debt crisis looming of historical magnitude that at any moment can take the global financial system down.
It has been left to fester too long and time is running out.
SLIDE 29
Yes there are more policies that can buy time as we pointed out in our recent video: "The Central Bankers Escape Route", but anything can and often goes wrong!
The whole climate change theme may not become the catalyst the Great Reset wants it to be. Certainly the results of  COP26 raises many obvious concerns
SLIDE 30
To me the central concern is the fact that China is not onboard with this and we have an increasing level of conflict between two systems.
SLIDE 31
The emerging direction Xi Jinping wants to take China forward on and that of the Davos Crowd and Great Reset.
SLIDE 32
As I always remind you in these videos, remember politicians and Central Banks will print the money to solve any and all problems, until such time as no one will take the money or it is of no value.
That day is still in the future so take advantage of the opportunities as they currently exist.
Investing is always easier when you know with relative certainty how the powers to be will react. Your chances of success go up dramatically.
The powers to be are now effectively trapped by policies of fiat currencies, unsound money, political polarization and global policy paralysis.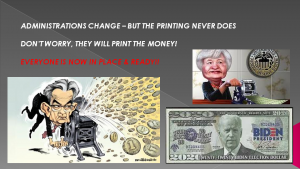 SLIDE 33
I would like take a moment as a reminder
DO NO NOT TRADE FROM ANY OF THESE SLIDES - they are for educational and discussions purposes ONLY.
As negative as these comments often are, there has seldom been a better time for investing.  However, it requires careful analysis and not following what have traditionally been the true and tried approaches.
Do your reading and make sure you have a knowledgeable and well informed financial advisor.
So until we talk again, may 2021 turn out to be an outstanding investment year for you and your family.
Thank you for listening