THE TWO RECOVERY "SHOW STOPPERS" THAT POLITICIANS ARE HIDING FROM!
If the Trump administration doesn't quickly orchestrate a fix for following two problems they will inevitably be blamed in the upcoming Presidential election for mishandling both the Covid-19 response and an effective recovery.
CRITICAL SHOW STOPPERS
CLASS ACTION LEGAL SUITS: 
There are few CEOs or Board or Directors that would bring back employees or fully restart their businesses when they potentially open themselves up to class action suits due to litigation proving they were negligence in handling Covid-19 pandemic risks.
The legal industry is presently rapidly gearing up for the coming financial bonanza of "green mail" and class action suits as Congress refuses to pass any Tort reform, 'Safehaven' protective clauses or even release official detailed guidelines which companies could implement as protective measures for themselves against the inevitable court actions to come. 
This is not a Congressional oversight since they have been heavily warned by business leaders. It is about hard core political election maneuvering within the House of Representatives.
Another major problem is the "political football" of the extremely generous fiscal stimulus for Unemployment Benefits. 
On a per capita basis, the 50 million plus claimants current received roughly $788/week ($41k annualized) on average, well above the usual amount of roughly $300 in a normal labor environment ($15-$16k annualized). Why would anyone rush back to work for less money than not working at all? 
Though the $600 weekly benefit is due to expire at the end of July, Nancy Pelosi wants another extension and knows full well this could (and will) be made into a major campaign issue. Recall that in the aftermath of the 2008 financial crisis we had the "199'ers" remaining on sustained unemployment rolls.  
DAILY CONFIRMED COVID-19 CONFIRMED CASES 
Entering Lock-downs: ~ 30,000/day
Lows During Lock-down: ~ 19,00 day
Currently: ~ 63,000/day
  The virus hasn't gone away and in fact is migrating. The simple fact is that the number of new infections worldwide continues to  rapidly increase. While deaths have been decreasing in aggregate (which is what you would expect due to the lock-downs and social distancing measures) we are now reopening everywhere, but where is the evidence of a drastic reduction in Covid cases? Let's be clear: Cases are still rising in many states and I seriously doubt there is any political will to shut down the economy again!
SITUATIONAL ANALYSIS
FINANCIAL MARKETS CONTINUE TO BE DISCONNECTED FROM ECONOMIC REALITY
FINANCIAL HEADLINES:

"More Than Half Of The US Population Is Not Working",
"50 Million Americans Have Lost Their Job In Past 6 Weeks",
"52% Of Small Businesses Expect To Be Out Of Business Within Six Months",
"42 Million Unemployed, 25.5% Unemployment Rate",
"53% Of Restaurants Closed Amid Coronavirus Have Shuttered Permanently",
"US Retail Apocalypse: Over 25,000 Stores Could Close By Year End"

COVID-19 BEHAVIORAL CHANGES WILL BE THE "KILLER ECONOMIC DISRUPTOR":
More space between seats at restaurants, cinemas, sport events,concerts, conferences, trains, buses, and airplanes,
Increase in precautionary savings for households,similar to what we saw after the Great Depression in the 1930s,
Fewer people traveling on vacation and going out until we have a vaccine, all contributing to lower consumer spending,
Older generations staying at home until a vaccine is released, less willingness to put parents in retirement homes,
Limits on the number of people in supermarkets at the same time, more online shopping, more online doctor visits,
Fewer people going to fitness centers, doing group sports,
More people driving their own car to avoid public transportation,
Health insurance premiums going up.
[See Video for a full list including Corporate and Government Behavioral Changes]
THE HARD REALITY OF THE US COVID-19 "LOCK-DOWN"
THE 'SHELTER IN PLACE" ONLY DELAYED THE FULL NUMBER OF CONTRACTED CASES. WE ARE STILL IN THE MIDST OF 'WAVE I'.
WHAT THE LOCK-DOWNS ACHIEVED:
Contained and avoided Hospital ICU 'Code Blacks',
Bought time to increase ventilator levels and other treatment equipment,
Bought time to establish a national testing processes,
Reduced number of deaths due to hospitals being able to effectively supply treatment.
WHAT WE HAVEN'T YET ACHIEVED:
We temporarily slowed but hasn't halted the spread of the Covid-19 virus,
We have no Vaccine,
We have no accepted Therapeutics treatment.
UNINTENDED CONSEQUENCE:
COLLAPSE OF THE US ECONOMY: WORSE THAN THE GREAT RECESSION
NO VACCINE
The current perception is that for the economy to return to pre-pandemic levels, there will need to be a vaccine widely available. While there are currently more than 100 different companies working on a vaccine, there are several realities to consider.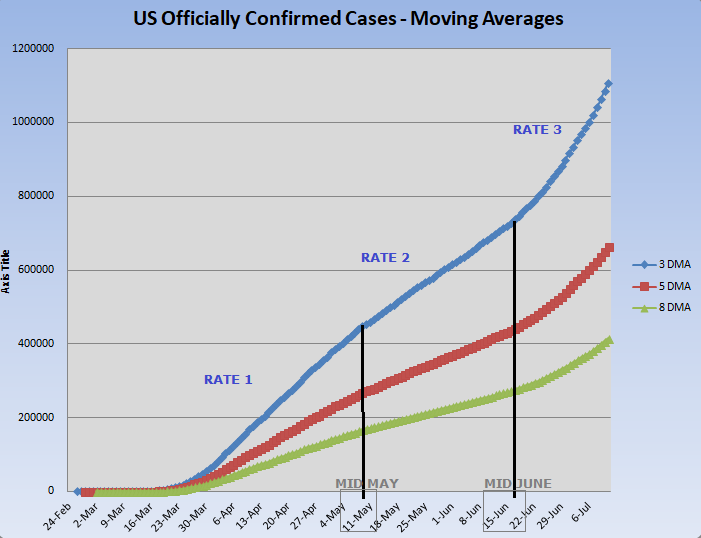 Vaccines are very difficult to create. After decades of research, there are still no vaccines for HIV/AIDS, Heptatitis C, Chagas disease, Chikungunya, Dengue, Cytomegalovirus, Hookworm infections, Leishmaniasis, Malaria, Respiratory Syncytial Virus, or Schistosomiasis.
High failure rate. There is more than a substantial chance that all of the 100+ companies working on vaccines for COVID-19 will fail somewhere during the development process. Such is particularly the case if the virus begins to mutate. (Example: Gilead's Remdesivir 10-day trial failed to reach significance.)
Time – vaccines generally take many years to reach the market as they must go through six developmental steps, including a three-phase clinical development stage. Meaning that by the time an effective vaccine is developed and approved as safe-to-use, the emergency may have blown over. If urgency declines to develop a vaccine as infection rates diminish, research will likely stall and become neglected, as with the SARS vaccine.
HERD IMMUNITY
"Herd immunity" is now being presented as the solution, but do we know with any certainty that the presence of antibodies confers strong immunity for years to all variations of Covid-19? It seems way too early to claim immunity is certain and long-lasting.
WAVE II IS STILL AHEAD!
WHAT DO WE CONCLUDE?
The following subscriber only videos, power-points, graphics, charts and posts further support our conclusions. 
FOR FURTHER PUBLIC MATASII RESEARCH: Use Search Capabilities  at MATASII site for supporting public research on COVID-19:
SEARCH: "COVID-19" 
SEARCH: "Pandemic"  for TIPPING POINTS: Pandemic / Epidemic
SUBSCRIBE To MATASII Full Site Access or SII: Strategic Investment Insights to see current updated charts and the next potential market moves!
MATASII Subscription Options
Full Site Access (all sections)
SUBSCRIBE
FULL SITE ACCESS
$55/monthly
SUBSCRIBE
FULL SITE ACCESS
$550/yearly
SII : Strategic Investment Insights (only)