THE UNINTENDED CONSEQUENCE OF FLAWED CENTRAL BANK POLICY: THE EMERGING MARKET ECHO BOOM
KEY MESSAGES
QE & Developed Economies' Central Bank Policies of Ease Money Distorted & Corrupted the Global Supply Chain,
The inevitable outcome was clearly seen in 2013-2015 but effectively ignored by the corporate global supply chain players in Emerging Markets in a race to capture economic growth,
Corporate debt loads are the central problem this time for EM, not just the typical Sovereign Debt levels which have historically triggered crisis. This has important investment opportunities for investors,
This time it is also not about an Emerging Market Country Crisis ( i.e. Thailand, Mexico, Argentina etc) but rather a broad swath of troubled EM countries.
The resulting US Dollar Denominated Debt & Weakening Demand, along with shrinking liquidity  has EM's trapped unless the US$ falls, demand increases or QT is halted & reversed.
There is a second banking crisis looming in the EU as the Emerging Market turmoil washes ashore to where much of where their burdensome debt originated. Like the PIGS (Portugal, Italy, Greece & Spain) and Cyprus in the first EU banking crisis of the earlier part of this decade the problem stems from once again over-leveraged European banks. However, the problem as become more intractable as it involves a never experienced post QE "demand gap"; the explosion of global supply chain driven corporate debt and the near entire global Emerging Markets sector.
THE ECHO BOOM
We laid out what the Emerging Markets' problems would eventually be as a result of Quantitative Easing when we did a series of UnderTheLens videos beginning in 2013 entitled "The Echo Boom" (here & here).  The serious concerns currently evident in the emerging markets should be seen as the consequence of  Global Monetary Malpractice which we highlighted and warned of at that time.  What we have subsequently experienced once again (with a major twist) is the four historic and problematic cornerstones of Emerging Market economies which we felt would no doubt once again unfold over time and which we based our Echo Boom Thesis on:
THE FOUR CONSISTENT EMERGING MARKET POLICY MISTAKES:
Allowing "Fast Money" to easily enter an economy and disrupt policies of Sound Money,
Allow excess capacity build-out with potential resulting "over-supply" and lost pricing power,
Over expose a sovereign economy to the cardinal sin of the Carry Trade of borrowing in Foreign Currencies,
An inability to control the dependencies that low value add product contributions to the Global Supply Chain encompass.Uninted
THE SUPPLY CHAIN DISTORTION
Quantitative Easing and the Developed Economies' Central Bank Policies of "Easy Money" distorted & corrupted the global supply chain.  The inevitable outcome was clearly obvious in 2013-2015 but effectively ignored in a race to capture economic growth and global market share.
QE BOUGHT DEMAND FORWARD AND CONSEQUENTIALLY INCREASED SUPPLY,

CHEAP CENTRAL BANK MONEY ALLOWED GLOBAL BUILD-OUT IN PRODUCTION CAPACITY,

GLOBAL OVER CAPACITY RESULTED IN LOST PRICING POWER,

THE "HOLE" FROM BRINGING DEMAND FORWARD HAS CREATED A DEMAND SLOWDOWN FURTHER AGGRAVATING THE PRICING PROBLEM,

COUNTRIES WITH NEGATIVE CURRENT ACCOUNTS HAVE HAD THEIR CURRENCIES CRUSHED,

WEAK CURRENCIES HAS FORCED CENTRAL BANK RATE INCREASES,

THESE ARE CREATING A NEW WAVE OF ZOMBIE CORPORATIONS WHO ARE BEING FORCED TO INCREASE PRICES TO SURVIVE OR SEEK GOVERNMENT RELIEF (i.e. Turkey's new "Bad Bank" solution),

PRIME MODEL / EXAMPLE: TURKEY
DEBT HELL
Hell is defined in the business of international finance as being too heavily leveraged in a period of rising rates and slowing trade with your debt denominated in a rising currency. This trap has again been sprung and the financial vultures are circling the EM's looking for easy "discounted" corporate prey and rising spreads.  I may be too harsh but this playbook is well understood by those who aren't part of the Wall Street "millennial army" packaging trading advise to newbie investors.
IT IS HELL OUT THERE!
A DIFFERENT TYPE OF DEBT PROBLEM
Why this is an even bigger investment opportunity this time around is that the poorly understood "twist" with this Emerging Market Crisis is about corporate debt load levels versus simply the traditional excess EM Government Debt levels that have historically triggered a crisis.
A massive threat to EM's is the rampant growth in "Zombie Corporations" which the Bank of International Settlements continues to warn about.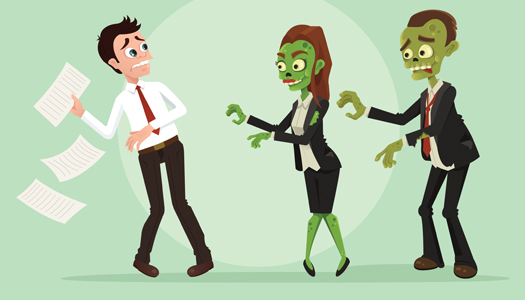 OVER 10% OF GLOBAL CORPORATIONS ARE ZOMBIES (BIS QUARTERLY REPORT) - WHERE EBIT IS SMALLER THAN INTEREST EXPENSE,

OVER 20% OF GLOBAL FIRMS ARE CONSIDERED "CHALLENGED"

A SIGNIFICANT & GROWING NUMBER OF BOTH CATEGORIES ARE APPEARING IN EM'S AS GLOBAL TRADE SLOWS
Additionally and maybe most critically for investors is that this crisis is across Emerging Markets, not a single poorly managed country.
HELD HOSTAGE 
The Emerging Markets are held hostage to four factors which are more or less out of their control:
A Strong US$,
Shrinking Euro$ availability,
Slowing Global trade and Economic growth,
Shrinking Global Liquidity from reduced central bank easy money and quantitative tightening.
As a result of the above Corporate spreads are likely to continue to deteriorate and EU Banking problems are likely to rapidly deteriorate - again!
CONCLUSION
This problem is not going away quickly as Global liquidity rapidly disappears, unless the US Federal Reserve reverses monetary policy. This will happen but not before significant damage is done to EM Corporate Bonds and European banks & shadow bank lenders.
Deutsche Bank and its massive derivative & swaps book is the canary in the coal mine!
This 20 Minute video supported by 43 slides further details the current situation.