WHEN THE TIDE GOES OUT
Warren Buffett said it well -- "it is only when the tide goes out do you discover who's been swimming naked!"  In my view this is what is happening. There were a huge number of rocks hidden below the surface that have become quite apparent as they always do during times of crisis.
The catalyst for this crisis is the Coronavirus or Covid-19 and its' unexpected Demand and Supply shock. Both together are unprecedented and certainly not seen on a Global Basis since WWII.
The Critical Crack that initially is being exposed is what we have been warning about at MATASII and that is Collateral Adequacy or more correctly Inadequacy, stemming from extreme debt and its supporting leverage levels.
The Critical Tipping Point here in my estimation on a longer term impact basis will be a shift to Fiscal Policy or Helicopter Money from (and because of) Monetary Ineffectiveness.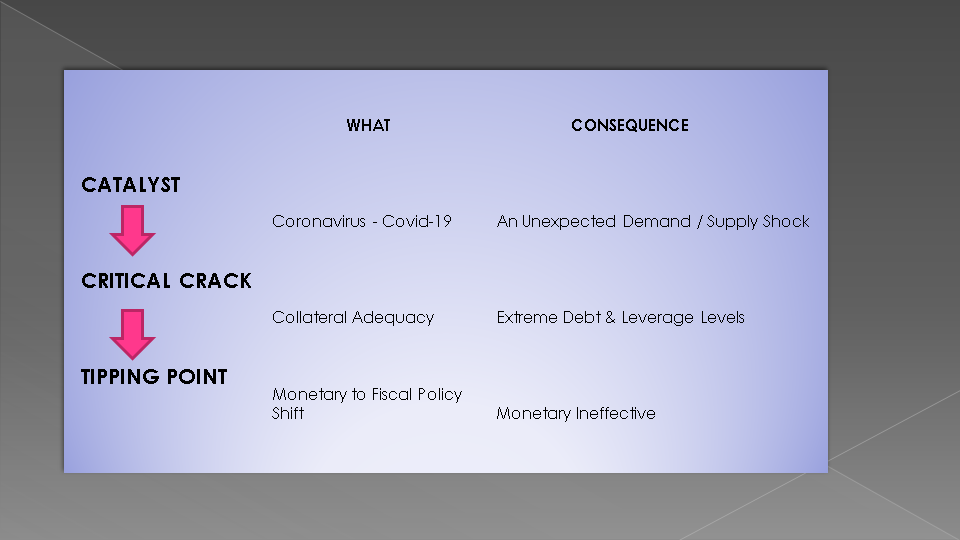 In many ways we have a perfect storm:
○ A Global Shock in both Demand and Supply,
○ An Unexpected Oil War initiated by the Saudi's which is creating a shock to the High Yield Credit markets,
○ Monetary Stimulus showing itself as Ineffective and Insufficient,
○ Volatility higher than the fall of 2018's VixAmeggadon which again is removing the perception of a Fed "PUT",
○ Markets no longer following the Global Liquidity Proxy.
What is presently occurring is:
a. Reprising of Risk (Credit Markets),
b. Pricing in Recession (PE Multiples),
c. Reprising Earnings (EPS),
d. Reprising Corporate Buybacks / Dividend Shifts (Which is only beginning).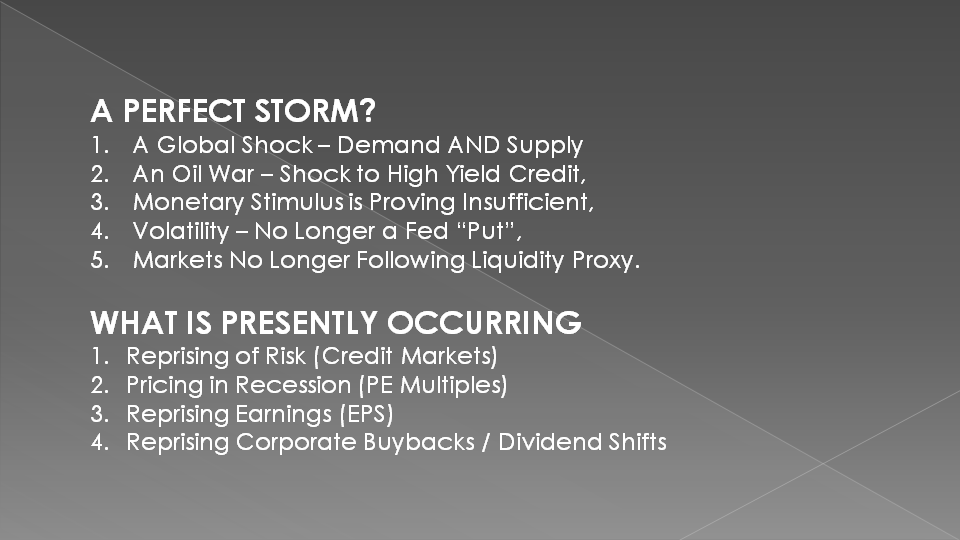 In our three part Fall Macro Analytics video series we showed the diagram below in almost every session indicating that we must expect a "Stability Test" to soon arise. In my opinion it has and the global financial system is now going to be thoroughly tested.
We spelled out that "The Investment Challenges for the 20's" in an Era of Global Conflict will be to anticipate and handle:
○ RADICAL POLICY EXTREMES,
○ CHANGING RULES: LAWS, REGULATION & TAXATION,
○ PREPARING FOR DISRUPTIONS & SHORTAGES (Not "Mad Max"),
○ MAINTAINING "REAL" CAPITAL
We are beginning to see these now.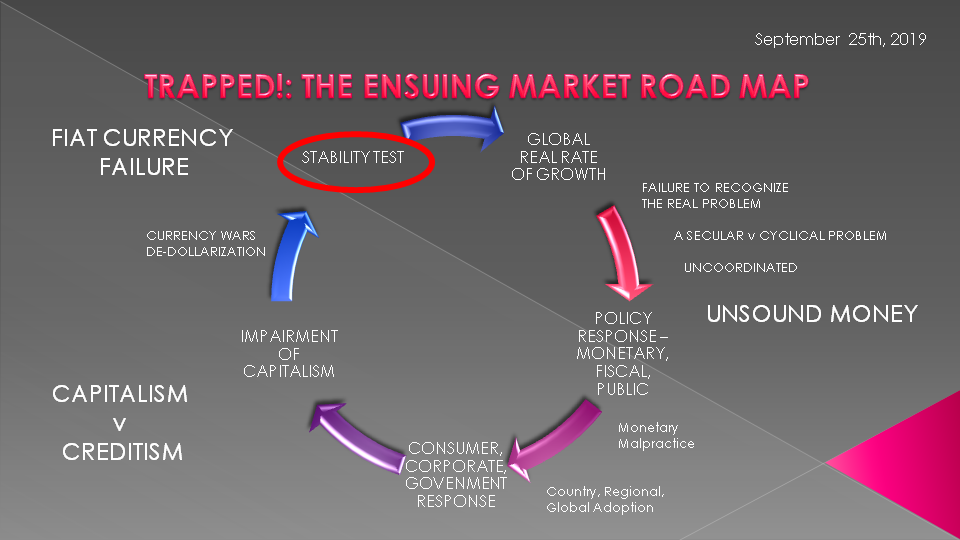 The markets have plunged to critical levels we never experienced at the depth of the 2018 Financial Crisis. We have already broken 4 standard deviations on the 200 DMA which we never reached in 2018.
We have had a "Value-at-Risk" shock to the Regulated Financial Industry which has triggered Collateral shortages which is presently forcing a scramble for US dollars or more precisely Euro Dollars.
These levels could get worse - it is still unknowable even if we see violent counter rallies which may or may or may not quickly fade, which is normal in a Bear Market.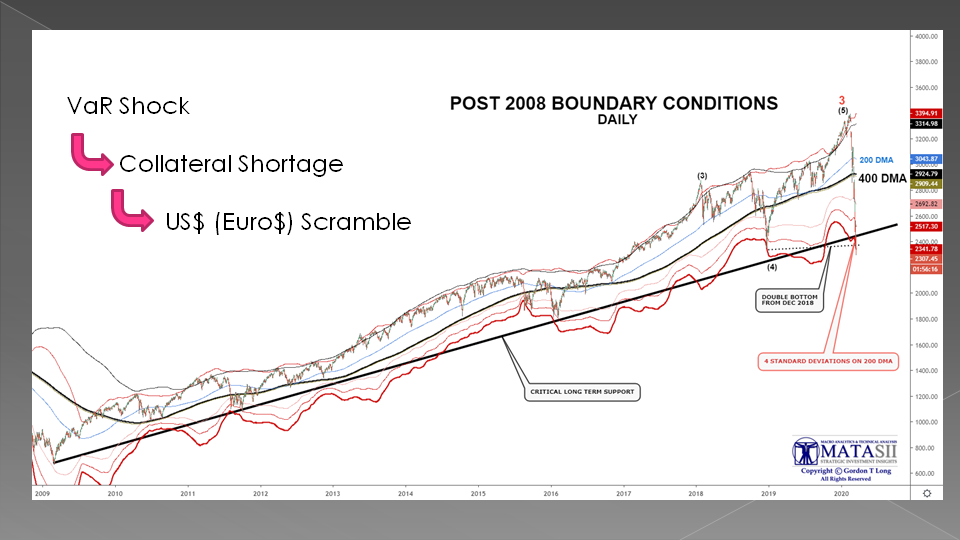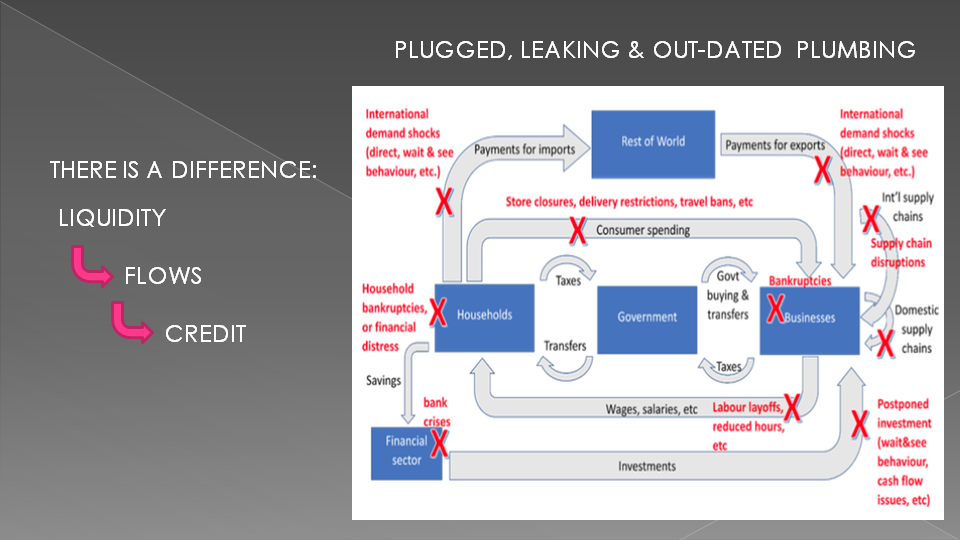 The financial system's plumbing can get plugged in many places.
There is a difference between Liquidity, Flows and Credit. Central banks can create liquidity but the Money Center banks may not turn it into Flows nor Smaller Banks and Financial Lenders turn it in lending nor consumers into borrowing!
The jury is out on this!
FAIR USE NOTICE  This site contains copyrighted material the use of which has not always been specifically authorized by the copyright owner. We are making such material available in our efforts to advance understanding of environmental, political, human rights, economic, democracy, scientific, and social justice issues, etc. We believe this constitutes a 'fair use' of any such copyrighted material as provided for in section 107 of the US Copyright Law. In accordance with Title 17 U.S.C. Section 107, the material on this site is distributed without profit to those who have expressed a prior interest in receiving the included information for research and educational purposes.  If you wish to use copyrighted material from this site for purposes of your own that go beyond 'fair use', you must obtain permission from the copyright owner.
---
---
NOTICE  Information on these pages contains forward-looking statements that involve risks and uncertainties. Markets and instruments profiled on this page are for informational purposes only and should not in any way come across as a recommendation to buy or sell in these assets. You should do your own thorough research before making any investment decisions. MATASII.com does not in any way guarantee that this information is free from mistakes, errors, or material misstatements. It also does not guarantee that this information is of a timely nature. Investing in Open Markets involves a great deal of risk, including the loss of all or a portion of your investment, as well as emotional distress. All risks, losses and costs associated with investing, including total loss of principal, are your responsibility.