A RACE TO THE BOTTOM FOR EUROPEAN BANKS
Euro Stoxx 50 futures are up 0.3%, rising along with U.S. futures after another sharp drop in U.S. equities on Thursday. Asian stocks have had a volatile session. China's economic growth is slowing down at a faster pace than expected, prompting the government to reassure investors that further quantitative easing is on the way.
The market has been choppy in the past few days, with investors sentiment switching very quickly, as politics and fiscal policies grab the headlines. For the past two sessions, investors have been selling on strength, with another $15.4 billion equities outflows over the past week.
The focus is back on Italy, with the European Commission calling the country's spending plans excessive and requesting changes to the draft budget plan by Oct. 22. The BTP-Bund spread widened further yesterday. This is not a good sign for banks heading into the earning season. Their sensitivity to European politics is high, and they will need some outstanding updates, but also some peace and quiet on the political front, to come out of the woods.
So far, 2018 has been a year to forget for European banks. Shares have been hit by a range of factors from political turmoil in Italy and Turkey, to laundering scandals in Denmark and the Netherlands, to Thursday's unfavorable tax ruling in Spain. Not only have they showed extremely poor share price performances, they have also reached extremely low relative valuation levels.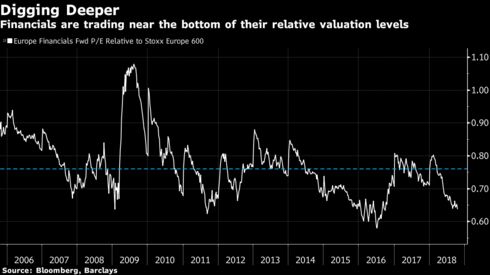 Talking about earnings, Michelin warned of falling sales in Europe and China in the second half of this year, sending shares of U.S. competitors sliding. Pirelli released a better update, but the autos and parts sector is one to watch today. One sector that may see some positive sentiment is payments technology, particularly Adyen, after PayPal posted strong earnings.
Elsewhere, oil traded near the lowest level in almost a month after expanding American stockpiles overshadowed tensions between the U.S. and Saudi Arabia over the disappearance of journalist Jamal Khashoggi. The situation is still to be monitored as several top officials pulled out of the conference in the Kingdom, and President Trump warned of severe consequences depending of the findings of the ongoing investigation. The usual oil majors, defense contractors, construction firms are stocks to watch closely.
In this ocean of bearishness, there is a category of investors that is showing full confidence: corporate insiders. Top-level managers' share purchases in companies they work for have surged during the market turmoil.