TRADE WAR MAY TAKE BACKSEAT TO TRUMP ADMIN'S ANTI-TRUST BLITZKRIEG
Major announcements Monday of anti-trust probes into Amazon, Facebook and Google (Alphabet). Trump is getting ahead of Democratic Presidential candidate Elizabeth Warren's platform.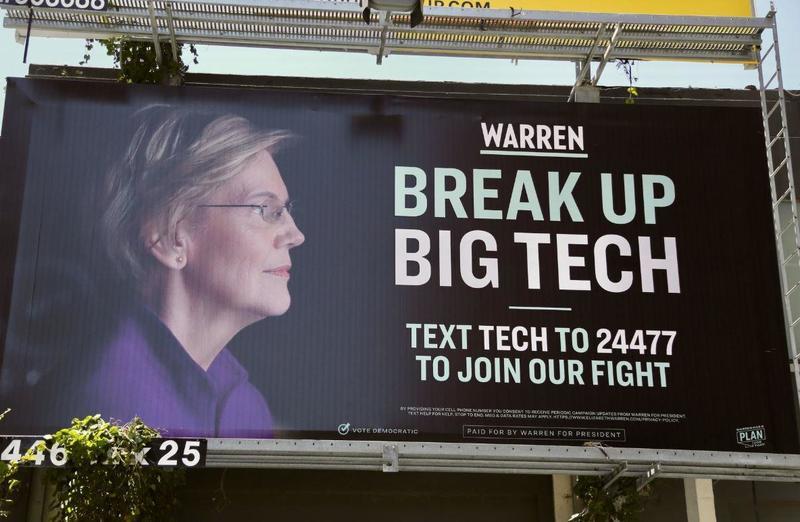 What we know:
FACEBOOK: The FTC which is already preparing to levy a massive fine against Facebook for data privacy violations has secured jurisdiction over the anti-trust probe into FB,
ALPHABET: DOJ is taking lead on Anti-Trust Investigation and will reportedly focus on its advertising and search businesses.
AMAZON: FTC taking jurisdiction over Amazon for anti-trust probe into AMZN
The reaction to the news that the DoJ is considering an antitrust investigation into Google parent Alphabet and an FTC probe of Facebook has been dramatic and justifiable in tech shares, with the Nasdaq 100 down hard today. But the reality is FAANG stocks have been in trouble for a while...
Monday's bloodbath sent the Nasdaq back into correction territory (down 10.8% from highs)...
The Trump Administration's long-anticipated anti-trust War on Silicon Valley is starting to look more like a blitzkrieg.
After WSJ opened the floodgates by quietly publishing the first report, about an anti-trust probe into Google, late Friday night, reports exposing new details about the anti-monopoly push, which will also encompass Amazon and, now, Facebook, have been dropping like bombs on the market.
According to WSJ's latest revelation, published around midday New York City time on Monday, the FTC is taking the lead on an anti-trust investigation into Facebook.
The report sent Facebook shares down 9% in midday trade, wiping $6 billion off CEO Mark Zuckerberg's net worth in minutes, showing just how seriously the market is taking the risk that the Trump Administration could do Elizabeth Warren one better by leading the breakup of big tech.
Per WSJ, the fact that the FTC - which is already preparing to levy a massive fine against Facebook for data privacy violations - has secured jurisdiction over the anti-trust probe into FB, suggesting that the agency is considering even more rigorous scrutiny.
Earlier, the Washington Post published more details about the incipient anti-trust push when it revealed that the FTC also has jurisdiction over an anti-trust probe into Amazon, as the FTC and DoJ divide up the anti-trust push not on a company by company, but on an issue-by-issue, basis, as WSJ explained.
Jurisdictional agreements between the FTC and Justice Department don't assign one agency the right to oversee one company for all purposes. Instead, the two antitrust agencies clear each other to work on specific issues. Both the FTC and Justice Department, for example, in the past have conducted oversight of issues related to Google and Amazon.
The NYT also published new details about the DOJ's probe into Google, which will reportedly focus on its advertising and search businesses. If the intraday drop holds, it will be the biggest decline in FB shares since December.
Tyler Durden reported previously: "Amazon Plunges Below Key Technical Support As FTC Launches Anti-Trust Probe":
Update: Reports that the Trump Administration has launched a multi-pronged anti-trust battle against big tech, with the FTC taking jurisdiction over Amazon and DoJ taking on Google parent Alphabet, has sent Amazon shares sliding below their 200-day DMA.
Shares were down roughly 3.75% at $1,710. The move tests potential support today around 38.2% Fibonacci retracement of December low to May peak.
Amazon isn't alone: Tech shares have been battered on Monday, dragging the market cap of the three most valuable companies in the US further below the $1 trillion mark.
* * *
A new agreement between the Federal Trade Commission (FTC) and the Department of Justice (DOJ) will place Amazon and Google under heightened antitrust scrutiny, according to Jeff Bezos's Washington Post.
According to the report, the US government's two leading antitrust agencies have been quietly divvying up competition oversight of the two tech giants - a move long sought by both Democrats and Republicans on Capitol Hill who have called for more oversight.
The FTC is said to have jurisdiction over Amazon, while the DOJ will reportedly oversee Google according to the Post - setting the stage for enhanced scrutiny of the Mountain View-based search-and-advertising company. The New York Times reports that the DOJ is actively exploring an investigation of Google's advertising and search business, according to several people with knowledge of the discussions. The Times adds that the agency's interest stems in part from rivals' complaints.
The DOJ and FTC have declined to comment, however former FTC chair Maureen Ohlhausen said: "If there is an active discussion of where the boundaries are, that would indicate there's a reason for that discussion, whether it's a new interest, study or investigation."
The early moves from the government's twin antitrust agencies mark the latest attempts by U.S. regulators to better supervise tech giants. Earlier this year, the FTC established a special task force it said would monitor tech and competition, including "investigating any potential anticompetitive conduct in those markets, and taking enforcement actions when warranted."

For years, the European Union has taken the lead in probing whether Silicon Valley too easily stamps out rivals to the detriment of web users. E.U. officials are actively investigating Amazon and have repeatedly fined Google for violating its antitrust laws. -Washington Post
2020 Democratic candidate Elizabeth Warren (D-MA), who has long run on a platform of consumer protection, recently threatened Amazon, Apple and Facebook with major investigations. Warren came out this week in support of a potential DOJ investigation of Google.
Politicians and small business owners have long complained that Amazon has concentrated too much power in their dominance of online retail, along with its growing reach across a variety of other types of businesses. According to the Post, "It holds sway over third-party sellers on its site, who pay for advertising to compete against first-party and private-label sales by Amazon. Its low prices also have helped it draw customer spending at the expense of brick-and-mortar competitors."
Amazon sells around half of all goods bought online in the US, however its share of overall retail sales is much smaller.
It has expanded into other areas, too, such as cloud computing with Amazon Web Services and grocery sales with the acquisition of Whole Foods, a deal the FTC allowed to proceed in 2017.

Google's chief critics contend the company has acted illegally to protect its huge footprint in search and advertising as well as its newer ambitions, ranging from smart thermostats to self-driving cars. The FTC previously investigated Google but closed the matter in 2013 without breaking it up or forcing it to make major changes to its business practices. -Washington Post
According to Gene Kimmelman, president of DC-based consumer advocacy group Public Knowledge, "This should be a wake-up call to both Google and Amazon to behave themselves because it at least shows that the Justice Department and FTC are thinking about them."
"This is more of a warning to the companies that they're being carefully scrutinized and they need to be careful not to play fast and loose given their dominant positions in the digital marketplace."
A prospect that should really worry Google and Amazon is a replay of the government's case against Microsoft in the 1990s. Microsoft did not have to break itself into two, which was the government's goal. But the company was distracted for at least a decade, which allowed space for start-ups like Google. Microsoft's reputation took a dive. -New York Times
And according to Silicon Valley lawyer Gary Reback, who was 'instrumental' in the case against Microsoft, "The damage to the monopolist's position comes from the public airing of the facts."
---
---
[SITE INDEX -- TIPPING POINTS - US STOCK MARKET VALUATIONS]
A PUBLIC SOURCED ARTICLE FOR MATASII
READERS  REFERENCE: (SUBSCRIBERS & PUBLIC ACCESS) 
MATASII RESEARCH ANALYSIS & SYNTHESIS WAS SOURCED FROM:
SOURCE:  06-03-19 -   - "Amazon Plunges Below Key Technical Support As FTC Launches Anti-Trust Probe"
SOURCE:  06-03-19 -   - "Facebook Tumbles After FTC Opens Competition Probe"
FAIR USE NOTICE  This site contains copyrighted material the use of which has not always been specifically authorized by the copyright owner. We are making such material available in our efforts to advance understanding of environmental, political, human rights, economic, democracy, scientific, and social justice issues, etc. We believe this constitutes a 'fair use' of any such copyrighted material as provided for in section 107 of the US Copyright Law. In accordance with Title 17 U.S.C. Section 107, the material on this site is distributed without profit to those who have expressed a prior interest in receiving the included information for research and educational purposes.  If you wish to use copyrighted material from this site for purposes of your own that go beyond 'fair use', you must obtain permission from the copyright owner.
---
---
NOTICE  Information on these pages contains forward-looking statements that involve risks and uncertainties. Markets and instruments profiled on this page are for informational purposes only and should not in any way come across as a recommendation to buy or sell in these assets. You should do your own thorough research before making any investment decisions. MATASII.com does not in any way guarantee that this information is free from mistakes, errors, or material misstatements. It also does not guarantee that this information is of a timely nature. Investing in Open Markets involves a great deal of risk, including the loss of all or a portion of your investment, as well as emotional distress. All risks, losses and costs associated with investing, including total loss of principal, are your responsibility.